Rev. Bill Torrey follows the death of Rev. Ted Halsted as the Holder of the Michigan Conference Cane, which honors the oldest clergy member of the conference.
REV. BARRY PETRUCCI
Chair, Michigan Conference Board of Ordained Ministry
A little black Cokesbury pocket calendar ordered his ministry schedule. At 14 years old, I found a place in Rev. Bill's calendar. He wanted to talk with me, a fresh transplant from New York City and freshly minted born-again Christian, a product of the 70s Jesus Revolution. "Reverend Bill" wanted to talk to me about the possibility of my using my very marginal guitar skill for something he called "Music for a Summer Sunday." Looking back, I believe Rev. Bill wanted to broaden my understanding of faith. Now, 49 years later, that dear mentor and friend, Rev. William J. Torrey, has the Michigan Conference Cane passed to him following the death of Rev. Ted Halsted.
Worry not, dear reader; I am not turning this piece in honor of the new Holder of the Conference Cane into a piece about myself. However, I think that my little memory is endemic to how Bill Torrey did ministry and invited others into ministry.
Born on July 31, 1928, Bill was raised in the care of his mother and grandparents. Nurtured in his grandmother's Baptist faith, Bill remembers having Sunday service at home with gathered men of the family and farm. Grandmother would read the Bible and a Western story (to satisfy the men, apparently). And great old hymns were sung. As a teenager, Bill's friends influenced him to attend the Presbyterian church in Vassar, MI. The church's pastor, Rev. John Zeeuw, was a good preacher and gave good sermons. Bill's faith matured through the mentoring of Rev. Zeeuw. Standing before the congregation, Bill was baptized a believer at 15 years old.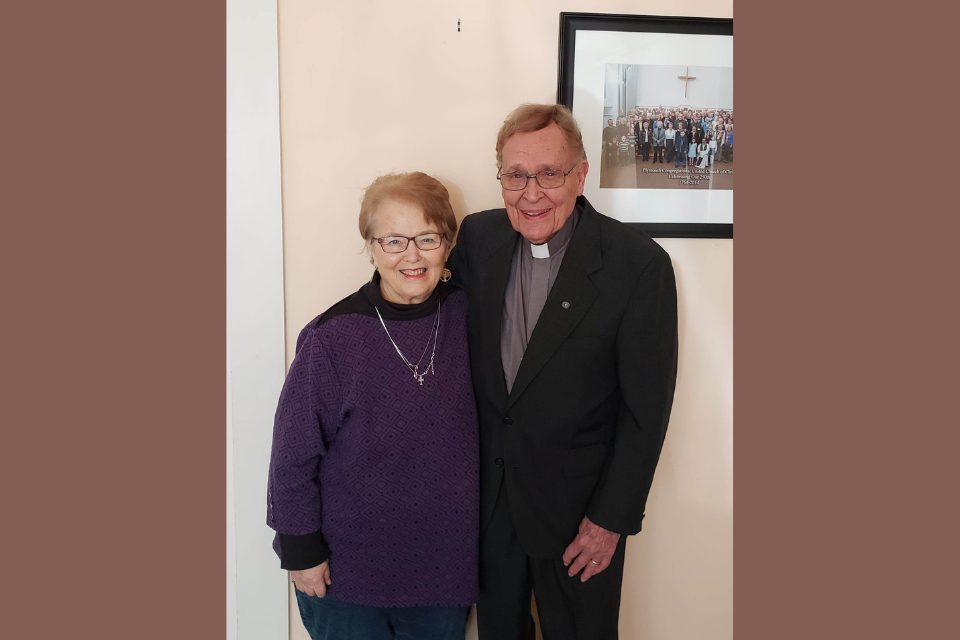 Ultimately, the Wesleyan tradition and First Methodist Church in Flint, MI, would be the place of Bill's calling. The dual discipleship arms of personal piety and social holiness made sense to Bill. Not fully understanding the ways of the Methodist Church and the process of getting into professional ministry, Bill went right to the bishop to say he wanted to be a Methodist minister. Thankfully, the bishop gave some gentle guidance! Bill became a member of First Methodist Church in Flint and would eventually preach his first sermon there. He remembers that homiletical moment to consist of "7 points for 700 people."
Bill found his way into the methods of his new tradition. He went to college at Western Michigan University and then attended Garrett Theological Seminary. He served a student appointment at Oshtemo and Oshtemo Northwest beginning in 1951 while at Garrett. Pastoral appointments continued at Wayland (1956); Wacousta Community (1960, where he navigated a major addition to the facility); Battle Creek: Chapel Hill (1964); South Haven: First (1968); Ludington (1974); Jackson: Brookside (1978); Portage: Chapel Hill (1985); and Rockford (1989). Retirement came in 1993, but Bill immediately stepped into a retirement position at Portage: First. Bill has remained a pastoral resource since moving to New Hampshire, filling pulpits as needed and called.
Throughout his ministry, Bill has been known as a cartoon artist (biding his time in the all-too-frequent meetings of the local church, in district and conference leadership drawing humorous frames emerging from the topics of the day) and as a chalk artist (utilizing his drawings to illustrate teaching, entertain children, and deepen meaning). In addition, Bill served for seven years on the West Michigan Conference Board of Ordained Ministry and mentored youth in the camping programs at Lake Louise and Crystal Springs.
Bill and Eileen Torrey continue to live lives of discipleship in Ashland, NH, while fully enjoying the love of their children—Lisa, Bill, and Bob—and their grandchildren. Bill and Eileen celebrated their 60th wedding anniversary this year.
When told he was the new Conference Cane Holder, Bill said he was unsure how to respond. "I guess it's an honor, though I thought others were just as old. Glad to still be around to get it, I guess." Well, Bill, my pastor, my mentor, my friend, I know that I and many others are so glad you are still around to get it!