Michigan United Methodists have not been inside their church buildings for seven weeks. Nevertheless, they are living church and sharing love in ways that are overcoming the burdens of COVID-19.
KAY DEMOSS
Senior Content Editor
Months ago, a resident of Clark Retirement Community gifted the campus in East Grand Rapids with a carillon in memory of his beloved wife. Little did he know that in the spring of 2020, that carillon would become a special source of inspiration for the neighborhood
Several mornings a week, at 10 am, the bells sound out the melody of the hymn, "We Shall Overcome." Sixty years after this unofficial anthem of the Civil Rights movement provided hope against racism, it now provides hope against the health threat of COVID-19. Other tunes broadcast through the day bring cheer, but there's something about the assurance, "We Shall Overcome," that causes residents, staff, and neighbors to say, "YES, we will!"
In his recent message to the conference, Bishop David Bard said, "Thank you, Michigan United Methodists for your patience, your persistence, your energy, your creativity in being the church in ministry for Jesus Christ in the face of the coronavirus pandemic." Indeed, churches around the state are overcoming the isolation, hunger, uncertainty, and health risks around them in various ways.
The Rev. Willie F. Smith, the pastor of Conant Avenue United Methodist Church in Detroit, expresses the spirit of this unusual season of ministry. Pastor Smith tells of Mae Matthews, a 90-year-old member of Conant Avenue. "Mrs. Matthews used Zoom to attend a Church Conference. She asked questions, participated in the discussion, and cast her vote on the proposed church merger." Smith shares her enthusiastic remark, "Now THIS is something!" and rejoices saying, "God is doing a new thing in Kingdom work!!!"
MIconnect has asked for information about ministries developed since the stay-at-home order started in early March. Here are more stories sent in from around The Michigan Conference.
Saying Thank You
Maple UMC in Battle Creek did a classic "Burma Shave" series of signs outside the building to thank essential workers. The message on the church's Facebook Page noted, "Most of us would agree that these folks are key to keeping our society fed, safe, and cared for during this season of shut-down." The signs expressed gratitude to Volunteers, EMS-Police-Fire, News Staff, Caregivers, Delivery Drivers, Food Workers, Trash Collectors, and Bus Drivers. And, Thank You, Jesus. Reported by the Rev. Linda Stoddard
Nardin Park UMC in Farmington asked their local Kroger store how they could best support them. The manager said appreciation and respect would help the most. So Nardin Park catered lunch for the Kroger employees on a Saturday. Members of the congregation also sent cards and words of thanks to the manager to share with employees. A local restaurant in the same neighborhood made the lunches. "Doubly blessing our community by supporting two local businesses." The Mission Team planned to pay for the lunch, but a single donor stepped up with enough funding for the first lunch and two more. The Rev. Melanie Carey said, "It reminds me of the Kingdom Assignment. Multiplying God's blessings." Reported by Sonya Luna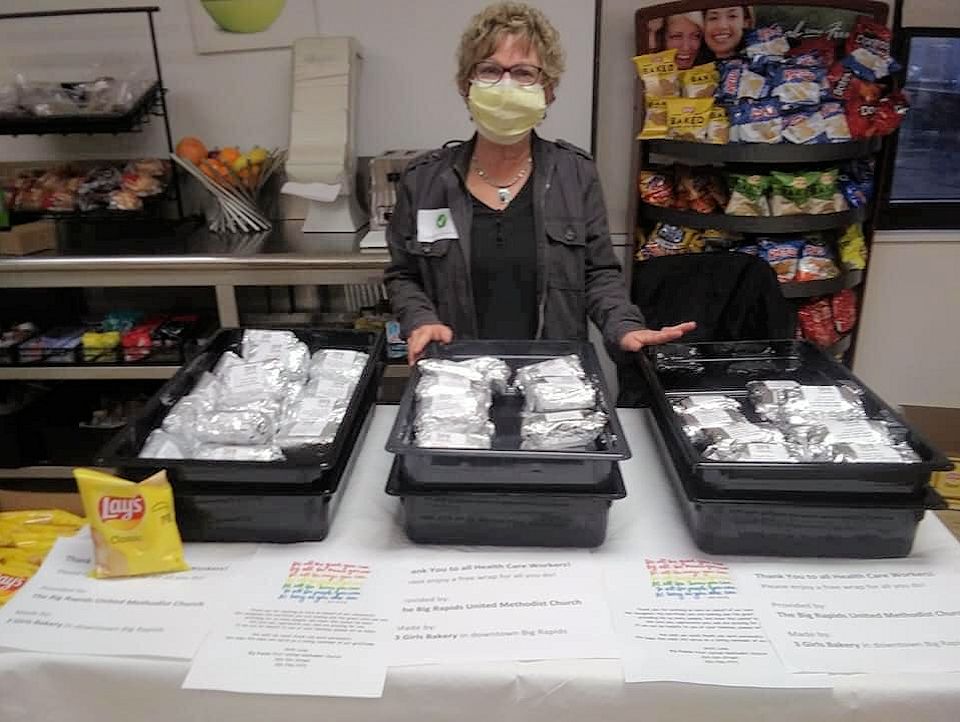 Big Rapids First UMC Citing John Wesley's rule — Do all the good you can, By all the means you can, In all the ways you can, In all the places you can, At all the times you can, To all the people you can, As long as ever you can – the church treated the staff at the city's Spectrum Health Hospital to lunch.  Said pastor Devon Herrell, "Friends, today you were Christ in the world. The 240 staff members at our hospital had a great lunch and were encouraged by your generosity. I am humbled by your desire to reach out and love even when we can't be with one another." The message with the meal said, "Thank you for working so hard on behalf of our community. We recognize the sacrifice you are making and the great care you are providing for some many people. We know this cannot be easy. We love you and are praying for you." Reported on Facebook.
Feeding the hungry
Debbie Valencia shares the efforts of the Ferree family of Plymouth, MI, active helpers and disciples from Northville UMC. Sally Ferree "had the gumption" to plan and finance a drop-off bag lunch for NOAH Project at Central UMC in Detroit. "Sally and her daughters built the bags and lugged the pre-ordered provisions to their home." They observed guidelines for the decontamination of the products. Appropriate social distancing brought two Northville FUMC friends to their porch and daughters inside the house to build sandwiches. Three hundred sandwiches were needed. Debbie was one of those helpers and reports that Flat Jesus supervised the effort. The lunches were delivered to NOAH the next day. Debbie notes, "Our church often has more hands-on-deck for NOAH. But with safety precautions, Sally's heart and hands pulled this off on her own." In May, Northville UMC plans to purchase ready-made sandwiches from a local business. "This way, we can support this mom and pop shop, too," Debbie says.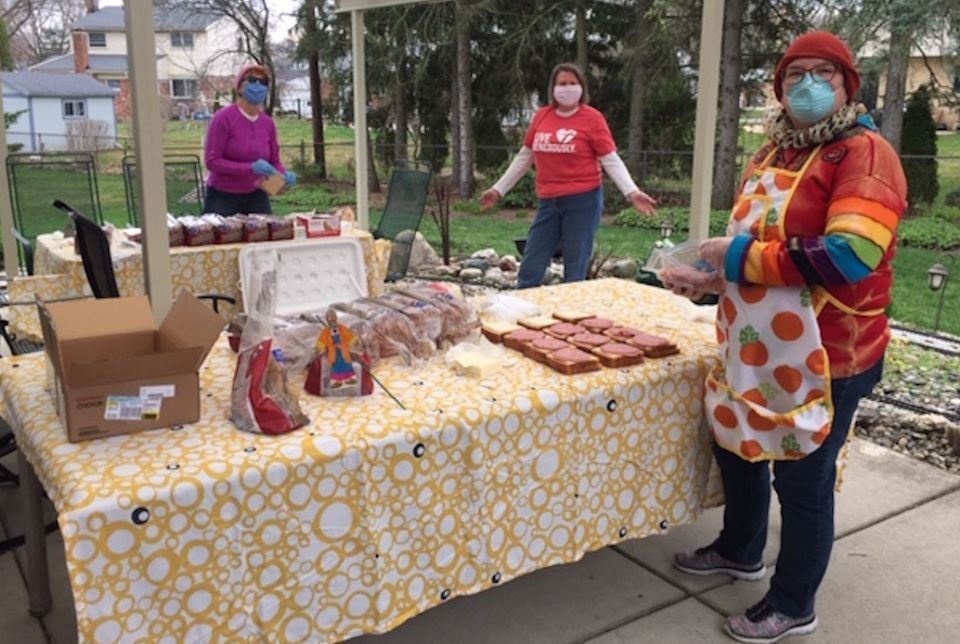 The East Winds District has been collecting stories of ministry and mission with the help of Dayne Walling. Much of the emergency outreach has been around food security and hunger in communities across the district. "At a time when food is hard to find for some families, we are inventing safe means of distributing to-go meals, grocery boxes, and fresh foods," Walling notes. Lapeer: Trinity UMC is providing bulk foods and a Monday free meal packed as a take-out box lunch. Members meet guests at the church door, observing safe social distancing. Oxford UMC continues its Wednesday community meals serving fresh meals-to-go and bags of non-perishables. "The food is prepared and packaged by volunteers wearing face masks and gloves, but it is served with a cheerful attitude and an open heart." Harbor Beach UMC hosts the ecumenical food pantry in the area and "has seen a dramatic increase in need. They are working harder than ever to apply for grants to keep shelves stocked and doors open." Flint: Asbury UMC is part of the county's emergency operations plan. Their Help Center has been providing food and water once a week for quite some time. They are ramping up their Asbury Farms food production. In partnership with the Flint Soup Kitchen, they will be sending out fresh salads once a week in their porch deliveries. The South Flint Soup Kitchen, at the former Lincoln Park UMC, provides meals six days a week now in the form of a sack lunch. Take-home boxes include toilet paper provided by the generosity of Clarkston and Grand Blanc UMCs.
Making masks
Many congregations have mobilized around the making of face masks. The UMW of Brighton First and Whitmore Lake UMCs have sewn 1300+ masks and are still sewing. They have been delivered face coverings to area hospitals, nursing homes, family members, and at-risk individuals.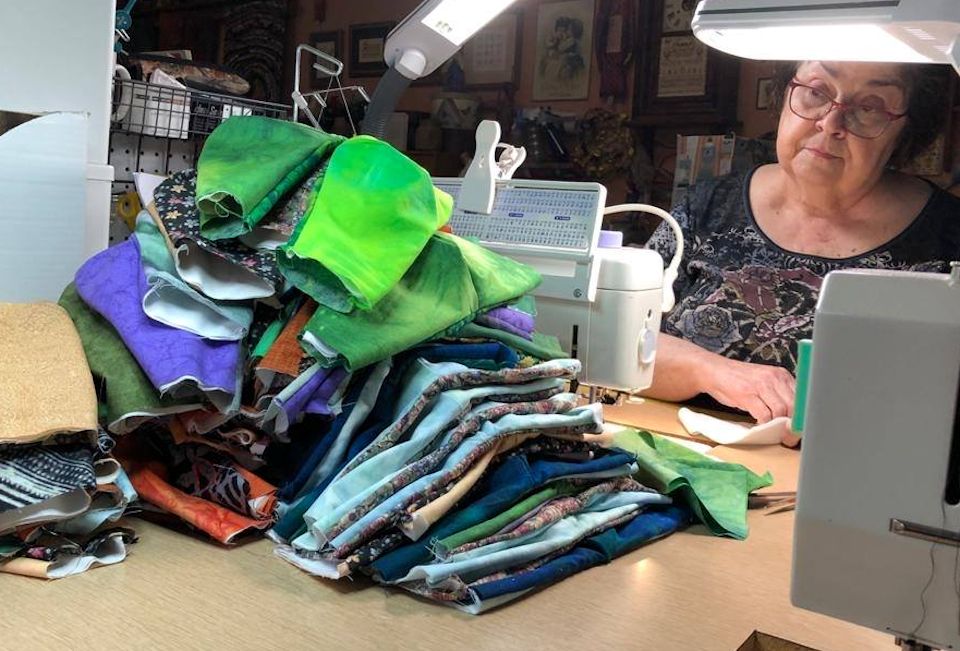 Flushing UMC discovered the patterns that work best, the size of ties for masks, and appropriate material to make face coverings that can supplement the N95 masks. Over 500 masks have been distributed to hospitals, firefighters, police, and other first responders. 
On April 21, Wood TV8 reported on the handmade masks being crafted by Bangor: Simpson UMC. Pastor Mona Joslyn issued a call-out on April 6: "Simpson UMC sewers. Would you be willing to get into your scraps and make some masks? I will put a wire clothesline up at the church with clothespins for them to hang from so that people can come and only touch the one they want to take." Joslyn calls it, "Love in action, from a distance."
Port Hope UMC is sharing face masks with workers at the nearby dairy farm, many of whom are Spanish-speaking. "This public health outreach has used Facebook videos and WhatsApp messaging to give workers up-to-date information about COVID-19 prevention, safety, and guidelines from state and federal governments."
"Deep in my heart, I do believe, we shall overcome someday." No one knows when the "someday" will be when people around the world will feel free from the threat of COVID-19. Until that someday comes, individual disciples and congregations will continue to overcome the suffering and fear generated by coronavirus, one act of love at a time. Each stitch, each sandwich, each box, each thank you … all in the name of Jesus Christ. To quote Conant Avenue's Mae Matthews, "Now THIS is something!"