Quarantine precautions to avoid the spread of the coronavirus were first implemented in Michigan retirement communities a year ago. Seniors are grateful that administrators and staff kept them safe.
DIANE BROWN
Michigan Conference Communications
Eating ice cream at the Chatterbox. Seeing and holding great-grandchildren. Playing euchre in the common area. Going to eat at Red Lobster.
These are just a few of the favorite activities residents at two Michigan retirement communities with United Methodist roots are looking forward to soon enjoying again.
It has been a long and difficult year since the quarantine precautions to avoid spread of the coronavirus first were implemented in March 2020.
"Suddenly we were completely divorced from a very active family within a stone's throw of where we live," said Bernice Packard, a resident at the Chelsea Retirement Community. "Suddenly we were a family of two rather than multitudes. Our world of our family disappeared."
For Carol Ann and Dick Youells in Grand Rapids, their daily routines residing in independent living at the Franklin Campus of Clark Retirement Community changed as well. "We did not host a family Thanksgiving gathering of 16 as in past years," she said. "Our family gathered via Zoom, each in our own homes. Our family Christmas time together was also via Zoom.
"The striking difference for our life here at Clark," she said, "is not being able to go into the main building because, in the main building, there are varying levels of care:  independent living, assisted living and skilled nursing. Coming in from our independent living townhomes, we would be considered visitors and there could be no visitors." 
Resident and staff safety a priority
Last March when the pandemic first hit Michigan, administrators and staff quickly had to pivot to an unknown world. Patient and staff safety became the first priority.
"Suddenly, it was the wild, wild west a year ago, as we worked to find all of the personal protective equipment we could find," said Steve Fetyko, president and chief executive officer of the United Methodist Retirement Community and Porter Hills headquartered in Chelsea and Grand Rapids.
"It was disheartening we didn't have a coordinated response through all of health care. Everyone was given an impossible situation," Fetyko explained. "Half of our orders were canceled – 'Sorry you got outbid.' So, we needed to leverage our connections. We've been around for over 100 years so we knew a lot of people. And we have a reputation that we take care of our people. One day, one of those connections drove up with pallets of masks. We also leveraged United Methodist senior ministries and they worked with suppliers."
Residents believe staff and administrators were passionate about keeping everyone safe during the past year of an unprecedented pandemic. Staff adjusted to developing protocols and responsibilities, even delivering special supplies, treats and meals to those living in independent apartments.
"They spoiled us rotten," said Bernice, who with her husband, Gary, moved into an independent apartment almost six years ago from their Chelsea homestead of more than 40 years. "The staff was doing whatever needed to be done. It didn't matter what they were hired to do, they were doing whatever it took."
The Packards said they did a lot of housecleaning, put together jigsaw puzzles and grew vegetables in the community garden to pass the time. They also tried to help their neighbors, albeit from a distance.
"We were attuned to those who live alone because of their loneliness," Bernice said. "We had an advantage with the two of us. So, we looked to how we could help others. We wrote a lot of notes to our neighbors!"
Carol Ann echoed Bernice's appreciation of the changes quickly made by staff.  "We say 'We are Community. We are Clark.' Through these trying months, staff has done everything in their power to keep us as community. We are most grateful for everything they have done and are continuing to do."
New job roles were created or elevated, including key positions for infection control specialists to implement new state health rules and hospitality aides to manage iPad visits for residents and families.
Dining services staffs adjusted to deliveries to apartments, rather than to dining room tables. Cleaning protocols were revised throughout the communities. Many staff took on new or expanded duties.
"We were able to provide three-month Hero Pay for our staff," Fetyko explained. "I've also been able to bump up the pay for Certified Nursing Assistants and hospitality aides. We needed to focus on the people who are getting us through this every day. Our caregivers are the eyes and ears of our families especially with the visitor restrictions." 
Balancing changing rules and other needs
As the restrictions remained in place and summer approached, administrators looked for ways to balance the necessary health restrictions with mental health needs.
Fetyko noted in June he began to focus on the impact of isolation and loneliness.  "I focused on working with the state officials to balance the equation. The state folks were willing to listen – we didn't always agree on the details but we made progress. We were able to get independent living carved out within the rules to balance the quality of life."
For Nicole Swart, the executive director at Clark at Franklin Campus, finding balance in an ever-evolving situation is a priority. "We've done our best to protect for quantity of life. But now we have this toolbox of information and we can look to how to provide for a significant quality of life. Finding the balance is a crucial part of senior living administration.
"We've had to do a lot of restricting solely for health benefit. But it is difficult to explain to residents how we (as staff) could go home at night, but their loved ones couldn't do any more than look through a window."
Innovative solutions helped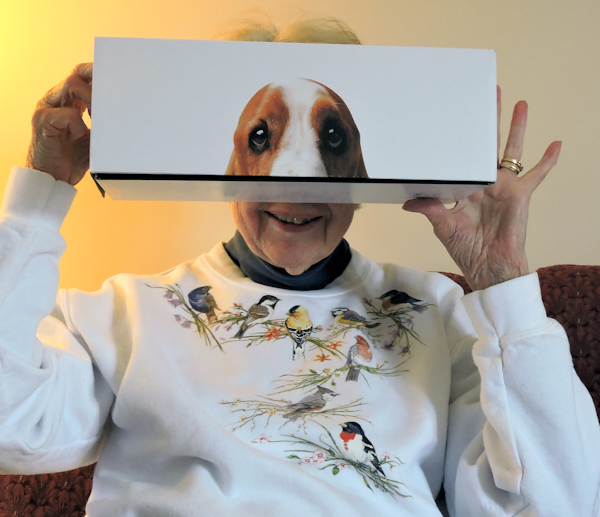 Technology played a large role for many changes keeping residents engaged.
Closed-circuit television in the communities began to include more offerings, including Bingo games (residents call the staff when they have a winning card) and spelling bees.
"Group exercise classes that were held in our large gathering room before COVID," Carol Ann said, "are now available several times a week via channel 15, our campus-wide television."
Gary Packard, an avid, life-long athlete who still was competing on two weekly bowling leagues prior to the COVID-19 shutdown, said he cleaned files and learned new skills.
"I learned a lot about laptops," he said. "As a family, we couldn't get together for birthdays and holidays. So, we would go on Zoom. That was neat. Some people we hadn't seen for years." 
Packard added that staff provided much-needed assistance with laptops and iPads.
New technology was added for enrichment as well, Fetyko added. "We brought on virtual reality technology, which even is helpful for someone with memory impairment. It is great in assisted living, where residents can go to Paris for an hour."
In Grand Rapids, Swart noted staff expanded use of an existing resource – Ever Sound – which had been used to assist with hearing aids and loops. "Now we were using it a lot with window visits, and it helped since many residents can't hear on cellphones. We were able to purchase more devices."
Even though in-person worship services were suspended, many churches offered weekly virtual sessions.
"We are thankful for our church, Grand Rapids First United Methodist Church," Carol Ann said, "and its immediate action to make virtual weekly worship available. We are also thankful that our worship services will continue to be available virtually even after in-person worship is possible. We are not sure how soon we will feel comfortable to return to in-person worship."
Before COVID-19 restrictions, many events were held in the community chapels. Adjustments were made to broadcast some events via the closed-circuit channels.
At Clark, Carol Ann noted guest pastors outside the campus weren't allowed to visit. "Seven retired pastors, all residents of our Clark Franklin Campus, have taken turns preaching for these Thursday evening worship services. These seven pastors are retired United Methodist, Christian Reformed, Episcopalian and United Church of Christ pastors."
Reopening efforts unfold carefully
"Our prevalence of the disease was low," Swart noted. "We administered about 13,000 tests since the beginning with residents and staff. We had a low positivity rate of 1.1%."
Swart added that now 99% of the Clark residents have been vaccinated. Therefore, more social activities will be able to be implemented. At the end of March 2021, a new visitor policy was announced that was created in consultation with residents and their families.
"We have been able to reopen our dining room with a new robust menu, similar to many restaurants," Swart said. "Filet mignon seems to be a hit so far!"
Richard Jaeschke moved into Clark in December 2020 in the midst of the pandemic. While he's met many staff and administrators, recently he sought ways he could help and meet other residents.
"I'm working in the Mini Mart in our main hallway once a week. It has convenience items and even bread occasionally. We're open Tuesday through Friday for one hour in the morning and again in the afternoon."
As reopening is occurring, administrators remain cautious in order to keep the community safe, while getting a change of scenery. Fetyko noted it "still is a roller coaster and we're not out of it yet."
Swart said, "we're looking forward to re-engaging with the community outside of Clark, like Meijer Gardens and museums — to getting out to west Michigan and having bus trips to sit outside.
"Our residents really want to go to restaurants," she added. "So, our first step is to get to-go orders and head to a park to eat it outside. Compromise! Giant compromise! That's the mantra of this year!"
Jaeschke is looking forward to visiting his son in Mackinaw City this summer. "I used to visit him twice a year and have walked the bridge ten times."
The Packards hope some of the adjustments they've seen occur within families, including their own, are maintained. "I so hope when this is over, they can hang on to the benefits of being together rather than getting so scheduled and being gone apart so much," Bernice said.
Strong faith practices helped sustain many throughout the year. Swart noted, "as a faith-centered organization, we put it out to the Lord and prayed for support. Every day we prayed 'Lord, give us the tools to serve our residents the way we need to.'"
As the pandemic moves into another year, the retirees and staffs at Clark and Chelsea Retirement continue to evolve with new creative solutions that provide safe, healthy and wonderful places to work and live. Thanks be to God!
Last Updated on September 20, 2022