Ionia: Zion United Methodist Church, known for its community outreach, experienced loss following the Jan. 5 fire that damaged portions of the church.
JAMES DEATON
Content Editor
Around 5:30 pm on Thursday, January 5, 2023, Zion United Methodist Church in downtown Ionia, MI, caught fire, and portions of the south side of the church were damaged. However, the church's sanctuary, which is over 130 years old, saw minimal damage.
Six fire departments arrived on the scene around 5:40 pm, and the fire was extinguished by 9 pm.
The most significant damage caused by the fire was in the newer part of the church building, an addition to the original 1885 worship space that was built in the 1950s.
Approximately twenty people, including church volunteers and guests of Zion's Thursday community meal, were present when the blaze began. People had gathered in the basement fellowship hall and were starting to eat. Once the fire was discovered, everyone escaped, and no significant injuries were reported.
"A lot of them [who come to eat] are older, some use walkers and canes, and I'm just so grateful that, above all, everybody was safe," said Pastor Chris Moore.
The church operates two outreach ministries: a food pantry and a community meal ministry, which serves hot meals for those in need on Thursdays and Saturdays.
According to Pastor Moore, who began a quarter-time appointment as Zion's pastor in July 2022, the church plays a significant role in the community of Ionia through these feeding ministries. Last year, they gave out 3,000 boxes of food to those living in Ionia County through its pantry, which is operated out of the church's basement.
Thankfully very little food was lost in the fire or from water damage since most items were sitting on shelves off the floor in the basement. And generators have been brought in to power the refrigerators and freezers that are utilized for this ministry.
The fire's cause is still under investigation, although Pastor Moore believes it was electrical.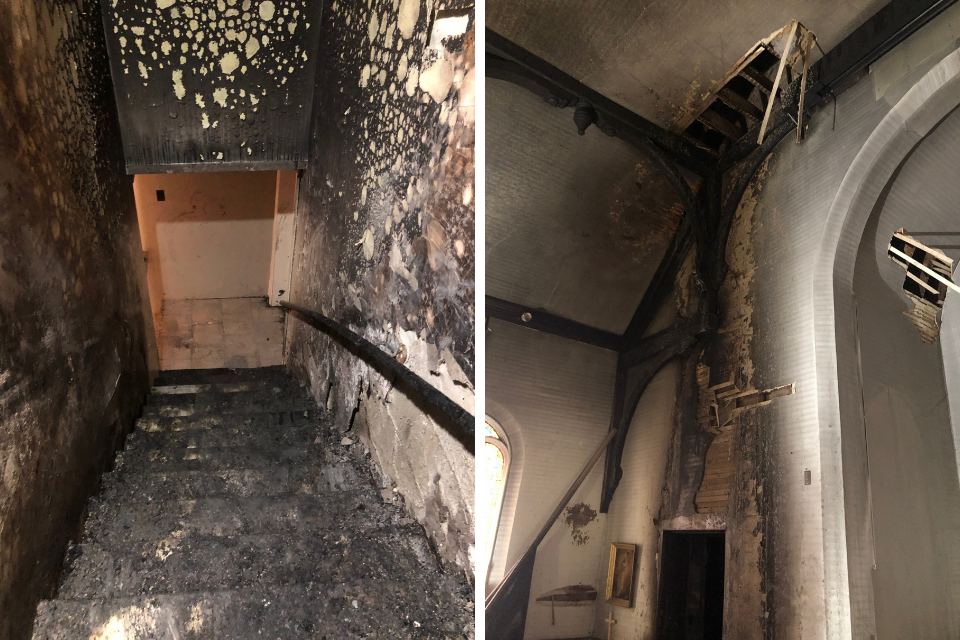 Despite the tragic loss and the difficulty of knowing what to do next, the outpouring of love and support the Zion congregation has received from the community has been tremendous.
And the unity Pastor Moore has felt from the other Christian churches in the area has been wonderful. He said, "Nobody's talking about doctrinal issues or anything. Just that we are brothers in Christ, and we're here to help."
That sense of unity, according to Pastor Moore, points to a hopeful future where people in the community can "get together and work on projects that concern the community and just love one another like we're supposed to." As an example, First Christian Church of Ionia, just a couple blocks from Zion UMC, has offered to let Zion house their food pantry in an unused educational building behind their church to help keep the pantry up and running.
"I've heard from pretty much every pastor, every church, many businessmen," said Pastor Moore. "Everybody's coming out of the woodwork. People want to volunteer; people want to donate." It's evident that the church's impact on the community runs deep, and everyone is committed to seeing that the church's good work continues.
Pastor Moore explained that it is too early to give specific information on how to donate or volunteer, because of all that is involved in evaluating a building fire and ensuring a clear process is in place to manage the needs. Details are still being ironed out.
More information on how Michigan United Methodist churches and individuals can help will be shared shortly via the Midwest District and Zion UMC's Facebook page. In the meantime, Pastor Moore is encouraging the Michigan Conference to pray that the congregation will discern next steps as they move through the trauma and press forward toward restoration.
He also asked the Michigan Conference to pray that they would not need asbestos abatement as part of the fire remediation, for this could be extremely costly and may not be covered by insurance.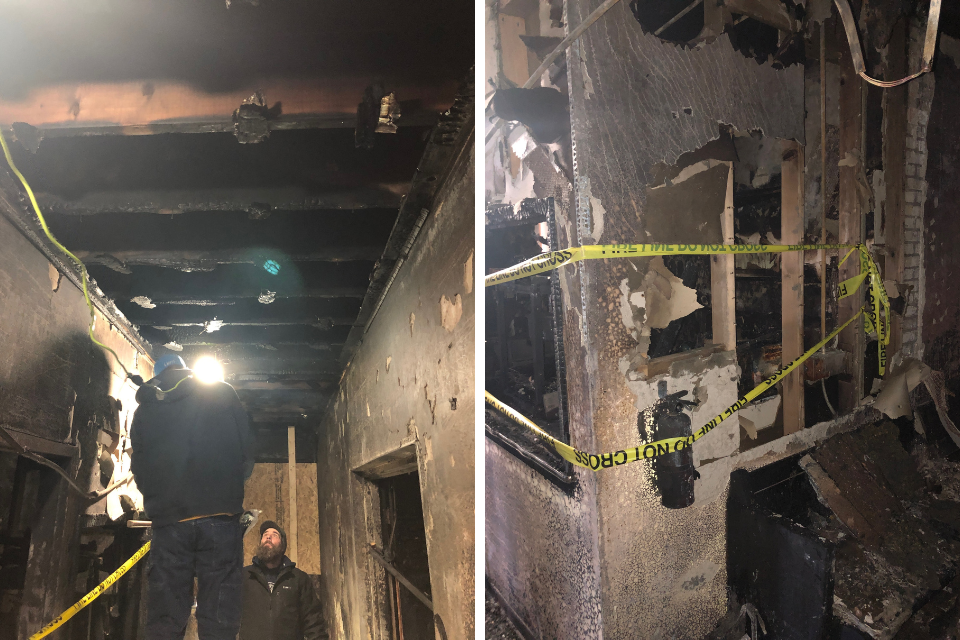 Last Sunday, the Zion congregation worshiped at the Log Cabin Inn Banquet Center just outside of Ionia near the town of Muir. Two church members, Scott and Toni Feehan, invited the congregation to meet there, free of charge, for as long as they needed to.
Sunday's worship and fellowship felt like a family gathering. The attendance was slightly lower than the 30 or so people that usually come. They didn't have time to print bulletins or set up things for a more formal service, so they focused on simple worship elements like prayer, music, and a sermon and then ate lunch together afterward.
Rev. Margie Crawford, district superintendent of the Midwest District, worshiped with the Zion congregation on Sunday and expressed her care and concern.
"It was a very loving and inspiring service," Rev. Crawford said. "Though they're still in shock, there wasn't a sense of grief about what they lost, but inspiration for what the fire has opened the doors for." She echoed the unity and the shared commitment to caring for the people of Ionia that Pastor Moore commented on, noting a willingness to engage with everyone in the community, to be part of the mission and ministry going forward.
Rev. Crawford also sensed a hopefulness within the Zion congregation despite their tears of grief. "They realize the work is going to be hard, but not one person said we're not willing or we're not able. They're eager to get to that next step, whatever that looks like."
The Zion congregation has had additional offers for places to worship in the interim, including a rent-free storefront building with all utilities paid in downtown Ionia near their church. Still, at this time, it's undecided where they will go. Pastor Moore has just expressed appreciation for all the options they have been given. Up-to-date information can be found on their Facebook page.
The people of Zion UMC are moving forward with the full support of the Ionia community and the prayers and support of the Michigan Conference of The United Methodist Church.
They are also stepping out in faith that God will do something new through them due to this tragedy. Pastor Moore concluded, "I just feel in my bones that, yeah, this is a bad thing that happened, but God's going to turn it around, and he's going to make it better."