On November 13 at a ceremony held at Hope United Methodist Church in Southfield, MI, the Rev. Dr. Anthony Shipley was presented with the Francis Asbury Award for his contributions to higher education. 

JOHN E. HARNISH
Michigan Conference Communications
I was a new, green-as-grass preacher in my first appointment in Michigan, and he was the new high-energy Conference Program Director who was ready to change the church and the world with new ideas and newsprint. He came to my two-point charge at Washington and Davis, kicked off his shoes and went to work. By the time we were done, we had set a direction for those two small churches and their young-buck preacher. That was more than 40 years ago and that was my first memory of Dr. Anthony Shipley. This summer Tony was recognized by the General Board of Higher Education and Ministry with the prestigious "Francis Asbury Award".
Named for the first Bishop of the Methodist Church, the award honors Asbury's call to establish a school in the vicinity of every church. "We must," Asbury said, "give the key of knowledge to our children, and those of the poor in the vicinity of your small towns and villages." Today, the award recognizes individuals who have made a significant contribution to United Methodist ministries in higher education at the local, district or annual conference level. It is awarded annually to one honoree per annual conference.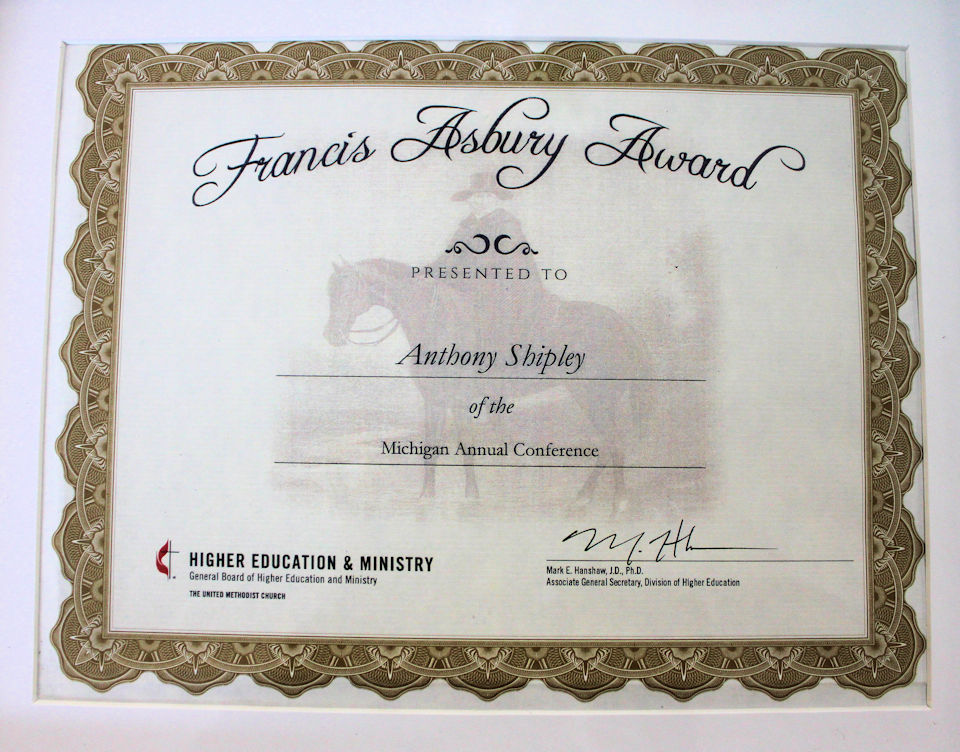 Earlier this year, the Michigan Conference Division of Higher Education and Campus Ministry nominated Dr. Shipley for the award because of his commitment to United Methodist higher education and his 30 years of service as a Trustee at Adrian College. Dr. Jeffery Docking, President of Adrian College said, "Rev. Shipley has been one of the most respected and thoughtful trustees I've had the pleasure to serve under during my 15 years at Adrian College. His love for the church was matched equally with his love for higher education, and he has the unique ability to combine both into a powerful message for our students."
Tony retired from full-time ministry in 2007 after more than 40 years of distinguished service in the United Methodist Church. Ordained in the New York Conference, he served churches in Brooklyn, NY and a term as the Assistant Program Director in that conference. In 1971, Bishop Dwight Loder brought him to Michigan, the first African American to serve as a Conference Program Director in the denomination. Tony also served as the Detroit West District Superintendent and pastor at Scott Memorial United Methodist Church and Christ UMC in Detroit. For four years he was the Deputy General Secretary in charge of the National Division of the General Board of Global Ministries in New York.  
While the pastor at Scott Memorial, Tony established the ASPIRE program as a way of opening a path for students to attend Adrian College. More recently he founded Chandler Park College Preparatory Academy in Detroit. In 1974, Adrian College honored him with a Doctor of Divinity degree. Throughout his entire ministry, Tony continued to live out the United Methodist commitment to higher education which dates back to John Wesley's Kingswood College in England and Francis Asbury's establishment of schools in America.
The Rev. Jeff Williams, chair of the Michigan Conference Division of Higher Education and Campus Ministry said, "In nominating Tony, we are trying to catch up with his profound and life-changing ministry. His love and dedication to young people and their educational journeys are powerful expressions of the spirit of the Francis Asbury Award. We are delighted to recognize him on behalf of the Michigan Conference."
The award was presented to Dr. Shipley by the Rev. Dr. Charles Boayue on November 13, 2019, at Hope United Methodist Church in Southfield. His family and friends in the congregation shared the moment with him.