At age 94, Carlton Young is still making music. The collection, "Today I Live," speaks to the COVID-19 pandemic in hymn after hymn.
SAM HODGES
UM News
Most afternoons, the Rev. Carlton R. "Sam" Young spends a few hours in the upstairs office of the Nashville, TN, home he occupies with his wife of 74 years, Marjorie Lindner Young.
If he has a text to set music to, he makes a double-spaced copy, marks all the accents, then reads the words aloud with emphasis.
"The rhythm comes up from the page, and with it, invariably, comes a melody," Young said. "It just happens. I can't explain it."
Within church music, Young has been a big name for more than half a century as a composer, arranger, scholar, editor. 
He edited The Methodist Hymnal (1966) and The United Methodist Hymnal (1989). He directed the music for nine General Conferences, including the 1968 Uniting Conference that created The United Methodist Church.
"He's really been the true Mr. Music of United Methodism," said the Rev. Don Saliers, theologian-in-residence at Emory University's Candler School of Theology.
And now, at age 94 and despite having multiple myeloma, Young is out with a new collection of sheet music.
 
Titled "Today I Live: Hymns and Songs of Remembrance and Hope," it matches his tunes and arrangements to a variety of others' texts, with mortality the unifying theme.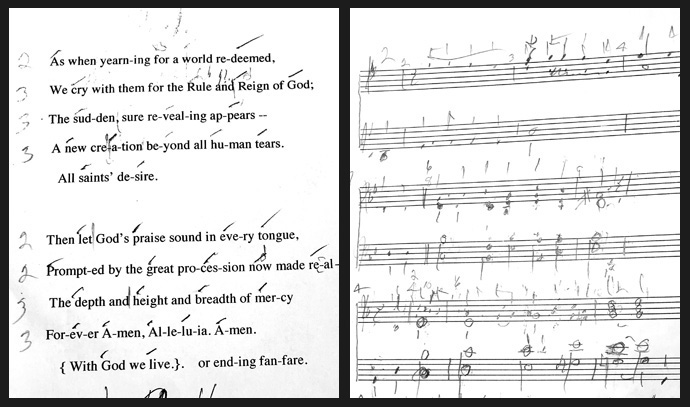 Young didn't plan to publish during a pandemic. But he hopes "Today I Live" will provide new, fitting music for memorial services caused or delayed by COVID-19.
"It has meaning that I did not and could not have ever anticipated," he said of the collection.
Fans like the Rev. Michael Hawn — professor emeritus of church music at Perkins School of Theology — think "Today I Live" is sure to enhance Young's standing as a denominational treasure.
"It's not distinctive because he's an old guy who's done a book," Hawn said. "He's still at the top of his game."
 
Young was born on April 25, 1926, in Hamilton, OH. A large baby, he was nicknamed "Samson," which became "Sammy" and finally, "Sam."
His father was a pastor who would hold a top post at the Methodist Publishing House. But Young's mother died when he was 1-year-old, and grandparents mainly raised him.
Piano lessons started early, and he learned other instruments on into high school. For inspiration, he had an uncle, Min Leibrook, who played in the Paul Whiteman Orchestra and with the legendary jazz trumpeter Bix Beiderbecke.
Young would later draw on jazz for church music compositions and arrangements, flattening certain notes and adding augmented chords. "That's almost my signature — to incorporate, subtly, little jazz figures," he said.
Young enlisted in the Air Force during World War II and trained stateside as a B-29 gunner when the war ended. He used the GI Bill to earn a music education degree from the University of Cincinnati College-Conservatory of Music, playing string bass in jazz combos on the side. 
Then came Boston University School of Theology, where he studied to become an ordained Methodist elder. But he knew he would be a church musician, having been challenged by a pastor back in Ohio.
"He said, 'The music of the church is not theologically informed. It's performance. It makes sounds, but it doesn't relate to preaching, and it doesn't relate to the liturgical year. You can do something about that,'" Young recalled.
After seminary, Young served local churches as a music minister and began to write church music. In 1959, he became the music editor of the Methodist Publishing House.
Through the decades, he has composed or arranged more than 200 choral and organ pieces. He also has written dozens of tunes for hymn texts, including such enduringly popular numbers such as "This Is a Day of New Beginnings" and "Star-Child." 
"As a composer, Sam is magical," said Mary Louise Bringle, a Brevard College professor and hymn text writer who collaborated with Young on a piece in the new collection. "Working with the same notes and scales as anyone else, he manages time and time again to craft melodies that are simple enough for a very amateur pianist to play, yet rich with unexpected harmonies or rhythms."
Young had long teaching stints at Perkins and Candler. He led the United Methodist Youth Chorale on international concert tours and became a prolific writer, and editor of prose works about church music.
But among United Methodists, he's best known as the editor of The Methodist Hymnal and The United Methodist Hymnal. The latter — still in print and use — has sold than 4.7 million copies and probably ranks as the best-selling Methodist volume of all time, said Neil Alexander, president and publisher emeritus of the United Methodist Publishing House.
  
During the 1980s, Young and the hymnal revision committee made headlines and even network TV news as they struggled over proposed gender-related changes in hymn texts and whether to keep "Onward, Christian Soldiers!" and other hymns grounded in military metaphors.
 
Some 13,000 highly opinionated letters poured in, and Young got a threatening phone call at home. Annual conference gatherings bogged down in hymn selection debates.  There were compromises. "Onward, Christian Soldiers!" was out, then got brought back in.
But Young led the committee and ultimately the 1988 General Conference to approve a hymnal that broke considerable ground by incorporating spirituals, contemporary gospel, sacred jazz (by Duke Ellington), and Hispanic hymns — as well as lots of Fanny J. Crosby and Charles Wesley.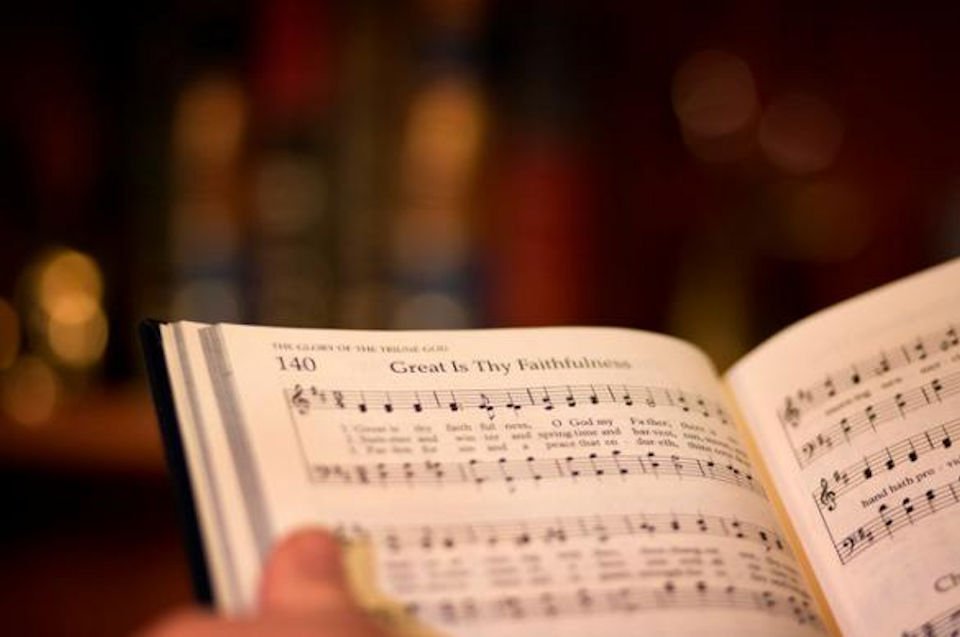 "Sam had the vision for a diverse hymnal, and he was politically astute," said Mary Brooke Casad, who served on the committee.
Hawn believes Young was uniquely qualified to edit a hymnal that's not only diverse but also rich in liturgy, Psalm settings, and written prayers.
"He had the theological cachet, the publishing experience, the compositional experience, the knowledge of music and music history — all of these things in one person," Hawn said.
Young retired from full-time, salaried work in 1991, but almost immediately began writing a 939-page "Companion to The United Methodist Hymnal," providing background on the hymns and composers. He served for many years as a music consultant to the United Methodist Board of Global Ministries, had visiting teaching assignments in Taiwan and Malaysia and at Africa University, and edited a broad range of ecumenical songbooks.
As the decades passed, Young kept writing music. On his 90th birthday, he decided to give himself a present by composing a tune for a text he loved by the late Fred Kaan. It begins, "Today I live, but once shall come my death."
Hymn tunes get their own names, and Young called this one "Memento Mori" — Latin for "remember you must die."
 
Young thinks the church needs to speak more often and more directly to the mystery and inevitability of death.
"We're swimming upstream in an American civilization that simply doesn't want to deal with this," he said.
Young began to conceive of a collection of songs that would work for memorial services and funerals, but also in worship services where death is the sermon subject. And it would, cumulatively, carry the message summed up in Psalm 90:12 — "So teach us to count our days, that we may gain a wise heart."
Chicago-based GIA Publications had brought out one collection by Young, pairing his tunes to words by the celebrated hymn text writer Shirley Erena Murray of New Zealand. The firm agreed to publish the new collection.
"This was another chance for us to partner with one of the most important American church musicians of the past 75 years," said Michael Silhavy, senior project editor.
Work on the collection overlapped with Young's dealing with multiple myeloma — a form of blood cancer. The treatments rob him of energy, but he says he found purpose in writing music and assembling the "Today I Live" collection.
It includes 25 pieces, about half of them with music composed or arranged by Young in his 90s. Text authors range from Charles Wesley to contemporary figures such as Murray, Bringle, Ruth Duck, Delores Dufner, and Brian Wren.
 
There are settings of Native American meditations on death, and one from the Book of Common Prayer. Tune styles vary as well, and Young even provides a new arrangement to "O When the Saints Go Marching In."
"Today I Live" seems to speak to the COVID-19 pandemic in hymn after hymn, including Duck and Young's "Sing of the Ones Who Died Too Soon" and Murray and Young's "Lord, Turn My Grieving Into Grace."
Young noted that the July 18 death of his 90-year-old sister Joyce Cornett owed to COVID-19 and underlying conditions.
 
"The (song) book has taken on more poignancy," he said.
For Saliers, the Candler theologian-in-residence, Young has provided the church a resource for the pandemic and beyond.
 
"This latest collection is a gift out of his sense of mortality and how music is so crucial to our spiritual life," Saliers said.
A gift, but not a farewell. Saliers is writing the words and Young the music for a new hymn.
They've done four drafts so far, and Young is confident it will be ready for its scheduled debut — on All Saints Day.