STEP TWO: The Michigan Conference's Readers to Leaders campaign passes a critical benchmark, thanks to churches committed to literacy and investing in young leaders here in Michigan and in Liberia. The campaign ended May 1.
JAMES DEATON
Content Editor
United Methodist congregations with a big heart for raising up young leaders through literacy have helped the Michigan Conference reach a milestone in the Readers to Leaders campaign.
As of April 18, 2023, generous congregations have given $115,098, which is close to 25% of the campaign's goal. The Michigan Conference is grateful for those that have given already. The campaign runs until May 1, 2023, so the time for congregations and individuals to give is now.
Congregations can mail a check to the Conference Treasurer, 1161 East Clark Road, Suite 212, DeWitt, MI 48820, with the phrase "Readers to Leaders Campaign Acct #4415" in the memo.
Individuals can also make donations online by clicking this secure link via Paypal.
Readers to Leaders is a life-changing campaign to support children's education in local communities across Michigan and in Liberia. This conference-wide campaign, overwhelmingly supported at the 2022 Michigan Annual Conference, challenges each Michigan United Methodist congregation to give at least $600 to support young leaders.
Half of the funds from the campaign will benefit the Michigan Conference's Children Defense Fund (CDF) Freedom Schools Program. This six-week summer literacy and cultural enrichment program is currently operating at sites at United Methodist churches in Flint and Detroit, but interest is growing, and they hope to expand to other areas of the state.
The other half will benefit the Liberia Scholarship Program of the Michigan Conference's Liberia Ministry Partners, giving 100 students at four United Methodist-affiliated schools the opportunity to complete eight years of school.
One of the reasons the campaign has reached this milestone has been the dedicated support of mission-minded churches that believe in responding to community needs and raising up young leaders.
French United Methodist Church of the African Diaspora, near Detroit, is a faith community ministering to immigrants, asylum seekers, and refugees from French-speaking countries in Africa. Their spirit of generosity is strong, for they have received financial assistance themselves as a new church start and believe in helping others as Christ has called them to do.
Started as a Greater Detroit District church plant in 2016, French UMC is pastored by Revs. Gertrude Mukalay Mwadi and John Kabala Ilunga Ngoie, and they meet at Embury United Methodist Church in Birmingham, MI.
Church members don't have a lot of extra money, and their employment is often unstable, as they settle into their new homes in this country. But the Readers to Leaders campaign spoke to them, and they wanted to do their part. They have youth that attend their church and understand the importance of raising up young leaders.
"If there are people suffering, like refugees, or a school in Liberia that needs help, we do with what we have to respond to the need," Pastor Gertrude says. She also believes that French UMC follows the example of the good Samaritan in scripture as it relates to helping others. "We can't only think about ourselves. We need to know the needs happening outside."
Evart UMC, in the Northern Waters District, is a small, rural church that also thinks outside its church walls and was motivated to support the Readers to Leaders campaign. This is due, in part, to their involvement with Evart Elementary School, which is right across the street from the church. Members of Evart UMC have built one-on-one relationships with children by volunteering to help them learn how to read as part of the school's Evart Reads program.
Pastor Jean Smith says that literacy advocacy is part of their DNA as a church. She says, "We believe in children learning how to love to read. And that helps grow leaders. Learning how to read is the basis of education." Evart UMC believes the ability to read is one of the building blocks of good learning, which then helps create a healthy, productive society.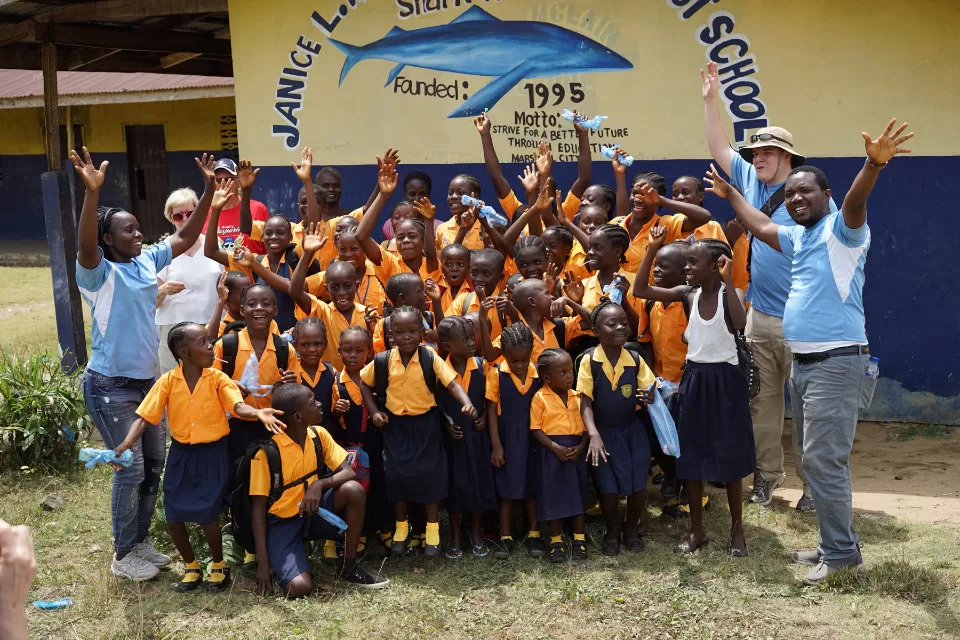 This is true here in Michigan but also in Liberia, where an education unlocks significant opportunities for employment that are not available for those who can't go to school. An educated student who joins the workforce with a good-paying job can support their entire family when they graduate.
Also, families in Liberia sometimes have to choose which of their children go to school. Siblings work in the market selling goods to try to raise money for their sister or brother to go to school. Money raised through the Readers to Leaders campaign will give 100 students at four United Methodist-affiliated schools the opportunity to complete eight years of school, strengthening their families and communities.
The churches in Pastor Zella Daniel's three-point charge in the Mid-Michigan District—Ashley UMC, Bannister UMC, and Pompeii UMC—are all mission-minded and are committed to reaching out to their communities. Ashley UMC is right next door to an elementary school, and they offer M.A.S.H. (Monday After-School Hangout) weekly for 20 to 30 children. Bannister UMC has a free store that gives away basic hygiene aids. Pompeii has a thriving baby pantry that supports families.
Ashley, Bannister, and Pompeii came together to each give $200 toward the Readers to Leaders campaign. They believe in the importance of a good education and that young leaders are needed to shape our future as a society, especially here in Michigan.
"Our world cannot right itself if we don't have good leaders," Pastor Zella confesses, "and we get good leaders by encouraging them when they're young, giving them the tools they need to become the people that we need them to be."
Literacy gives individuals the skills to succeed and pursue their dreams for all that God has planned for them. The Michigan Conference's CDF Freedom Schools Program is a six-week summer literacy and cultural enrichment program designed to serve children and youth in grades K–12 in communities where quality academic enrichment programming is limited, too expensive, or nonexistent.
The CDF Freedom Schools empower students to believe in their ability and responsibility to make a difference while instilling in them a love of reading to help them avoid summer learning loss. Freedom Schools use culturally relevant pedagogy and high-quality books so that children and youth better understand themselves and all they have in common with others in a multiracial, multicultural democratic society.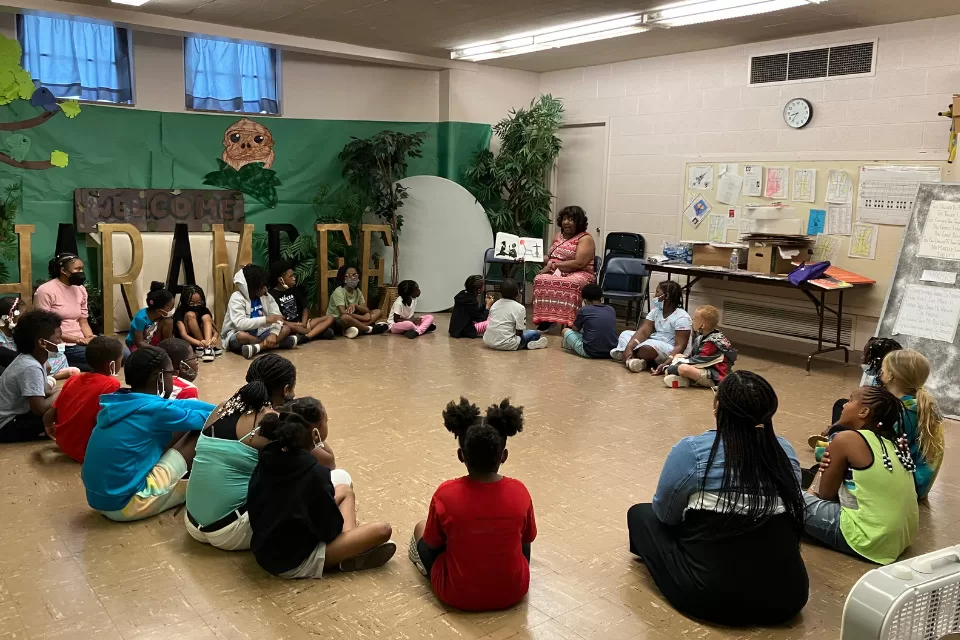 Almena UMC, in the Greater Southwest District, is another small yet mission-minded church that felt moved by the goals of the Readers to Leaders campaign and chose to give.
The CDF Freedom Schools Program inspired them because of their commitment to raising up young adult "scholars," as they are called. They are also moved by the program's intent to expand through new sites across Michigan, not just in the eastern part of the state.
Janet Swigart, Mission Chair, notes that supporting Liberian children was another motivating factor in their giving: "The Liberia Scholarship Program gives us the opportunity to continue and expand Michigan's long-standing commitment to Liberia, exemplified in one way by the Bishop Judith Craig Children's Village, which cares for orphans."
Swigart says that Almena UMC collects a missions offering each Sunday, and they chose the September 2022 offering for Readers to Leaders.
"The size of our congregation has seriously declined in recent years," she admits, "so the fact that we raised over $520 in September shows our commitment to education and demonstrates the trust that we have in the Michigan Conference to use the money wisely and where there is great need. We will meet the remainder of the $600 goal by May 1, thanks to a generous donor."
The Readers to Leaders campaign ends on May 1, and Michigan United Methodist congregations are urged to give to raise up young leaders here in Michigan and in Liberia. To learn more, visit the Readers to Leaders web page.
While the Readers to Leaders campaign ends on May 1, 2023, the effort undergirds ministry with Michigan Conference partners. The Liberia Ministry Partnership (CCMM #3035) and Children's Defense Fund Freedom Schools (CCMM #3049) are listed in Step 2 of EngageMI.