Local Church Resources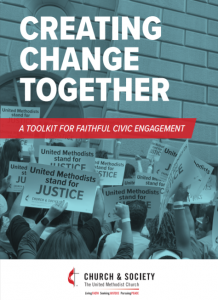 "Creating Change Together: A Toolkit for Faithful Civic Engagement"
"Creating Change Together" provides the biblical and United Methodist ground for civic engagement and essential tools to address public concerns. Topics include: claiming our story, connecting with decision makers (with tips for advocating through visiting, public witness, calling, writing and social media), and engaging in the electoral process.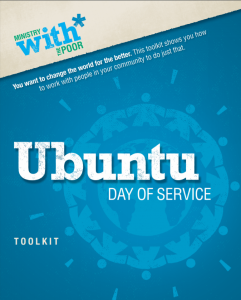 "Ubuntu Day of Service Tool Kit" by United Methodist Women
An Ubuntu Day of Service isn't a typical volunteer day or service project. This day combines the being and doing of mission. This toolkit guides you through planning an Ubuntu Day of Service with information about mission work that links service and action with justice. It includes helpful planning tips and fundamental concepts that are critical to understanding how the mission of being and doing intersect.
Board of Justice Archive 
Board of Justice General Confernece 2019 Statement
Keep Making Peace Makes a Difference
American, Methodists, and Black History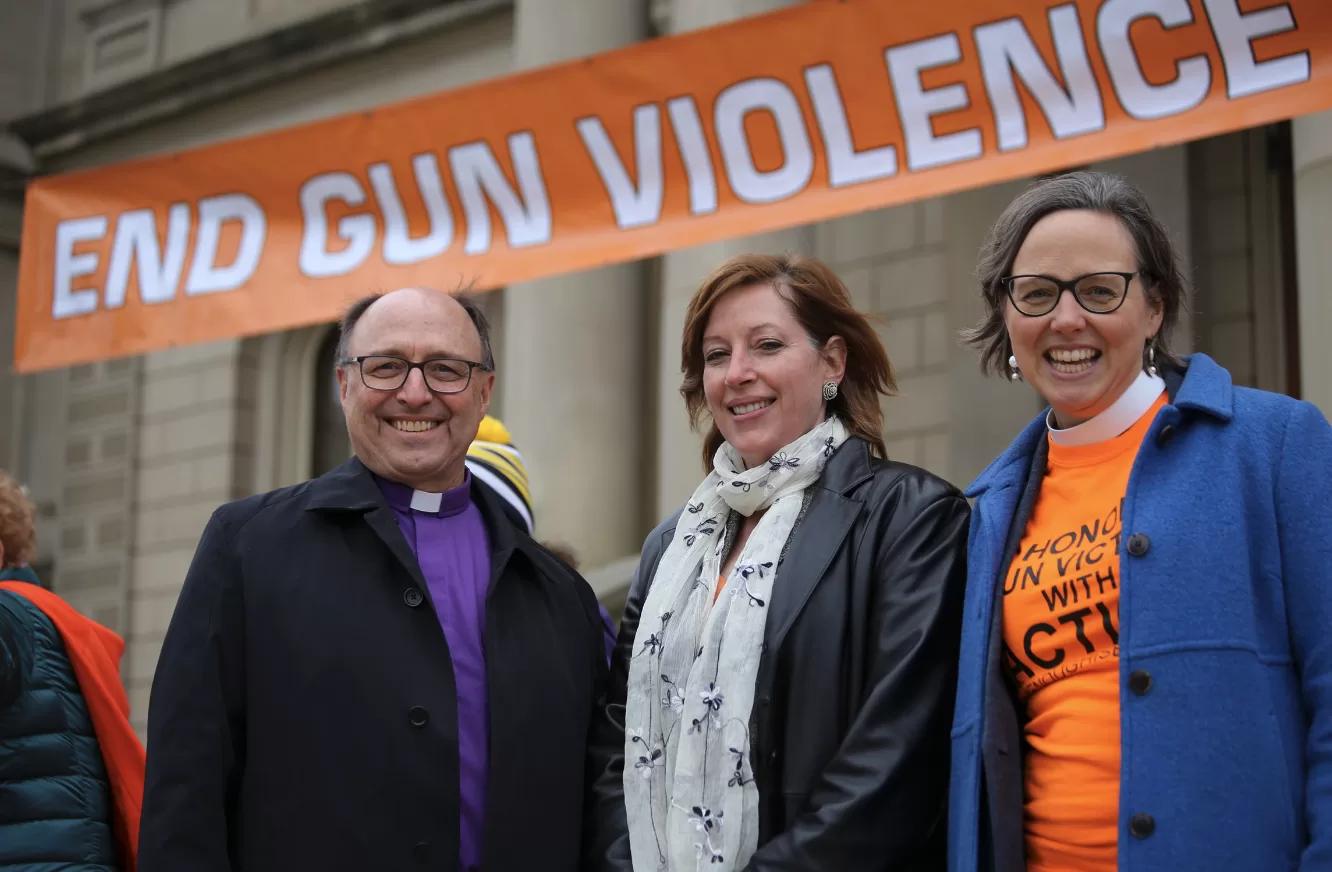 Advocacy Day March 22, 2023
Join other Michigan United Methodists on Wednesday, March 22 for our first annual Advocacy Day in Lansing! This will be a day of prayer, public witness, and meetings with your elected officials! The topic this year is gun safety. There will be three virtual training events before Advocacy Day where you can learn more about the topic and prepare for your meetings. The first two trainings are highly encouraged and will be recorded for you to view later if you cannot attend live. Attending the third training is required in order to attend the meetings with elected officials. We will also have a virtual debrief after the event to share key learnings and next action steps. Registration costs $20, which will help cover related expenses.  Scholarships are available. Contact Alice Townley or Michelle King with any questions. 
A Call Towards Justice

A call towards justice is core to United Methodist theology and biblical studies. Our news is full of stories illustrating increasing polarization, violence, and disparities that disproportionately affect those already marginalized among us. It is easy to feel overwhelmed and helpless. What might happen if we come together as United Methodists across the state to build community, draw from deep spiritual wells, listen to the cries around us, discern focus, and organize? 
Moved by the dramatic rise in school shootings and other deaths by guns, the 2022 annual conference voted to address gun violence in our state. I want to invite you to add energy to justice. Attend our first annual Advocacy Day on March 22, 2023 at Central UMC in Lansing. Prepare with 3 virtual meetings on March 7, 13, and 21 to build community, expand skills, and learn the issues. After the day in Lansing on March 22, debrief and dream next steps in a virtual gathering on March 29. Let your state reps know you are coming and invite neighbors to join you. Let us hear again the words from Mordecai to Esther, "Perhaps you have been called to the kingdom for such a time as this." (Esther 4:14)
Advocacy Day Schedule
Date/time: Wednesday, March 22, 8:00am-3:00pm
Location: Central UMC in Lansing - 215 N Capitol Ave, Lansing, MI 48933
8:00am: Registration and refreshments 
8:30am: Welcome 
8:45-11am: Meetings with groups and elected officials
11:15am: Press Conference
12:15pm: Lunch
1:00pm: Worship
2:00pm: Tour of the Capitol available
3:00pm: Home
Acts of Public Witness
Corey Simon, Disruptive Disciple Blacksmithing, will transform a gun into a garden tool
 Press Conference on south steps of State Capitol, 11:30am (In case of inclement weather: Central UMC)
Press Conference Speakers 
David Bard, Bishop of the Michigan Conference
The Honorable Julie Rogers, State of Michigan House of Representatives, District 41
Heather MacDougall Walsh
Other speakers TBA
4 Legislative Asks
Safe Storage - would require guns in homes with children to be locked away safely
Universal Background Checks - for all firearm purchases
Extreme Risk Protection Orders - allow judge to temporarily remove firearms from individuals that may be at risk for harming themselves or others
Restrictions on ability of domestic abusers to own firearms
Putting our faith in action
Each year, the Michigan Conference meets for an annual meeting. At that meeting, members discuss and vote on measures that asking for United Methodists in Michigan to place their faith in action. Here are the 2022/2023 initiatives and what you can do to get involved.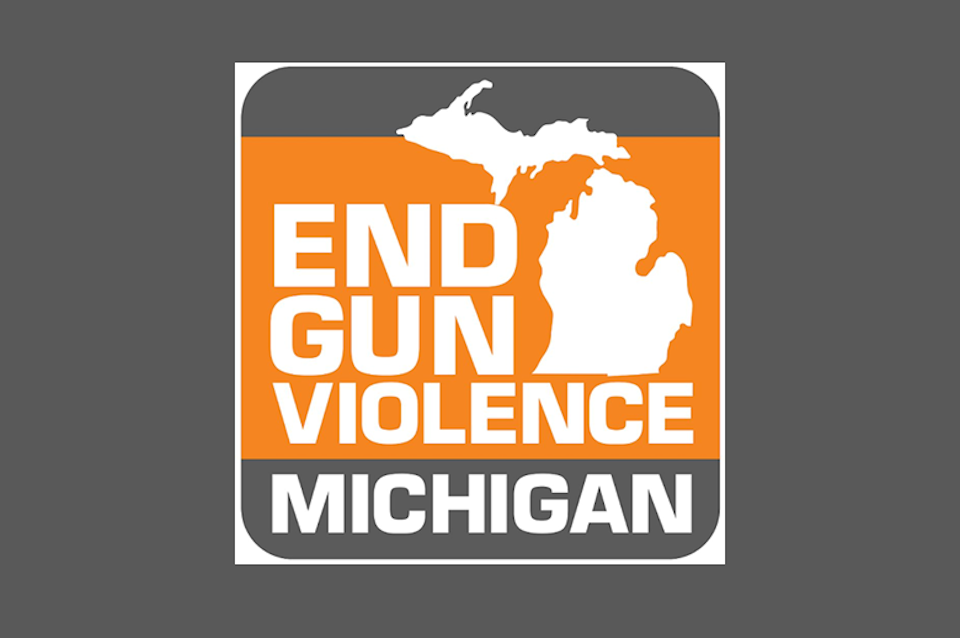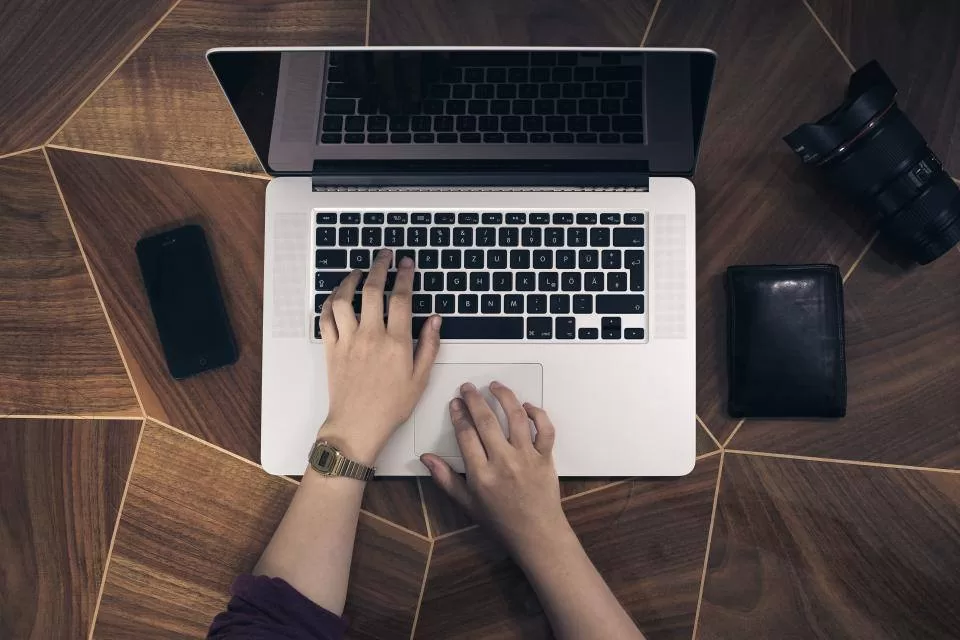 End Gun Violence #2022-16
Following the Oxford school shooting that killed four students and injured seven others, the Michigan Annual Conference voted overwhelmingly to take action to address the rise in gun violence.
Cancellation of Federal Student Loan Debt #2022-5
The resolution as passed calls United Methodists to "stand for the partial cancellation of federal student loan debt … through correspondence with elected officials."
Immigrant Driver's Licenses/State I.D.s #2022-10
Sign up for ongoing justice and advocacy updates.
"All of Us Together: Online Prayer Vigil for Racial Justice"
The Michigan Conference Board of Justice organized this online gathering of prayer, reflection, and a call to action in solidarity with the nation-wide movement calling for repentance and conversion for the sin of racism, demanding the de-funding of policing, and sparking a national conversation to re-imagine public safety. Watch the vigil here.
Resources for Action & Reflection 
Join protests in your community as your conscience leads and aligns with the "Three Simple Rules:" Do Good. Do Harm. Stay in Love with God. 
Host a Prayer Vigil or Community Event - Use the Creating Change Together handbook from the General Board of Church & Society.  
Commit to personal learning and courageous conversations with people in your circle:
"Vital Conversations Series" , General Commission on Religion & Race. 
Children & Young People: Anti-Racism, Anti-Racism for Parents, Be A Good Neighbor for Conference Children's Ministry
Anti-Bias & Anti-Racism Resources from Conference Cultural Vibrancy
Take the 21-Day Challenge for Racial Equity from Michigan Public Policy League

Read the resolutions passed at 2022 Annual Conference:  2022 Voting Items Book


Statements from United Methodist Leaders 
"Moving Toward the Pain" Erin Hawkins, General Secretary of the General Commission on Religion & Race
"Council of Bishop Statement on the Scourge of Racism," Council of Bishops of The United Methodist Church
"Pastors, Prophets, Politics, & Pandemics" Bishop David Bard, Resident Bishop of the Michigan Episcopal Area
"Bishops Statement on the Death of George Floyd" Bruce R. Ough Resident Bishop of the Dakotas-Minnesota Episcopal Area  

Questions? Contact the Rev. Paul Perez