Meet two women who are servant leaders in the Michigan Conference. Their faithful stewardship of resources has kept God's people in ministry even in the midst of the COVID-19 pandemic.

GLENN N. WAGNER
Michigan Conference Communications
Sometimes on a long journey, a scenic turnout allows the weary traveler a spectacular view of God's grace and opportunity for renewal of spirit for the next leg of the journey.
This is an inspirational look back with two parts. We will visit a Michigan United Methodist pastor and her congregation and learn how they are creatively sustaining vital ministry during the trials of this pandemic. In the second part, we will meet a servant of the church employed as a result of our Ministry Shares support. Her vital leadership strengthens our local church efforts in ministry with youth. This inspirational overview offers direction and hope for the journey forward.
Pastor Melany Chalker of the Marshall United Methodist Church in Marshall, MI, never anticipated all of the ministry challenges in 2020.  To say the past year was an arduous journey for Melany and her congregation would be an understatement. 
Melany has been the pastoral leader for the Marshall congregation since 2013. Her initial dreams for this past year included extensive planning with her congregation for Melany to take a sabbatical in the summer of 2020. The spreading pandemic and foreign travel ban dramatically altered Melany's imagined renewal leave, including a trip to France. Marshall UMC leadership stepped up to face the challenges caused by the coronavirus with faith, courage, and creativity.
Even before the pandemic canceled in-person worship, the Marshall church broadcast both of its morning worship services on Facebook.  With the increasing demands of continuing an active and expanding virtual ministry, the church added a part-time tech person to the staff to keep more of the church ministry online.
Melany devoted much time to writing ministry grants to the government, national, and community foundations. Financial support received from those grants helped the church to maintain its ministries.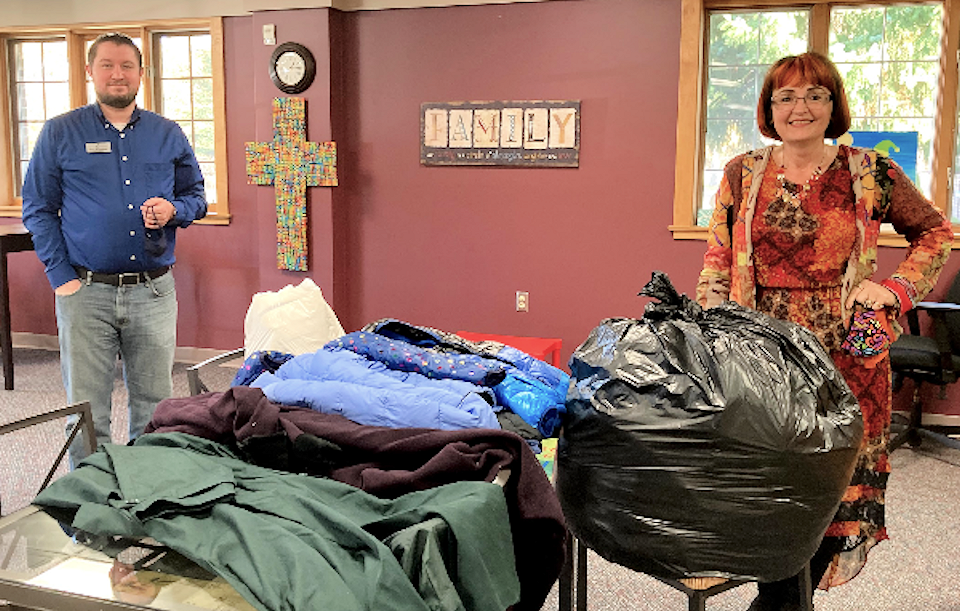 Marshall UMC embraces the calling of Christ to engage in ministry beyond the church walls, and that continued despite the pandemic challenges. The church remains an active founding partner in "There's Enough," the downtown Marshall community exchange free store, where donors drop off goods and those in need are free to take what they need. Melany notes, "In God's economy, there is always enough." The church has long supported local groups addressing addictions with volunteers and hosting. Those essential life-supports have figured out how to continue to meet with strict protocols in place for meeting safely.
Melany noted that the greatest challenge for continuing ministry is not maintaining an online worshipping community but the continuation of vital discipleship ministry and groups. She commends her Discipleship Director Rachel Labram for the children and youth ministry at the Marshall church, who arranged for the delivery of "Advent in a Pizza Box" to every church household with children or youth. Rachel also spearheaded a Virtual Christmas Pageant, which aired online on Christmas Eve. Parts and props were delivered to each household with instructions to film the children and youth doing their parts.
Melany is grateful to many for maintaining, and in some instances increasing, their support for the church and its ministry. Marshall UMC maintains a well-used donate page on their website where people can give using PayPal or EasyTithe. Melany also shared that a secure drive-up donation drop box outside the church building has been used faithfully by church members who continue to give by check or cash.  A long-established church program for members who regularly contribute by Electronic Funds Transfer directly from their bank accounts also remains a valued source of support for church ministries.
The congregation has been generous in their support for "the Pastor's Discretionary Fund" to help persons with dire emergency needs. During the pandemic, the need for these funds and the account balance have swelled to meet the needs of unemployed people and seniors.
Melany knows first-hand the horrific cost of the coronavirus. She returned home from the hospital in November after routine surgery. Follow-up testing revealed that she had contracted COVID-19 in the hospital. Her husband subsequently also contracted the virus. Her 22 days of extreme lethargy and fever added unexpected stress to Advent in 2020. She knows the grief of losing loved ones to this pandemic. Marshall UMC has lost two elders to the virus, and her daughter-in-law contracted Covid-19 while caring for her grandfather, who succumbed to the disease.
Despite all these challenges in 2020, the congregation fulfilled 100% payment of their Ministry Shares. Pastor Melany Chalker now has deepened awareness of God's grace and is grateful for the church's vital ministry.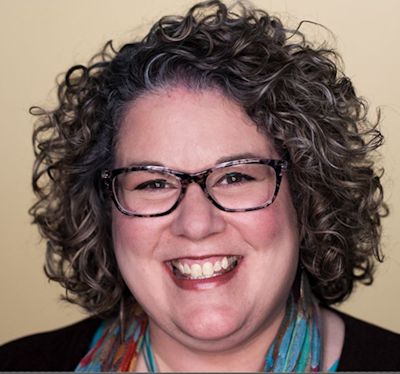 Back at the scenic turnout, we can find additional inspiration when we see how those Ministry Shares are being invested in equipping leaders for more effective youth ministry in our Michigan communities and beyond.
Christy Miller White is the Michigan Conference Youth Ministry Initiatives Coordinator. She is a part-time employee of the conference who helps facilitate United Methodist youth ministry across our state.
Christy began this rewarding work in March of 2020 and, because of the pandemic, has been conducting valuable virtual connectional ministry ever since.
Christy helps to maintain a Michigan Conference Youth Workers Facebook Page where group members share ideas and encouragement. In 2020 she led a weekly group that provided support and resources for youth leaders in the Michigan Conference. In 2021 Christy offers a casual monthly support group meeting and a monthly resource opportunity through the REACH Network Group for youth leadership. Youth workers wanting to join either of these groups are welcome to contact Christy; (517) 347-4030 ext. 4095 or [email protected]. 
Christy is excited about the creative ideas being shared during the resource group meetings to keep youth engaged and in fellowship while maintaining safe social distancing. For instance, foam "pool noodles games" help contestants maintain a safe six-foot distance throughout the activity. Working together relieves some of the pressures leaders feel trying to weather the uncharted waters of ministry during COVID-19.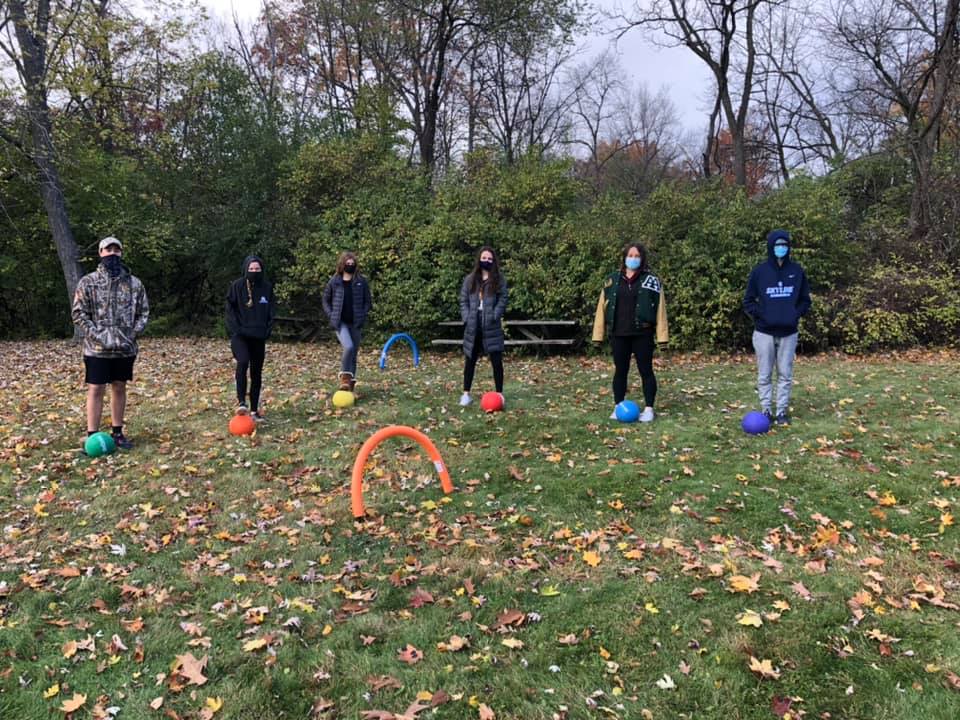 Christy grew up in a Christian home in Tulsa, OK, and credits her loving parents and a beloved United Methodist grandmother for her deep faith and long service in the United Methodist Church. Christy also says mission trips to Papua New Guinea and another to the American Southwest to work with Native Americans were formative and maturing faith experiences in her life.
Christy received her Bachelor of Arts in Christian Education and Church Music and her Master of Arts in Theology from Southern Nazarene University in Bethany, OK. She did some additional basic graduate theological studies at Garrett-Evangelical Theological Seminary in Evanston, IL. She was an adjunct professor teaching philosophy, history, and theology at Southwestern Christian University in Bethany. She was an active member of a singing group that traveled across the United States and Canada in concert. For 25 years, Christy has been a leader and staff member in churches, including First United Methodist Church of Midland and Court Street United Methodist Church in Flint, responsible for Christian education and youth ministry. Christy is an ordained deacon.
Christy loves working with young people because "they are not afraid to think outside the box." She hopes to help the Michigan Conference youth articulate their voice and be a positive force for change. She noted a January training event to help youth leaders address issues of systemic racism as a sample of working toward needed change.
Christy also recognizes the challenges of growing a support network for youth ministry across both the lower and upper peninsulas of Michigan when the pandemic has limited travel and face to face meetings. But she knows virtual connecting is an important tool that will continue even after the pandemic is over. She hopes for a day when smaller neighboring congregations will pool their talent and resources to engage in shared youth ministry in their area.
In talking with Christy, it is easy to recognize that money spent by our connectional church in ministry with our youth across our state is a positive investment in growing mature disciples for Christ.
From a scenic point at the top of a mountain in Galilee, Jesus gave his disciples the Great Commission to make disciples of all nations (Matthew 28:16–20).  The journey of the disciple along the path at lower elevations is regularly challenged. Fatigue, discouragement, and feeling lost are common occurrences. The pandemic is a major challenge still before us. We can find inspiration to continue on faith's journey with hope by remembering the vision, the mission, and the continuing evidence of God at work through congregations like Marshall United Methodist Church, pastors like Melany Chalker, and connectional servant leaders like Christy Miller White.