Louisiana and the Northeast were hard-hit by Hurricane Ida. United Methodists from around the nation are coming together to support each other. 
SAM HODGES 
UM News
The days after Hurricane Ida brought more reports of damage to United Methodist buildings in Louisiana and the Northeast, but also cheering accounts of the denomination's connectional strength.
Churches and conferences spared by Ida moved quickly to help churches and conferences that the massive storm roughed up.
The Alabama-West Florida Conference announced a $100,000 donation to the Louisiana Conference for Ida relief and recovery.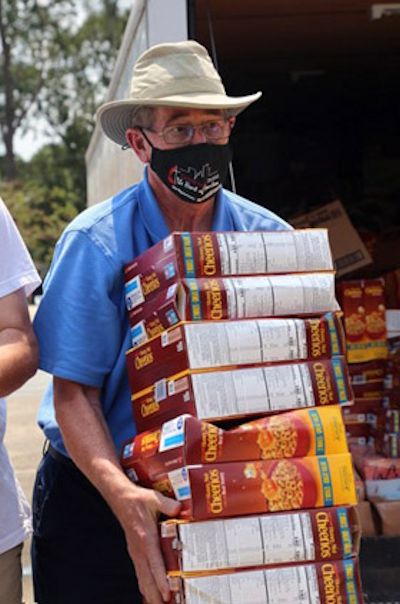 "We're wanting to hold you up because it's exhausting work," Bishop David Graves of the Alabama-West Florida Conference told Louisiana Conference officials in an emotional Sept. 7 Zoom call. "But the beauty of The United Methodist Church is in our connection, and we come together to support one another."
A day earlier, the Texas Conference brought two trucks full of nonperishable foods and other targeted supplies to a staging area at Broadmoor United Methodist Church in Baton Rouge, LA.
Texas Conference Bishop Scott Jones and his wife, Mary Lou Reece, drove one of the trucks themselves and helped unload.
"We have been overwhelmed by the amount of support we have received, certainly from the Texas Conference and Alabama-West Florida Conference, but from so many around the United Methodist connection," said Louisiana Conference Bishop Cynthia Fierro Harvey.
In the Greater New Jersey Conference, United Methodist Church of Bound Brook had extensive flood damage from Ida.
But on Labor Day, the church's pastor, the Rev. Mcwilliam Colon, had help from the Rev. Sang Won Doh, a district superintendent, and the Rev. Chuck Coblentz, pastor of New Dover United Methodist Church, and others in mucking out the church's thrift store.
"There was water in Tupperware that were five feet off the floor," Coblentz said.
Bishop John Schol leads the New Jersey and Eastern Pennsylvania conferences. He said a handful of United Methodist churches and parsonages there had significant flood damage.
But he noted that the Ida-related property damage in Louisiana is far greater, prompting yet another connectional response.
"Our fundraising efforts will also be supporting Louisiana and the work that's going to be happening there," Schol said.
The United Methodist Committee on Relief is the denomination's best-known vehicle for helping after natural disasters.
UMCOR is providing solidarity grants and technical assistance to conferences affected by Ida, as well as working closely with conference disaster response coordinators and early response teams already at work in Louisiana, said Lara Martin, the agency's director of U.S. disaster response.
"Ida and the level of devastation and the scale of the response have exceeded our expectations," Martin said.
Louisiana got hit by the Category 4 hurricane on Aug. 29-30, leading to at least 15 deaths and the loss of power and communications across New Orleans and most of the southeastern part of the state.
Ida moved slowly north and east, causing at least 50 deaths in six other states, with more than half of those in New Jersey. The storm brought tornadoes and torrential rain, trapping people in cars and homes as the waters rose.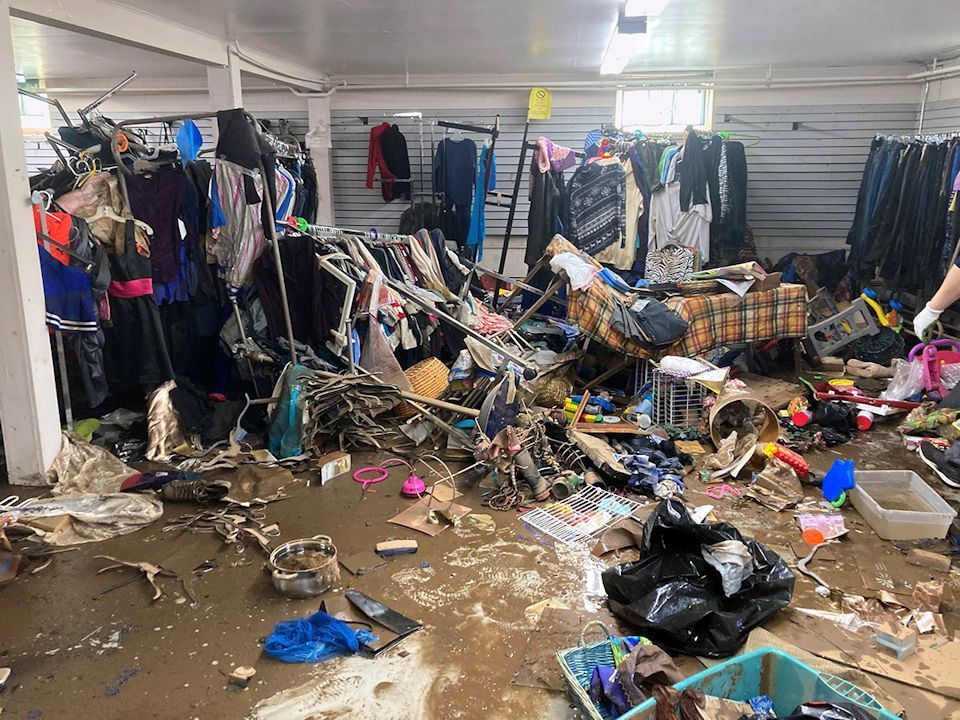 That was the case in Bound Brook, New Jersey, a community sadly experienced in dealing with floods.
Colon, the Bound Brook United Methodist pastor, found himself on Sept. 1 trying to get back to his parsonage on highways that seemed like rivers.
"I praise God that my Nissan Versa got me home," he said.
But the United Methodist Church of Bound Brook itself had been clobbered. The thrift store was lost to flooding. So was a boiler. A Dumpster had floated out to the nearby creek.
The church's fellowship hall had just been remodeled for a new daycare center, but flooding undid all that.
"Our goal was to open the daycare on Jan. 1," Colon said. "I don't see that happening."
Mamaroneck United Methodist Church in Westchester County, NY, came through Ida with minor flooding, but there was big trouble close by.
"Two neighborhoods are very low-lying, and a lot of immigrants and people of color were particularly affected because they live in those neighborhoods," said the Rev. Karen Ann Burger, pastor. "Some of them lost everything."
Burger said Mamaroneck United Methodist, in the New York Conference, joined with a Pentecostal congregation that meets at the church to collect relief items.
"We'll be looking at other ways to volunteer," she said.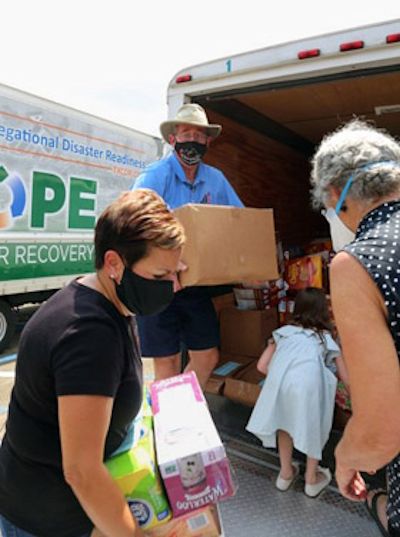 Other churches are finding ways to help their communities after Ida. Centenary United Methodist, in Lambertville, NJ, has become a temporary home to the flood-damaged Delaware Valley Food Pantry.
Meanwhile, the Louisiana Conference has continued to have reports of church building damage.
Right after Ida hit, the Rev. Jason Harris couldn't even get to his church, First United Methodist Church of LaPlace. Roads were impassable.
But by Sept. 3, Harris had posted to Facebook a video in which he walked around the church property and documented the flood damage.
Harris noted that "it'll be a while" before the church can meet in its building.
"We're going to work hard. We're going to rebuild, and we're going to praise God along the way," he said.
The Louisiana Conference is dealing with the cumulative effect of recent natural disasters. The city of Lake Charles, for example, is trying to come back from Hurricane Laura in August 2020, as well as a ruinous winter freeze and spring flooding.
"There's not a ZIP code in the southern part of the state that hasn't been impacted by some storm event in the last year," Harvey said.
While most of New Orleans has had power restored after Ida, that's not the case elsewhere in southeast Louisiana, and a long recovery is expected due to extensive flood and wind damage.
United Methodist conferences along the Gulf Coast have all had natural disasters to deal with in recent years, and Graves said the Alabama-West Florida Conference's experience with Hurricane Michael in 2018 was key to its deciding to make a big donation to the Louisiana Conference.
"Louisiana was one of the annual conferences that helped us significantly, as did the Florida Conference," Graves said, adding that the latter contributed more than $1 million altogether.
Graves now leads the South Georgia Conference as well as the Alabama-West Florida Conference, and both have sent early response teams to Louisiana, he said. The Rev. Chris Ackerman, the Alabama-West Florida Conference disaster response director, is helping in Louisiana as well.
"We felt we wanted to be supportive, and not only to give a gift," Graves said. "We know firsthand what people are going through."
Other accounts of relief and recovery work are emerging, and one came from the Rev. Godfrey Hubert.
Hubert is disaster readiness coordinator for the Texas Conference, as well as the founder of a partner organization, Hope Disaster Recovery. He joined Bishop Jones in delivering supplies to Baton Rouge. He also has made other post-Ida trips to Louisiana, bringing some 50,000 diapers, among other essentials.
Hubert strongly supports ecumenical and interfaith relief work, and on Sept. 7 drove a truck of supplies loaded by a Catholic church in Houston.
But en route to southeast Louisiana, he got word that the church he was headed to wasn't prepared to do the distribution. He got in touch with sources at Houston's Chapelwood United Methodist Church, who redirected him to two United Methodist families in Bourg, LA, near Houma. The families have a grassroots relief effort for neighbors in great need.
"I pulled up and they were out of supplies," Hubert said. "Before I left, their trailer was loaded and they were leaving to hand out everything. It was just nice to see, all the way around."
~ Sam Hodges is a Dallas-based writer for United Methodist News. Shannon Martin of the Texas Conference, Heather Mistretta of the Greater New Jersey Conference, and Lisa Isom of the New York Conference contributed.