Julie Yoder Elmore has rich experience as a US-2 and pastor. Now she helps others serve as supporters of mission in her role as Conference Secretary of Global Ministries for The Michigan Conference.

GLENN M, WAGNER
Michigan Conference Communications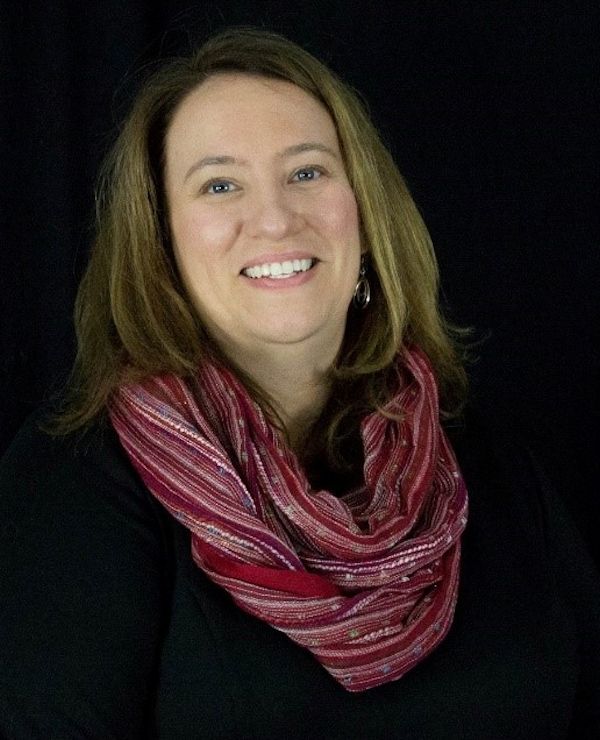 Meet the Rev. Julie Yoder Elmore. Julie, pastor of Coldwater United Methodist Church, is also the newly appointed Secretary of Global Ministries for the Michigan Conference. That makes her a key figure in the facilitation of our local and connectional church's global mission efforts. Julie comes to this role with a lifetime of mission and ministry-related experiences that have prepared her for this important work.
As a young child, Julie began learning to adapt to new environments by moving with her parents as her Dad relocated multiple times as a superintendent of golf courses. Julie was born in Cadillac, MI, but at the age of five, she moved with her family to Africa near Abidjan in Cote d'Ivoire (Ivory Coast) for three years while Hotel Intercontinental was constructing a golf course to promote tourism.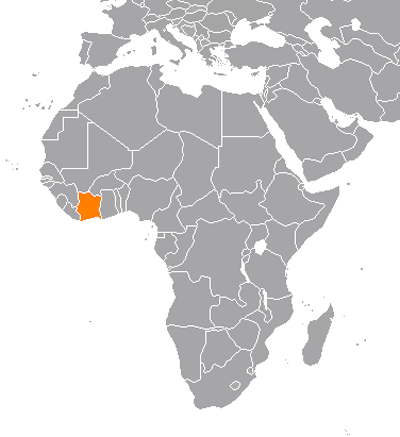 Julie remembers that her "first exposure to missionaries was there as our American neighbors were missionaries with the Seventh Day Adventist Church. Simultaneously, my cousin and her husband were missionaries through the Mennonite Central Committee in Kenya and MI. She was grateful for the pastoral mentoring she received as a teenager from pastors Geoff Hayes, Brad Bartelmay, and Tamara Williams. 
Julie is a graduate of Lakeshore High School in Stevensville, Lake Michigan College in Benton Harbor, and Western Michigan University in Kalamazoo. Julie followed her calling into ministry and mission by traveling to England as a part of a program sponsored by the General Board of Global Ministries called "Time for God," where she served in her first year after college as a youth worker in the town of Amersham near the end of the tube line about 25 miles northwest of London. In this role, she worked in a congregation that had been yoked for over 100 years in a partnership between the United Reformed Free Church of Scotland and the Baptist Church. She explained, "I went as a youth worker but ended up working with all ages."
Julie returned to America in 2001 and continued her service by being accepted as a member of the General Board's US-2 program, traveling first to Atlanta for social justice training and then a trip to Birmingham, AL, for the celebration of the 50th anniversary of the US-2 ministry.  After completing her training in the summer of 2001, Julie received her first US-2 assignment to work in Nome, AK with native American elders at the Senior Center and to help manage the local food bank at the Nome Community Center, which has been a mission of the United Methodist Women since 1910.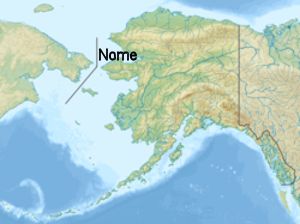 Julie arrived in Nome, a city of about 3,800 on the west coast of Alaska, just five days before the terrorist attacks of September 11, 2001.  Nome is not connected to any highways in Alaska and can only be reached by air, water, or some snowmobile/dogsled trails. Nome is the annual finish line of the 1,000 mile Iditarod dog sled race each March. When all US flights were grounded for two weeks following the September 11 attacks, Julie received a crash course on the unintended consequences in a community that is largely dependent on regular air travel for its well-being.
As a US-2 missionary, Julie received a small monthly stipend for food, another small stipend for living expenses, and her lodging was a room at Nome's Community United Methodist Church. Julie remembers her time serving a community that is 60% native Alaskan and mixed with Russian, Korean, Vietnamese, and other Caucasians as a life-changing experience. She learned that serving as a missionary is not about imposing one's culture and beliefs on others but rather about growing in meaningful relationship by humbly working with and learning from others in the name of Christ. Julie said of her experience in Alaska, "I appreciated connecting with the Elders and learning so much about the Alaska native culture and traditions. Our activities included exercise, berry and greens picking, fishing, and singing hymns in Inupiaq, Siberian Yupik, and English languages." When her two-year term in Nome as a US-2 ended, Julie decided to stay in Nome and was hired full time to work at the Community Center.
In 2005 Julie took another great leap of faith and followed her growing sense of calling into ministry by enrolling at the United Methodist St. Paul School of Theology in Leawood, KS.
At seminary Julie's life took another happy turn when she met and married David Elmore, a fellow seminarian, also following his call into a life of full-time ministry.
After graduation from St. Paul's, David and Julie received their first appointment back in the Alaska Conference of the United Methodist Church, where they were named co-pastors of Community United Methodist Church in Nome.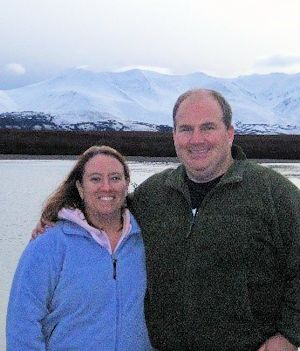 Julie remembers their time serving together in Nome with fondness. "For the first 2 ½ years, we served together as co-pastors and also each worked for the Nome Community Center. When the position of Executive Director of Nome Community Center opened up, David was offered that position, and I became the solo pastor of Community UMC. We served in Nome as clergy for five years. I served in Nome nine years total between my years as a young adult missionary and as clergy. Some of my most memorable experiences were singing with the Inupiaq choir, working with others in the church to start and maintain a ministry called Tuesday School, berry picking on the tundra, and having reinforced that every creature is of value."
In 2013 in anticipation of their first child, the Elmores inquired about a ministry transfer back to Michigan to start their family near other family members. Julie remembers learning of her pregnancy on March 4 and then on March 5, receiving the other great news in a phone call from her friend Tamara Williams, who was then serving as the Albion District Superintendent. She and David would be coming home to serve in Michigan. Julie was appointed to serve the United Methodist congregations in Litchfield and Quincy. David was appointed to serve the church in Concord.
Julie smiles when she remembers the amazing baby shower offered by their three congregations for their son Oliver when he arrived later that first year of their Michigan service. "That three church shower was an amazing way to meet people!" The Elmore's son Oliver is now seven.
In 2017 Julie was appointed to serve as pastor of Coldwater UMC. In 2016 husband, David Elmore, began work as a traveling hospice chaplain for Compassus.
In 2015 Julie became a member of the West Michigan Conference Board of Global Ministries and continued serving the Board following the creation of the new Michigan Conference of the United Methodist Church.
Our conference Board of Global Ministries serves in conjunction with the General Board of Global Ministries, which is the worldwide mission, relief, and development agency of The United Methodist Church, working with partners and churches in more than 115 countries to equip and transform people and places for God's mission. Global Ministries connects the church in mission by sending missionaries, evangelism and church revitalization, disaster response and recovery led by the United Methodist Committee on Relief, and global health.
The Michigan conference Board of Global Ministries helps to coordinate our local church support for 31 missionaries. These include:
8 serve in Africa
4 serve in Asia
3 serve in Central America
1 in the Middle East
1 in North America
1 Church & Community worker in Michigan at God's Country Cooperative Parish
5 Global Mission Fellows serve in Kalamazoo and Detroit
1 Global Mission Fellow from Michigan in Tampa, FL
Most of the annual salary support for these missionaries comes in second-mile giving by individuals and local congregations. A description of the ministries and missionaries supported by the Conference Board of Global Ministries can be found in the attractive and informative 44-page online booklet published by the Conference Board titled, "Engage-MI."  Reading and sharing this booklet should be a priority for local congregations as a great help for understanding, interpreting, motivating, and enabling others to get involved in mission activity and support.
This helpful booklet also details many local Michigan, national, and international ministries supported by our conference as well as ways for individuals and congregations to get involved in life-changing ministry "with others."  Engage-MI offers helpful ideas for educational resources that are also available.
Julie is grateful for the fine work as Conference Secretary of Global Ministries done by her predecessors in this role, Jackie Euper (Detroit) and Sharon and Mark Burkart (West Michigan). Julie also gives thanks for the leadership offered by the current Board Chair Brenda DuPree, a layperson from the Clarkston United Methodist Church. Julie understands her role as the secretary is to help connect missionaries and churches – encouraging local churches to be in a "covenant relationship" with at least one missionary. The secretary alerts churches when their supporting missionary is coming to Michigan and sets up the missionary itineration/travel schedule. The Board secretary also assists with making arrangements for the Conference Board of Global Ministries dinner and speaker at Annual Conference. 
This General Board of Global Ministries video features two of the missionaries supported by The Michigan Conference. Meet Delbert and Sandy Groves serving at the New Life Center in Zambia.
In recent years, Julie noted that about three to four of our missionaries have itinerated in Michigan to visit their supporting churches during their furloughs home each year. During the pandemic, mission visits with local churches are arranged virtually, using online platforms such as Zoom. She noted that some missionaries are also taking advantage of technology to make videos of their work to share with their supporting congregations.
Julie maintains a personal awareness of our covenant missionaries and values their work. She mentioned a missionary home on furlough from China who has been unable to return to serve in China because of virus-related travel restrictions and talked of many others from Michigan who are serving here in Michigan and other places around the United States wider world.
The pandemic has also resulted in the three meetings of the Board this year to be held with many of the Board members choosing to attend the meetings virtually.
The church of Jesus Christ is at its best when gifted people live faithfully and share their spiritual gifts for the glory of God and the strengthening of the body of Christ for ministry. The Michigan Conference of the United Methodist Church has 830 congregations and a membership of 130,000 persons. This great connectional church has a global reach, a local impact, and many remarkable persons offering leadership and service for the greater good. We can all be grateful that in the important post of Secretary of Global Ministries, the Rev. Julie Yoder Elmore is sharing her considerable gifts so that we might more effectively share our own gifts in mission engagement, understanding, and support.