Larry and Jane Kies, missionaries serving at Africa University in Zimbabwe, reinvigorated the connectional spirit found within Methodism by visiting supporters in the Midwest, including some in Michigan.
ALICE FLEMING TOWNLEY
Mission and Justice Coordinator, Michigan Conference
"I'll have the fresh gazpacho, too." We sat around tables on a hot August evening with Larry and Jane Kies, who had traveled via plane, car, and ferry to arrive in East Lansing, MI, from Mutare, Zimbabwe. Around those tables gathered members of the missions committee from University United Methodist Church, Pastor Melanie and John Carey, and me. We chuckled at how we all wanted to taste the soup, fresh from the earth. And we heard Larry share about growing up in Iowa and his call to cultivate the gift of growing food, not only for himself and his family but also with others in a way to alleviate hunger.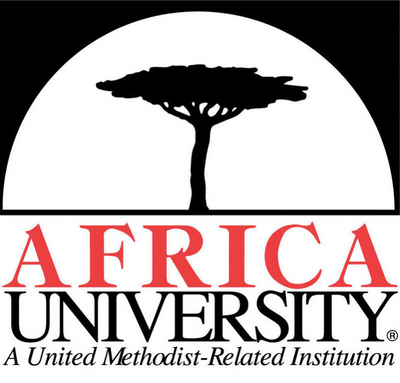 Larry and Jane Kies visited Michigan this month to share about Africa University, and on Thursday, September 1, at noon, Jane will share again in a #StillInMission Zoom presentation open to all. The #StillInMission series is sponsored by the General Board of Global Ministries as an opportunity to hear and speak with United Methodist missionaries. Register for this one-hour presentation by clicking this link, or view the episode later via this video feed.
In their recent visit, Larry shared the history of how two bishops, in 1988, challenged General Conference by noting that of the many United Methodist-related colleges and universities, not one was in the continent of Africa. And the church responded. In 1992, Africa University opened with about 40 students, and today 3,000 students are enrolled. Africa University welcomes students from 26 African countries. The symbol of Africa University is the acacia tree, which is resilient, adaptable, and multipurpose. And Larry added the prayerful mantra, "This is God's work."
Larry and Jane Kies have worked as missionaries with the General Board of Global Ministries at Africa University since 2002. As a young person, Larry was inspired by a Nobel Peace Prize winner from Iowa, Norman Borlaug, who started the Green Revolution. Larry reflected in a 2020 interview with Bishop Laurie Haller: "Nearly three decades (now more than four) later, I realize that I will never be short-listed for a free ticket to Oslo, but also that, for all of us, it's all about making ourselves available to carry out God's purposes—making a difference where we can, using the skills God has given us. Jane and I know that Africa University will not be able to solve all of Africa's problems, but still, we are proud to be part of the church's effort to do what we can." Larry formally retired in 2020 and continues teaching in the agriculture program as a volunteer.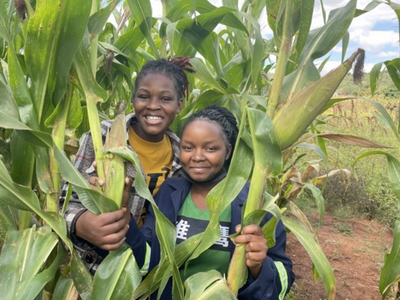 Jane, who is British, grew up as the daughter of missionaries in southern Africa. Larry and Jane met while serving as missionaries in Botswana. At Africa University, Jane teaches intensive English classes. She especially appreciates the international diversity of culture, language, and dress as students come from many countries in Africa. Recently, some students reflected with her that they had arrived in her classroom from areas that made them enemies but, through studying and learning together throughout the semester, eventually become friends. Jane's students learn not only English but also skills at bridging cultural differences and historical conflicts.
This was Jane and Larry Kies' first visit back to the United States since the pandemic halted international travel. They spent time with their young adult children and also visited supporting churches, one in each conference, in several states around Iowa. On the evening of August 2, they spoke in East Lansing at University UMC to a room filled with people from Mount Hope and University UMCs.
Pastor Eric Mulanda, serving at Mount Hope UMC, is a graduate of Africa University. Larry included in his presentation a picture of the trip that Pastor Eric and members of Mount Hope made to Africa University just as the pandemic began. He showed a picture of Kudzai Mukumbe, from the Ag Class of 2004. Rick Erickson and others fondly remembered how Kudzai Mukumbe worshiped with University UMC in the years she attended Michigan State University for her doctoral studies. She is now an AU professor in Agricultural Economics. Larry also showed a picture of a projector donated by University UMC for use in his classroom.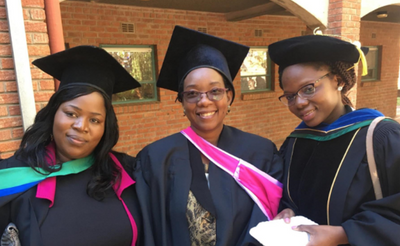 As I listened to Larry and Jane Kies, I remembered as a youth hearing about the dream and fundraising efforts to launch Africa University. In 2010, Laurie Haller, now bishop of the Iowa Conference, created a task force in Michigan to raise money to build what is now the Ubuntu Retreat Centre on the campus. Others from Michigan raised money for the campus library. Over the years many groups from Michigan have traveled to Africa University to learn and serve. These memories came flooding back as the Kies spoke, and I found myself in awe of how dreams have grown and continue to bear much fruit. I was again aware of the sacred opportunities for learning, inspiring, and making a difference in the world that come with being a connectional church.
Near the close of their presentation, someone asked Jane about the future of Africa University regarding the current conflict in the denomination. Jane said that she is often asked which "side" she is on, and she challenged such a notion. She is more often aware of life-threatening dangers such as hunger, disease, and conflicts exacerbated by extreme poverty. She wondered aloud about the aging and declining church in America and what we might learn from the church in Africa. She reiterated the ongoing commitment of so many that Africa University will continue to nurture and train leaders.
To learn more about the Kies' ministry at Africa University, visit their blog and sign up to receive their newsletter.
For those interested in financially supporting Jane Kies, donate through the Advance. Donations for student scholarships at Africa University go through this Advance link, and donations to develop Africa University's farm to improve instruction for students and area farms go through this Advance link.
Last Updated on February 8, 2023