"Love Everyone" is the motto of the Wesley Foundation at NMU in Marquette. Learn more about this very active community of young people "striving to be their best selves."

CHARITY BEN
Young Adult Initiatives Intern
At Northern Michigan University's Wesley Foundation the motto is, "Love Everyone."
Erica Thomas is the campus ministry director, and her hope is to create an environment that welcomes anyone who needs a place to be themselves. NMU Wesley hosts a monthly dinner, including a Thanksgiving meal that offers gluten-free and vegan options.
For the last two and a half years that Erica has been the director, she's been intentional in making students in her community feel welcome. The sentiment of inclusion is illustrated strongly in their campus coffee shop "Common Ground." 
Common Ground coffee shop is across the street from Northern Michigan University's main campus. It offers a cozy place to study or hang out, free wi-fi, and free coffee. Everything at Common Ground is offered as a gift to the students of NMU. This radical detail means Erica not only says she believes in holding space for everyone, it means she actually practices it, even going so far as to bring her puppies into the shop. The message is clear, "you belong 'round common ground." Regardless of access to resources, all are welcome to come, drink coffee, and pet the pups.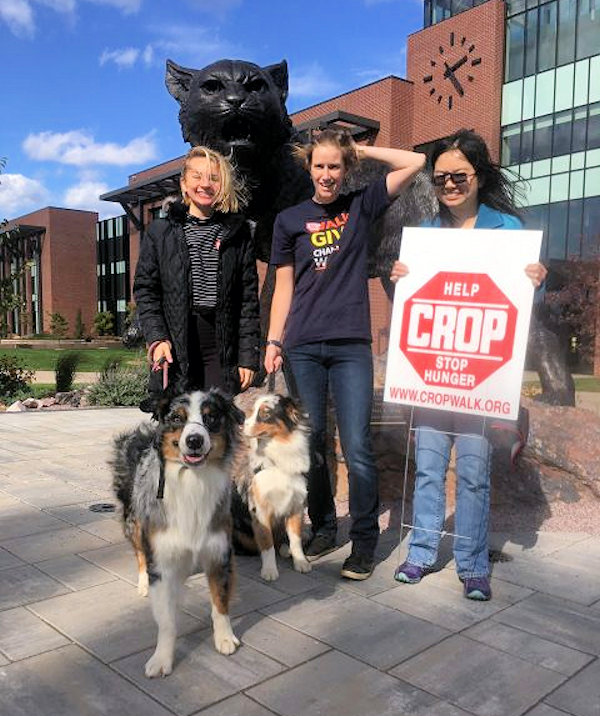 Under Erica's leadership, Northern Michigan Wesley offers creative ministry opportunities through collaboration with other on-campus groups and faith communities. Erica hosted the 50th annual Crop Hunger Walk recently at Common Ground; a long-standing tradition in Marquette, Michigan. Until this year, there had been a chasm between well-intentioned young people in the Marquette area and the Walk that has been historically hosted by the local Presbyterian church. Erica wanted to bridge that gap and created an opportunity for young people to put their enthusiasm for change into practice. The walk centered on ending food insecurity.
NMU Wesley prides itself on centering the needs of the community in everything they do. Recently, they hosted Bishop Micheal Curry (most famously known for officiating the royal wedding of Prince Harry and Meghan Markle) who led a revival service named, "The Way of Love." Erica invited students to build the altar cloth used during the Bishop's revival service. Sown into the cloth were their prayers, hopes, and aspirations. 
"We are a group of humans striving to be our best selves." 
Erica Thomas invites the students of NMU and people in the greater community to come to be themselves in a space that is accepting of all who enter, putting into practice her heart-warming motto: love everyone.
Go to their website for more about Wesley United Methodist Campus Community around the state of Michigan.
Last Updated on September 21, 2022