Need resources? Click the toolbox.
Have more questions? Request a training.
Young Adult Initiatives Coordinator Lisa Batten
Encounter MIcall Intern for Young Adult Initiatives Sarah DeHaan
Welcome
What is Young Adult Ministry? Bringing the love of Jesus Christ to traditional college students, working young adults, post-college age young professionals, and young families. This page offers resources for local churches, internship opportunities for young adults and information on our 8 Wesley Campus Ministries. Visit here often for new resources and information. Also, click on the Young Adult Toolbox at left.
Apply to be a Mission Intern!
The Mission Intern Program offers young adults age 18-22 the opportunity to serve for eight weeks over the summer at United Methodist congregations and related non-profits across the state of Michigan.
Interns serving with congregations will lead summer children's programs providing academic enrichment and faith based activities.
The goals of the Mission Intern Program are:
Develop young adult leaders
Assist United Methodist congregations to be in ministry with their local communities
Answer the challenge of the Bishops' Initiative on Children and Poverty
Deadline for Application is: May 1, 2019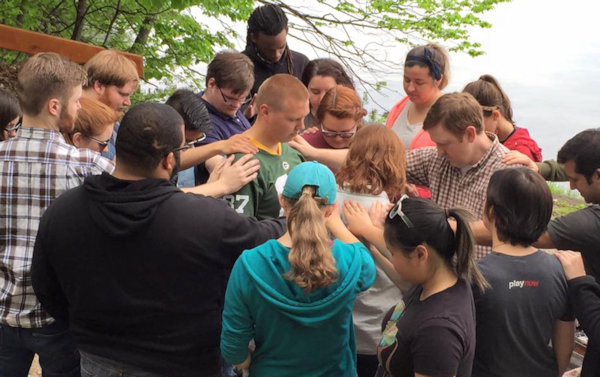 The 2019 congregational sites include: West Branch UMC, Port Huron: First UMC, Utica UMC, Detroit: Metropolitan UMC, Detroit: Centro Familiar Cristiano, Kalamazoo: First UMC.

Interns can also apply to serve at Cass Community Social Services and God's Country Cooperative Parish. At Cass Community Social Services in Detroit, interns will work at the innovative non-profit leading volunteer teams and organizing field trips for children living at Cass's residences. Interns serving with God's Country Cooperative Parish in Newberry will coordinate volunteer teams providing home repair for local residents and lead a two-week swim class for area children.
Attend the 2019 Michigan Annual Conference with us!
Throughout the weekend there will be opportunities to relax in the Grand Traverse Resort pool, attend a bonfire with other young adults, as well as people who work with young adults, and hang out with other young adults in the Young Adult Suite throughout the day.
Here are two events taking place during Annual Conference to keep on your radar:
Thursday, May 30, 9pm-10pm, Michigan Wesley Hosted Reception

Location: Grand Traverse Resort Lobby
Join us for a t-shirt giveaway, connect with other young adults, and enjoy music provided by Wesley musicians

Friday, May 31, 7pm, Dinner with Keynote speaker Dr. Rebecca Farnum

Location: Young Adult Hospitality Suite
Enjoy pizza with Keynote speaker, Dr. Rebecca Farnum, an Environmental Peace Builder, Researcher, and Educator.
For those interested in attending the 2019 Annual Conference, contact Lisa Batten in regards to lodging and meals: lbatten@michiganumc.org
Upcoming Events
adrienne maree brown at Main Branch of Detroit Public Library

Sunday, May 12

adrienne maree brown is the author of Emergent Strategy: Shaping Change, Changing Worlds, Pleasure Activism: The Politics of Feeling Good, and the co-editor of Octavia's Brood: Science Fiction from Social Justice Movements. She is a writer, social justice facilitator, pleasure activist, healer and doula living in Detroit.

adrienne will discuss social justice activism, intimacy, pleasure for the body, mind, and soul, and building new worlds around pleasure and liberation.

Planning Conversation following the Adrienne Maree Brown Event

Thursday, May 16, 6pm via ZOOM
Young Adults, post undergrad, interested in being part of a social justice fellowship? Engage with colleagues, practice spiritual self care, and hear from elders in the work on how to be in the long haul.

Annual Conference 2019

5/30/19-6/2/19
Location: Traverse City, MI at the Grand Traverse Resort and Lodge
Important Dates
Mission Intern Application Available: 1/4/2019