Need resources? Click the toolbox.
Have more questions? Request a training.
Young Adult Initiatives Coordinator Lisa Batten
Encounter MIcall Intern for Young Adult Initiatives Sarah DeHaan
Welcome
What is Young Adult Ministry? Bringing the love of Jesus Christ to traditional college students, working young adults, post-college age young professionals, and young families. This page offers resources for local churches, internship opportunities for young adults and information on our 8 Wesley Campus Ministries. Visit here often for new resources and information. Also, click on the Young Adult Toolbox at left.
Global Mission Fellowship
There are countless people within the church who are working within some aspect of Young Adult Ministry, Sarah Alexander being one of them.
Sarah is the Deacon of Young Adult and High School Ministries at Birmingham First UMC. She will be coordinating the ongoing ministry of the high school group, connecting with the existing young adults in the area, and beginning new ministries for young people.
"This is an exciting and important time in the life of the church when all young people need to know the church is safe and welcoming," Sarah said. "I'm excited to be a part of that effort of kindom building."
Young Adult Ministry is an important aspect of the work that is being done in the church. Through programs like Mission Intern and EncounterMICall, as well as programs within local churches, young adults are able to develop as leaders and explore their own potential calls to ministry.
Deadline for Application is: January 7, 2020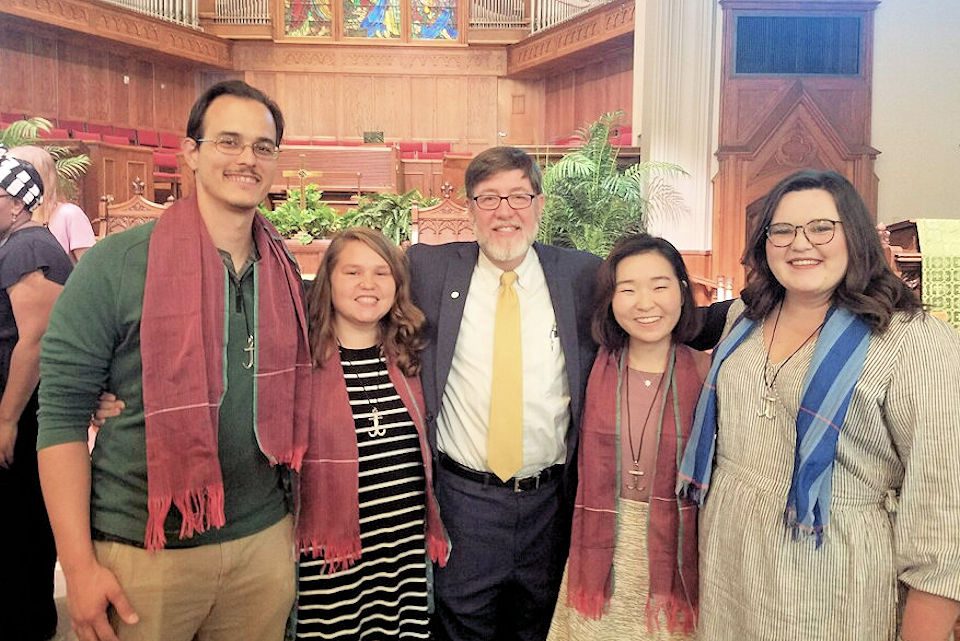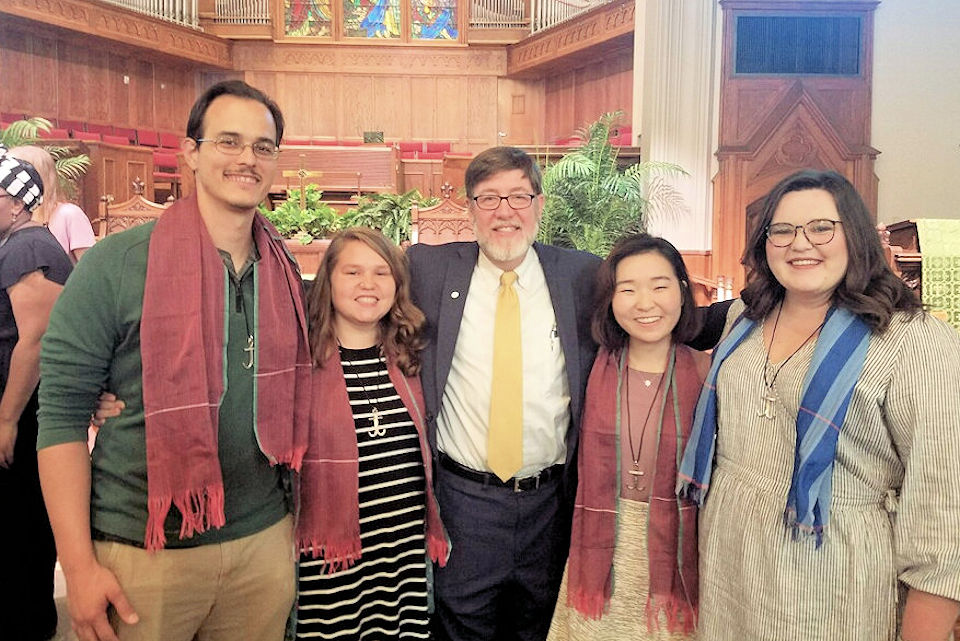 Commissioning of the 2019 Global Mission Fellows.
The Global Mission Fellowship allows young adults ages 20-30 the opportunity to address the root causes of oppression. Fellows are able to chose issues closest to their hearts, including public health, migration/immigration, education, and poverty. Fellows spend two-years outside their home community and work with social justice organizations in their new locations.
The program has a U.S. and international track, meaning fellows can choose to serve internationally, and young adults living abroad can still make meaningful change as a Global Mission Fellow.
Upcoming Events
New Social Justice Cohort: Coming Fall 2019
Young Adult Overnight Service Weekend: Fall 2019
Trauma Informed Training: Sept. 26, Time and Location TBD
Important Dates
EncounterMICall Application Deadline: 8/20/2019
Global Mission Fellow Early Application Deadline: Dec. 1
Mission Intern Application: Available Jan. 1, 2020
Ministry Exploration: Available Jan. 1, 2020