STEP TWO: Two pastors reflect on biking across the state in one day to raise $6,000 for students attending schools in Michigan and in Liberia.

REV. JON REYNOLDS
First UMC of Brighton and Whitmore Lake
Our church decided to make the Michigan Conference's Readers to Leaders campaign our churchwide mission this year. Our goal was to raise $20,000, investing in the education of young leaders here in Michigan and in United Methodist-affiliated schools in Liberia. And since every United Methodist church in the state was being challenged to raise at least $600 for the campaign, I wanted to do my part in raising money statewide for the cause.
Each year, hundreds of cyclists bike across Michigan for a cause, from Rothbury on Lake Michigan east to Bay City State Park on Lake Huron, right through the middle of the mitten. It's called the One Day Ride Across Michigan (ODRAM), and I wanted to bike to help kids get a good education. And so, I began training for the race in April.
I learned that 145.2 miles is a long way to go in one day on a bicycle. I was confident I could ride 100 miles, but I knew from the beginning that the last 45 miles would be a grind. The farthest I had ridden in a day was 75 miles.
A few days after I posted on Facebook that I was doing this race, I got a text message from my friend and colleague, Rev. Kenny Walkup. He asked for a phone call to learn more about the race that I was planning to do. After talking for 30 minutes, he enthusiastically said he'd ride the whole thing with me. This was deeply comforting to me.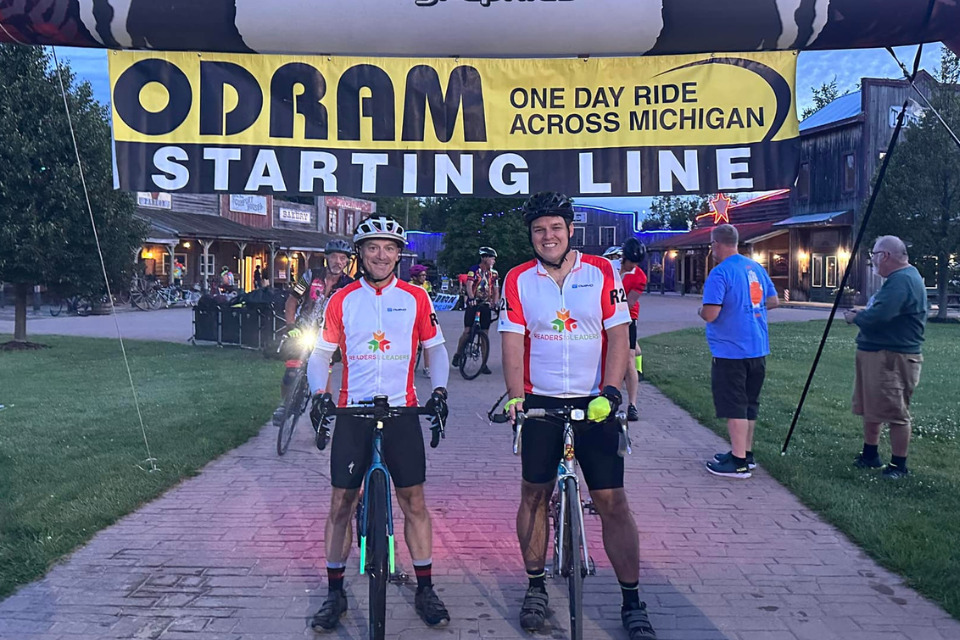 I've always enjoyed the freedom that I have felt riding a bike. It's a spiritual practice of mine. After graduating from college, I pedaled around the entire Lower Peninsula. Getting yourself from one place to another has always felt empowering, but 145.2 miles in one day sounded like an enormous challenge.
A few weeks before the race, I received a phone call from another colleague, Rev. Amy Triebwasser, who said someone she knew wanted to talk to me about the race. Jeff Poiner called soon after and volunteered to be our sag wagon for the race. He offered to meet us at every break point with water, bananas, and any snacks or materials we needed to press on. He was true to his word. Not only did he bring calories, but he brought many people to cheer us on. Having people at each stop was a great reminder of the power of community.
Kenny and I met up on Friday, August 11, near Rothbury. We spent a short night in a hotel and were up at 5 a.m. the following day to head to the start line for an enormous breakfast. You can burn anywhere between 500 to 750 calories an hour riding. We expected to be riding for at least 10 hours that day. At 6:30, Rev. Alice Fleming Townley and her husband met us at the start line. She prayed for us, and we set off on our great adventure.
It is common in marathons and endurance racing for people to hold on to the passage in Philippians 4:13, where Paul writes, "I can do all things through [Christ] who strengthens me" (NRSVue). I have always held on to a passage in 2 Timothy 4:7: "I have fought the good fight; I have finished the race." I kept reciting that scripture throughout the day.
Kenny and I said our first goal was to make it to the lunch stop, about 75 miles in. We rode together and told stories about the churches we served and our families, and I told Kenny some of the things I had experienced visiting Liberia. Eventually, we made it to our first stop at 50 miles and were happy to see our sag wagon there with food and water.
After riding halfway across the mitten, I was struck by the beauty of our great state. The lakes, trees, and cornfields all bless us by surrounding the places where we live, work, and enjoy our lives. In this way, just moving across the state was a profoundly spiritual experience.
I wanted to make it at least to the 100-mile marker. When we eventually got there, we stopped in the middle of nowhere and smiled for the camera, holding up 1-0-0 with our fingers to mark that we had done what bicyclists call a century ride. This was meaningful to me because last month, 100 kids were able to go to school in Liberia because of the support that the Michigan Conference has already given to Readers to Leaders.
The last 45 miles were still ahead of us, so we quickly carried on. I must admit the most challenging part of the day was the last 7 miles of the race. By that point, I was almost entirely out of energy. The wind shifted and became a strong headwind out of Bay City. I was so grateful to be riding with my colleague, who was so encouraging and supportive.
In the end, we finished that last leg of the race, and with tears coming down my face, we hugged at the finish line after riding 145.2 miles in one day to raise over $6,000 for Readers to Leaders. I hope that our race raises awareness for the cause. My registration was paid for by a $100 microgrant that Brighton: First UMC gave as seed money to be multiplied into a larger gift for Readers to Leaders.
I'm so grateful to everyone who gave money to support this great cause. The Michigan Conference has received over $220,000 for Readers to Leaders, and the campaign continues until May of next year. I pray regularly for all the students whose lives will be better because of the work we are doing together as a conference.
~~~~~~~~~~~~~~~~~~~~~~~~~
REV. KENNY WALKUP
Walled Lake UMC
I was sitting on the couch when my wife, Michelle, said, "Jon Reynolds is doing a fundraiser for Readers to Leaders. You should join him." That's how it all started. I am not really on Facebook, which is where she saw that he had decided to do the One Day Ride Across Michigan (ODRAM) to raise money for kids to go to school. It took me all of three seconds to say yes! I had worked with Jon at Cass Community UMC in Detroit and knew he was someone I would enjoy an all-day bike ride with.
After signing up for the ride, my wife made our fundraising web page. We began putting together posts on the church's Facebook page about my training and our requests for donations. A few weeks before the ride, my good friend Jeff Poiner came into my office after church one Sunday. He laid a map on my desk and showed me the places he would be waiting with drinks and snacks. He would be our sag wagon the day of the ride. He also brought friends that became a cheering section. They would have no idea how much this would mean to us.
We were blessed to be sent off with prayers, which really lifted our spirits. It was a cool start, a nice tailwind that would stay with us all day, and gentle miles to get our legs moving. There were spatters of people in lawn chairs ringing cowbells, cheering us on. We did not know them, nor did they know us. It was Kingdom work, whether they knew it or not.
During the ride, I asked Jon what sparked his passion for Readers to Leaders. He said that on a previous trip to Liberia, he met families that had to decide which of their children they would be sending to school that year. They couldn't afford to send them all. I cannot imagine having to make that kind of decision. Those conversations deeply impacted him, and his conviction spoke to me. I am glad that, as a conference, we support a ministry where education for all is our goal.
As the miles rode by, we met individuals and groups of people. We hung with some for a while, and then it was just Jon and me again. Beautiful fields, flowers, trees, and rows of corn greeted us all day. God's glory shining through made the miles go by rather quickly. At mile 100, we stopped for a selfie. At that point, we were pretty much all alone on the road.
We could see the people gathered around the finish line as we approached Bay City State Park. Riding under the banner and having the ODRAM medal hung around my neck was exhilarating. Jon and I embraced as our sag team cheered for us. Together, we raised $6,000 for Readers to Leaders. I am grateful to everyone who donated. I am equally thankful for the mobile cheering section, text messages, emails, and calls of support. We truly felt your presence all day long.

~ Readers to Leaders is an EngageMI Ministry Partner Step 2. The campaign supports children in grades K-12 in at-risk communities. The initiative includes Michigan CDF Freedom Schools, providing summer literacy and a cultural enrichment program, and the Liberia Scholarship Program improving school facilities and providing scholarships for 100 African students.