STEP 6: Two Michigan United Methodist churches utilized Mustard Seed Migration Grants to begin new ministries to refugee neighbors. October 1 is the deadline for the 2023 grant cycle.
JAMES DEATON
Content Editor
Thanks to Mustard Seed Migration Grants from the United Methodist Committee on Relief (UMCOR), two United Methodist churches here in Michigan launched brand-new ministries to refugees settling in their communities in search of a safer, better life.
Last year, First United Methodist Church, Birmingham, near Detroit, and Restoration Community Church in Wyoming, a suburb of Grand Rapids, each felt the call to care for refugees, given they are some of the most vulnerable populations in our communities. Refugees arriving from war-torn places such as Afghanistan, Syria, and Ukraine have been a constant reminder of this need.
Coming to a new country with few possessions is daunting. It's complicated to learn to speak a different language and then navigate the challenges of starting over, including finding employment and a place to live, furnishing a new home, and getting from one place to another. Imagine leaving your homeland and your loved ones with no hope of returning.
Birmingham: First UMC and Restoration Community Church knew they wanted to do more for refugees, so leaders within each church dreamed up new ministries, got backing from their congregations, and applied for Mustard Seed Migration Grant program funding from UMCOR. They received the grants and were able to launch their new ministries last year.
Now in its third year, the Mustard Seed Migration Grant program will award grants of $2,000 to up to 100 United Methodist local churches to engage in new, one-time community-based service projects and ministries focused on migrants and refugees.

October 1, 2023, is the deadline for churches to follow the examples of Birmingham: First UMC and Restoration Community Church and apply (click here to apply) for one of these $2,000 grants. The modest grant is meant to be a "seed" grant, similar to Jesus' mustard seed parable, where something small has excellent potential to grow and spread.
"Our hope," says UMCOR, "is that by learning more about migrants in local communities and addressing their needs through these grants, the 'seed' of welcoming strangers might be planted in new ways in congregations around the country."
Awards will be given on a first-come, first-served basis, so churches are encouraged to put together their ministry idea and submit their application as soon as possible.
Birmingham: First UMC: Furnishing Homes for Afghan Refugees
Afghan refugees began arriving in the Detroit metropolitan area in the second half of 2021, and the Church and Society Ministry of Birmingham: First stepped up and wanted to reach out to these families as they fled the violence in Afghanistan to begin life anew in the United States.
Frank and Carol Driscoll are lay members of Birmingham: First, and Frank is the chair of the Church and Society Ministry, and they helped birth a new ministry furnishing homes for Afghan refugees. That's what led them to apply for a Mustard Seed Migration Grant.
They partnered with two social service agencies—Samaritas and Cass Community Social Services—to assist in resettlement. (Click to read a detailed account.) They also partnered with Kensington Church, a large nondenominational church, for the resettlement project.
For Birmingham: First, it was important to be clear and narrow in their focus on the new ministry they were starting. The refugee resettlement process is complex, so partnering with others and leaving some of the technical matters to the experts was helpful as they found their niche and developed a ministry fitting for their congregation's time and resources.
The Driscolls note that getting the whole congregation on board was a key to their success in furnishing 34 homes that now house 121 Afghan refugees throughout Metro Detroit. First, it's essential to communicate and tell the congregation what is going on and name all the ways people can help. Some people are only comfortable supporting a ministry financially, but most want to join in once the spark has set the flame for hands-on ministry.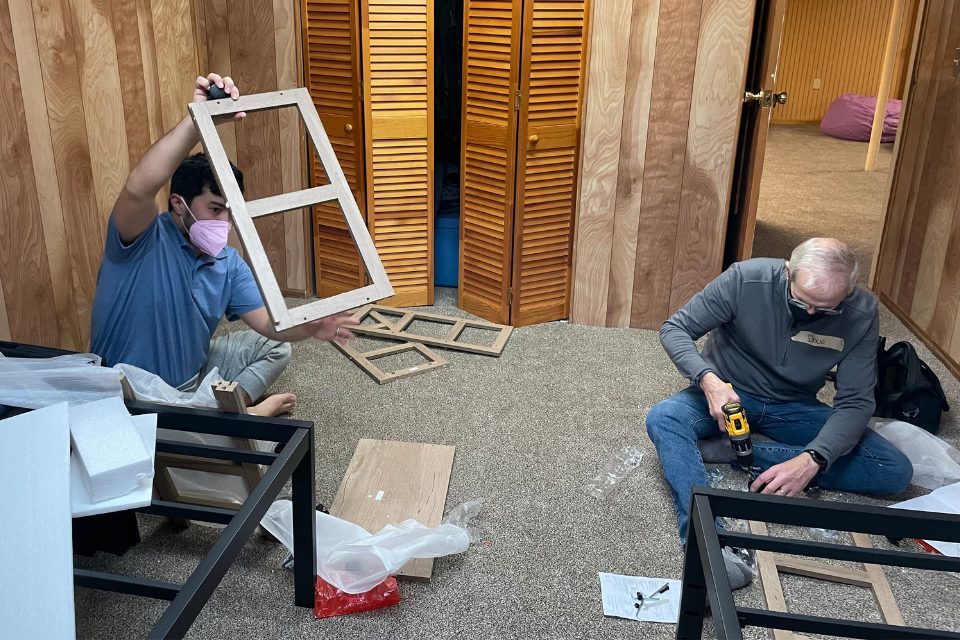 "I think giving them an opportunity to participate," said Frank, "whether it's to volunteer or to go online and make a donation to an immigrant family, you can't beat it. There's something everybody can do. It doesn't matter how many resources you have."
Carol talked about how people pitched in when furniture and home furnishings would be delivered to the warehouse where these items were being stored. She said, "We would have people that would jump in and help organize and get things in order. Others would say, 'I can't do a lot of lifting, but I'm really good at putting stuff together.' And so somebody could take items that needed assembling—tables and other things—and put them together at home."
Throughout the year, the ministry took root in the congregation, and then, in Frank's words, "it became part of ordinary church life." Regular updates were given in church, and the congregation wrapped its arms around their new refugee neighbors.
Getting to know the Afghan families who were resettling into their new homes, which were being furnished thanks to this new ministry, was so crucial in the congregation's journey of transformation. "One thing you discover," Frank said, "is that when you take everything else away, they're just like us. It's just like helping another neighbor." Carol noted, too, the story of one man in particular who spoke to her after they had finished furnishing his apartment. "He looked at me in the eyes and said, 'I will never forget you.' So, it really made an impact."
The Mustard Seed Migration Grant that Birmingham: First received helped launch this ministry, and it grew into something much bigger than what the congregation first imagined. "I like the analogy of the mustard seed. As part of this program and using Mustard Seed funds, we covered a huge area of metropolitan Detroit. We covered Detroit proper and way out in the suburbs, including Dearborn Heights, Hamtramck, Inkster, and Garden City. This gives you a sense of the number of folks, the number of lives, you have touched all over the place."
Restoration Community Church: Helping African Refugee Siblings
Before coming to the United States, Rev. Banza Mukalay of Restoration Community Church in Wyoming spent fourteen years in a refugee camp in Tanzania away from his home in the Democratic Republic of Congo. So, he knows firsthand the difficulties refugees go through.
Pastor Mukalay became ordained in Africa and started ministry while living in the Tanzanian refugee camp. He was instrumental in planting a couple of churches there in the camp.
Shaped by these experiences living and ministering in a refugee camp, Pastor Mukalay continued caring for his African refugee siblings once his journey led him to the United States in 2012.
When he arrived in Michigan and was received by the West Michigan Conference, Banza had the desire to start a church that reached refugees who were seeking a congregation but did not feel comfortable attending worship in English. "I started Restoration Church because it was hard for myself and for my brother and sister refugees, those who came from the same camp, the same country. We didn't speak English. Because I saw the need, I saw people struggling, and some were leaving the church, and I had to do something for these people."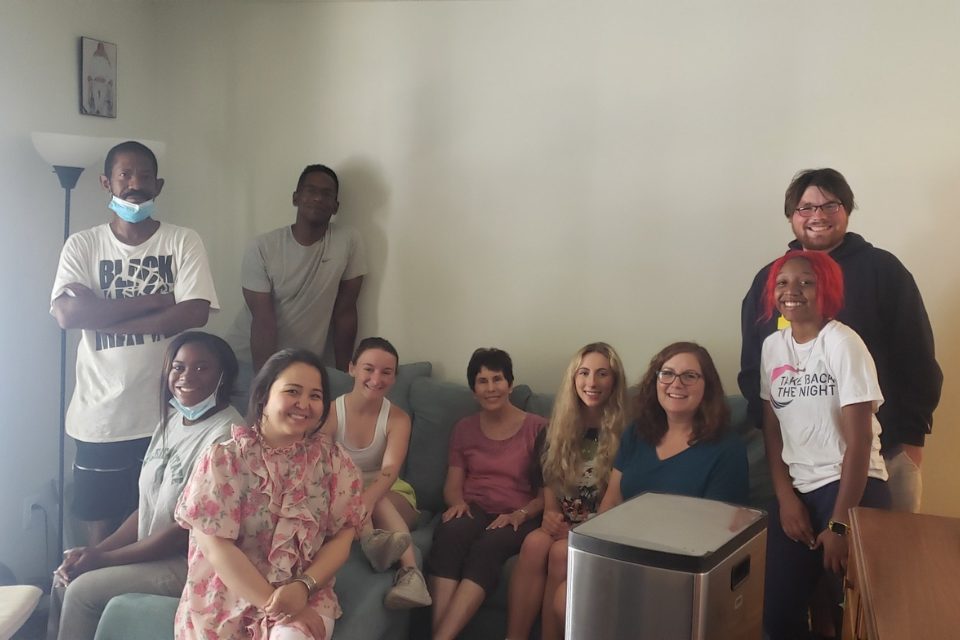 Banza worked it out with a local United Methodist congregation in Grand Rapids to provide space for him to begin a service for non-English speaking Christians to worship God in their first language. A new church start was launched in 2013 and grew to over 200 worshipers.
For over a decade, Pastor Mukalay has been welcoming his refugee siblings for worship at Restoration Community and befriending many families, which has led him to personally help resettle and even move them across the country, but recently he realized he needed help.
"I've been doing that on my own," he said, "so I said I can't do that because there are a lot of needs. So, I have to have a team." Banza, with the backing of this team of volunteers from Restoration Community, had the vision to help their refugee siblings in a more organized way.
Working with Bethany Christian Services, a refugee resettlement agency affiliated with Church World Service, Restoration Community partnered to aid in the resettlement of refugees from various African countries. This ministry was launched, in part, thanks to a Mustard Seed Migration Grant, which Restoration Community applied for and received last year.
With the launch of this new ministry, Restoration Community has helped refugee families from Sudan, Congo, and Rwanda with various resettlement tasks, including helping them look for employment, taking them to doctor's appointments, and providing necessary clothing and food.
In many ways, Pastor Mukalay's vision for a new ministry to refugees came out of his experience as a refugee and as an expression of the gracious welcome he received when he came to the United States from Tanzania. "It's a blessing because we were received by the American church, and they showed us the love and the kindness. Our refugee friends, our people, come after us. That's why I had this vision to help our brothers and sisters."
Pastor Mukalay is hopeful that this new ministry will lead to even more ministries to refugees in the near future. He prays that his congregation stays open as God calls them to continue their ministry to refugees from various African nations resettling in Grand Rapids.
"We can do more, and we can change the history of Grand Rapids because I know how our lives were changed, and we are so blessed. I see how many times our brother and sister refugees contribute so much to this city."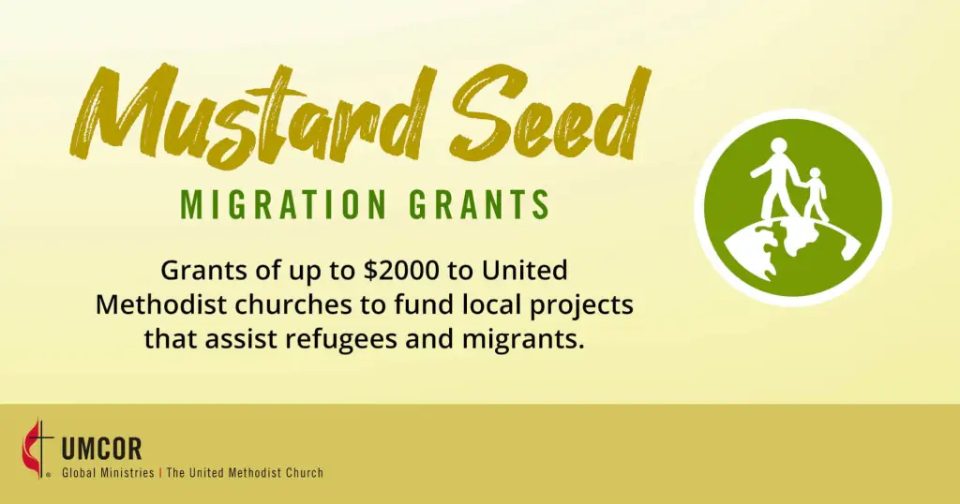 Ready to take the next step? How might your church reach out to migrants and refugees in your community? Read more about the Mustard Seed Migration Grant program here and apply before October 1, 2023.
Read these previously published stories of how other Michigan United Methodist churches are utilizing a Mustard Seed Migration Grant to get to know their neighbors better, share the unconditional love of Jesus with them, and advocate for their safety, security, and flourishing as beloved children of God.