Members of St. Ignace United Methodist Church learned about Native American spirituality from an Elder in the local Sault tribe. Dreams and values were shared across cultures and all were blessed.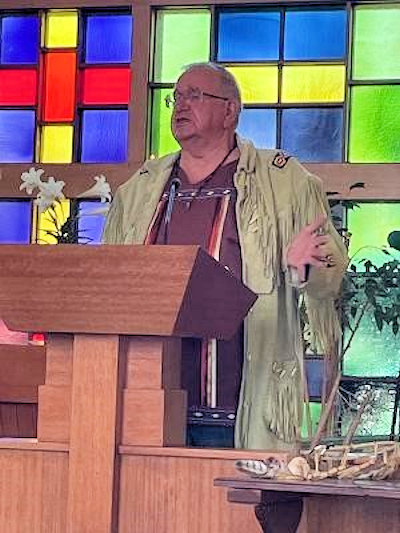 MARK THOMPSON
Pastor, St. Ignace UMC
Dell Powers, Elder of the Sault Tribe of Chippewa Indians, spoke at St. Ignace United Methodist Church on April 18, 2021, as part of the annual Native American Ministries Sunday. The community of St. Ignace has a significant indigenous population, thereby making such an annual event very meaningful.
Powers told of his faith journey that is interwoven with traditional Christian and Native spirituality in a presentation at St. Ignace UMC three years ago. It proved to be beneficial to those gathered as it enhanced spiritual awareness of values shared by many in the overall community. The current year's presentation focused on items used by Dell that assist him in his spiritual quests. Among the items talked about was his dreamcatcher. He also told about a practice called "smudging," a ritual to enhance spiritual awareness of a given space, item, or individual themselves. He then shared how "smudging" can be a blessing for a person who is smudged, opening their spirit to a deeper life's journey.
Following that Sunday's presentation, several people wished to take part in this spiritual ceremony. Following the morning worship service on June 13, Dell "smudged" dreamcatchers that people brought in as well as smudged persons. All were welcomed to participate.
Spiritual cleansing
The Native American ceremony of smudging is a traditional ritual for spiritual cleansing. Sage is the first sacred herb. It is burned to take away any negativity lingering in the home, person, or a specific area. Items used for smudging include a bowl or abalone shell, sage, and a fanning feather. The practice of smudging involves: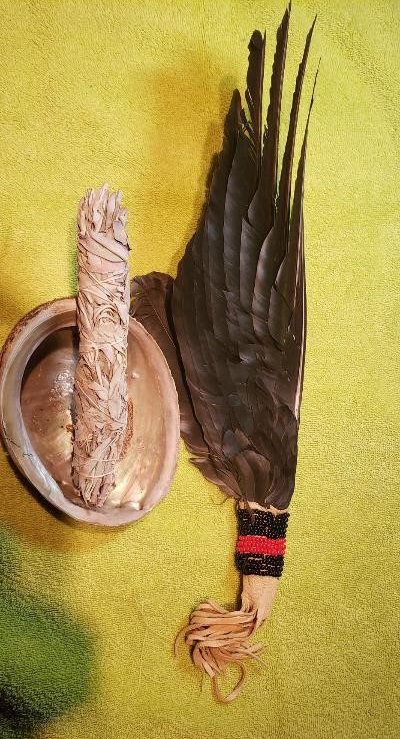 Offering the bowl or shell in all 4 directions.
Lighting the sage.
Fanning the sage to create smoke. Never blow on the sage.
First, fan the smoke to you.
Second, fan the smoke to your head for good thoughts.
Third, fan the smoke to your eyes for clear vision to look for everything good.
Fourth, fan the smoke to your mouth. This is to only say good and positive things.
Fifth, fan the smoke to your heart for positive emotions, love, and kindness.
Sixth, fan your body for good health and wisdom.
When finished, let the sage go out by itself.
History of dream catchers
In many Native American tribes, a dream catcher is a handmade willow hoop woven to a web or literally a net. Dream catchers can be traced back to the Ojibwe people. It is believed that dream catchers originated with an Asibaikasshi woman who was known as the spider woman. She was a custodian of the infants and adults. It became a difficult task for her to take enough care of all the Ojibwe people as they started spreading geographically in North America. The women were in charge of weaving the spiritual webs for the infants. The women made it possible by using willow hoops and sinew to weave the webs. The children were provided with the dream catchers as a medium of protection. These objects were idealized to catch any sort of harm that might be present around that place or time. Each part of the dream catcher had meaning tied to the physical world. One notable meaning is the dream catcher has a round shape that represents the earth's physical shape. The web absorbs terrible dreams at night and discharges those dreams during the day. The feathers act like a ladder allowing good dreams to descend on the infant or adult who is sleeping.
We close with a Native American Prayer … May the sun bring you energy by day. May the moon softly restore you by night. May the rain wash away your worries.
May the breeze blow new strength into your being. May you walk gently through the world and know the beauty all the days of your life.
~ Dell Powers and Linda Maiullo contributed to this report.