As the coronavirus continues to affect the health of those across the state, care should be taken with planning for Ash Wednesday, March 2, 2022.
KAY DEMOSS
Senior Content Editor
Congregations are now planning for a third Lenten season to be celebrated in the shadow of the coronavirus. Ash Wednesday is currently five weeks away. Things could change between now and March 2. But as the Omicron variant continues to pose a significant threat to public health, churches may choose to consider some non-traditional ways to observe the holiday.
In 2021, Philip Brooks, writing for ResourceUMC, noted, "Ash Wednesday is the official beginning of the season of Lent. Typically, Christians gather on this day in a service of penitence and reflection during which they impose ashes on each other's foreheads in the shape of the Cross. As with most services done in the shadow of the pandemic, Ash Wednesday participants will need to adapt to keep safe and avoid spreading the virus."
Brooks went on to offer a variety of alternatives, including:
Outdoor worship or drive-through imposition of ashes if your community has a high rate of infection.
Indoor worship with participants masked at all times, keeping a distance of six feet apart from those not in the same household. Self-imposition of ashes recommended.
Virtual corporate worship or private household services. Brooks notes that The United Methodist Church does not require those leading an Ash Wednesday service to be ordained.
Brooks notes that The Michigan Conference developed a Lent in a Box set of resources for families and households to use over the five weeks of Lent. This includes suggestions for churches to send ashes to members or for households to make the ashes themselves using strips of paper and olive oil.
The Board of Discipleship offers resources curated by Cynthia Wilson, including the suggestion to apply ashes to the backs of people's hands instead of to their foreheads as a way of lessening contact with individuals and avoiding contact with people's faces.
A sample Ash Wednesday Service is available in a Holy Vessels Lenten Series created by Marcia McFee. McFee also suggested using dirt as part of an at-home service rather than ashes. Unlike ashes, dirt is something anyone can readily get their hands on from their own backyard or garden and this can be an invitation to remind participants of their connection to the earth.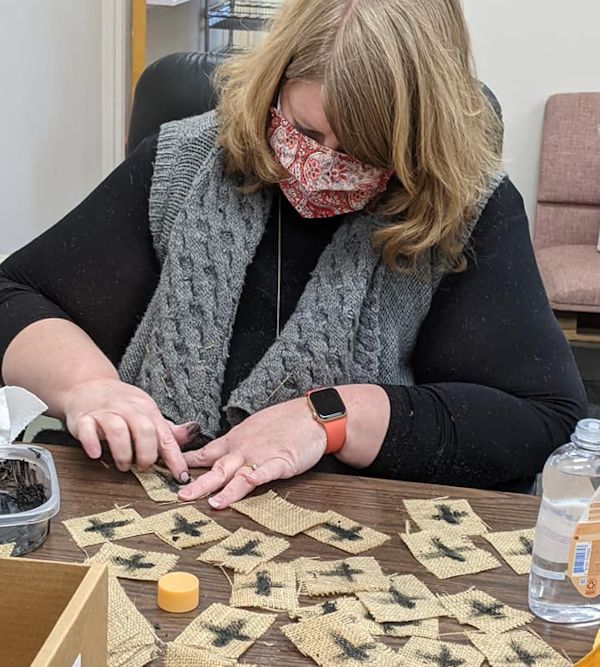 In 2021 congregations across Michigan found creative ways to celebrate Ash Wednesday. Allegan United Methodist Church was among those offering a car-side imposition of ashes. Pastor Julia Humenik was at her station outdoors, masked, gloved, and administering ashes with a disposable cotton swab.
Parchment UMC and Orchard UMC in Farmington distributed a Lenten Packet including a burlap patch and a Lenten Calendar.
Pastor Elizabeth Hurd, Caledonia UMC, mailed the congregation temporary tattoos for wearing on Ash Wednesday.
Members and friends of First UMC in Saline began Lent by planting wooden yard crosses in their yard as a public witness. The crosses were made by the young people of the church.
For two years, the pandemic has provided daily reminders of mortality. Brooks concludes, "For many Christians, Ash Wednesday may take on a deeper meaning this year … Just we can see light at the end of the tunnel in the miracles of modern science, so too do we find hope in the promise of Christ's resurrection and the new life it offers all of us."