District and Conference offices close Dec. 22 and re-open on Jan. 2. MIconnect resumes publication with the January 9, 2019 edition. The Michigan Conference staff wishes you a Merry Christmas.
"Have you visited all of these countries?" That's the question asked most often when I present programs that display my collection of nativity sets. While I have creches from 71 countries, I bought many of them at Michigan's very own Christmas Capital … Bronner's in Frankenmuth.
However, the pink soapstone nativity was purchased in Nairobi, Kenya during my first trip to Africa in 1998. Without question, it remains my favorite shopping-for-a-crèche-story.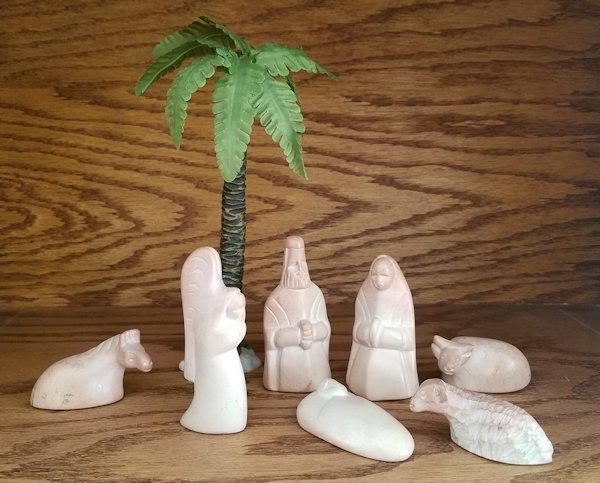 We were told we could buy a nativity set at the Blue Dukas, which proved to be a labyrinth of blue-tarped booths near the city center. Unsure of how to navigate the dukas to find what we were after, my husband, Lynn said from the street corner in a very loud voice: "Does anyone in there have a nativity set for sale?"
Blink of an eye … two men were on the sidewalk beside us extolling the virtues of the nativity set in their duka. We followed them to the booth where newspaper flew and figures quickly appeared atop a small box.
"There! Is that not the most beautiful, wonderful, lovely nativity set in all the world?" the duka-keeper exclaimed. To which Lynn replied, "Very nice. But there's no baby!"
Blink of an eye … "Jesus is coming!!!" proclaimed the assistant with finger held high and smile triumphant. Whereupon one more piece of newspaper fell to the floor and the infant joined the scene that has graced our home these 20 years since.
It's Advent 2018. And Jesus is coming. Open your hearts once more as he comes to you with the promise of hope, peace, joy and love.
We on the staff of The Michigan Conference wish you a Merry Christmas.
Rev. Kay DeMoss
Senior Content Editor