Michigan United Methodist congregations and affiliated nonprofits are invited to apply for one of the 2022 peace and justice grants awarded by the General Board of Church and Society.
JEFFREY COREY
Communications Director, General Board of Church and Society
The General Board of Church and Society (GBCS) awards grants to United Methodist congregations and groups related to The United Methodist Church through the Ethnic Local Church, Human Relations Day, and Peace with Justice programs.
The timeframe to submit grant applications is August 1 to September 16, 2022, via our new online application system. All those who previously submitted applications must reapply using the revised online form.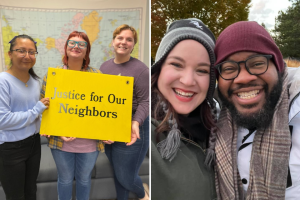 Funding is provided through three grant programs:
Ethnic Local Church Grants focus on the self-identified needs of ethnic local churches and persons as they address one or more chronic social issues or concerns.
Human Relations Day Grants support advocacy and community engagement aimed at uplifting the right of all God's children to realize their potential in right relationship with one another.
Peace with Justice Grants support programs and projects that witness to God's demands for a faithful, just, disarmed, and secure world.
Applicants are asked to provide (1) a program/project summary, (2) budget and supporting documentation including no fewer than two references, and (3) a letter from the Resident Bishop. Complete criteria and required documentation are provided on the application.
Grant awards range from $2,000 to $5,000. None of the money can be used to fund individual scholarships, salaries, purchase of equipment, purely administrative costs, or direct delivery of services.
Only complete online applications with all required documents submitted by the September 16, 2022, deadline will be considered for funding. Click here to apply online.
Funding decisions for all qualified applications will be made at the GBCS Board of Directors Meeting in October 2022 and announced shortly thereafter.
Learn about previous grant recipients, including Wesley Foundation of Kalamazoo and Justice for Our Neighbors-Michigan, here. Both groups have been awarded a Peace with Justice Grant in the past.
If you have questions, please contact us by email at [email protected].