Three United Methodist camps in The Michigan Conference are open for year-round use by churches, families, and organizations seeking time away. The Camp Directors invite you to become their guest.
KAY DEMOSS
Senior Content Editor
There are two common myths about Christian camping. First, summer is camp time. And second, camping is for children.
The truth is Michigan's nine United Methodist camp grounds offer awesome experiences for all ages. And three of those sites offer all-season camping.
Eric Hoffman, Director of Wesley Woods Camp and Retreat Center near Dowling, calls the months of September through May, "second season." And the outlook this fall and winter is busy. A Spiritual Scrapbooking Camp takes place later this month. A College Winter Blast is scheduled for 18-30 year-olds January 18-20, 2019. High School Winter Blast weekend comes on the heels of that February 1-2, 2019. Middle Schoolers can enjoy a Winter Blast at Wesley Woods February 8-9, 2019.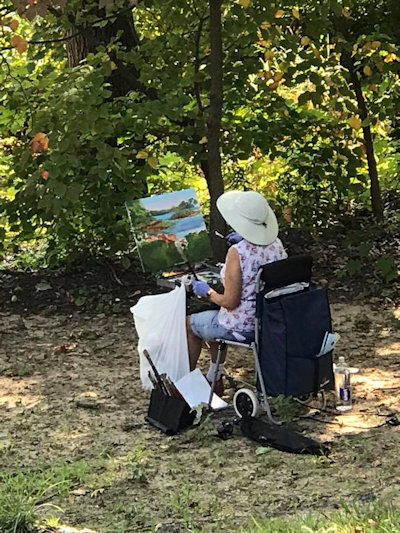 Wesley Woods has a retreat center with hotel-style rooms, an 11-bed bunkroom in the main lodge, and Daisy-Trillium up the hill that sleeps 34. There are enough accommodations for multiple groups. "Last week we had a youth group and a women's retreat," Eric says. "Each had its own building and they shared meals together." Two dining halls on site provide ample multi-use space.
The Chapel is available for year-round use and there's a new fire-ring next to the retreat center that's more accessible when the weather turns cold. The lake affords a variety of activities, with and without ice … canoeing, kayaking, broom ball, human bowling and curling. Archery, paintball, and go-carts are other amenities available to retreat guests.
"There are many opportunities," Eric says with enthusiasm. "I am here to help plan events. Call and let's get creative." Check the website for details: https://umcamping.org/camps/wesley-woods  Eric can assist with program ideas, menu planning and details of building layout.
Currently he is booking out to 2020. "Second season" possibilities are endless: family reunions, weddings, women's retreats, gatherings of men, and holiday parties. Eric estimates that only 40% of the activity at Wesley Woods is United Methodist; hospitality is for all organizations, individuals and families.
What does Wesley Woods have to offer that another venue does not? "Two things stand out," Eric remarks. "Safe space and Christian hospitality. If somebody needs something, we are there with a smile, even at 2 a.m., without grumbling."
Eric Hoffman has two personal goals regarding his ministry at Wesley Woods. "First, I like to think out of the box as in Romans; do not be conformed but be transformed. So, I ask, 'How can we do things differently to reach people?" Eric's other goal is "building a place and creating a space at Wesley Woods for those who have yet to know Jesus Christ in their lives." He believes an experience of "welcome-ness" encourages guests to want to learn more about their faith.  
Crystal Springs Camp and Retreat Center is currently preparing for their annual Community Trick or Treat on Sunday, October 28, 3 pm. This year there is also a Pumpkin Painting event, an open house in the historic tabernacle on Sunday, October 14, 3 pm. The Facebook ad reads: "We'll provide cider, painting supplies, and a patch full of pumpkins. You bring the creativity!"
Crystal Springs Director, Dan Stuglik, puts an emphasis on welcoming and visibility in the community. "We have empty beds at United Methodist youth camps," Dan says, "so we work in the gap."
His creative and open spirit has brought new guests to Michigan's oldest Christian camp situated near Dowagiac. "Second season" at Crystal Springs hosts United Church of Christ and Seventh Day Adventists, Southwest Michigan College, Western Michigan University, and high school band camps from Chesterton, IN and Dowagiac.
And the ministry has international dimensions, too. Crystal Springs is a great venue for Quinceañeras, a Hispanic tradition celebrating a young girl's coming of age at 15. In addition, Crystal Springs has become a wedding venue. The renovation of the tabernacle is now self-sustaining thanks to revenue from weddings.
Dan is not afraid of change. "We must always look to adapt and be ready for something new," he says. "That's what has done well for Crystal Springs." He emphasizes that "you sometimes have to change your approach" to meet needs in the church and in the community.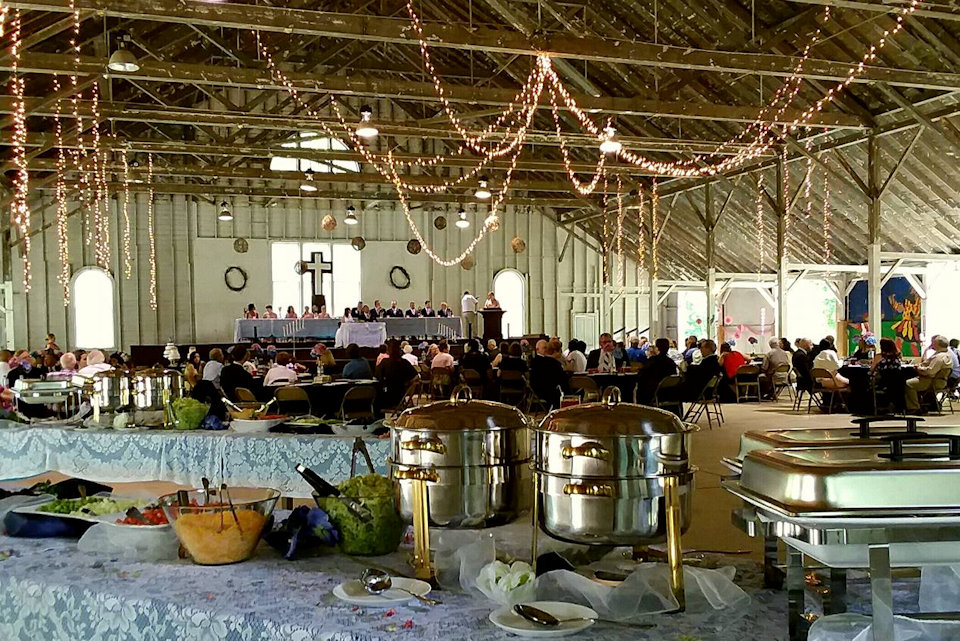 Crystal Springs New Year's Camp is such an innovation aimed at connecting people with God in a new way. The experience begins at 10 am December 31 and ends 10 am January 1, 2019. "We'll spend 24 hours together in the middle of the winter talking about God being God in all seasons while having a blast with winter activities like flashlight hikes, snow tubing, and staying cozy with warm beverages." Go to the Crystal Springs website for more details about New Year's Camp and how to contact Dan Stuglik to plan your own event. https://umcamping.org/camps/crystal-springs/
"We are open again year-round!" that's what Trish Farrell is happy to say about Judson Collins Center near Onsted. Trish and her husband, Greg, are co-directors of the site. "It's a unique adventure here at Judson Collins during the school year, September through May," she continues. "This holy place takes on  personality based on the season." Michigan-born and newly arrived from life in New England, Trish is even a fan of winter. "It is so peaceful in the snow without footprints or traffic through it."
Trish says that "school year" events at Judson Collins run 50% children/youth and 50% adults. Four events are currently on the calendar November-January: Women's Craft Retreat Weekend, November 9-11, 2018 (plus a Saturday only option as well); Snow Zone for individuals middle-high school, January 4-6 , 2019; Snow Zone for youth groups middle-high school, January 4-6, 20109; and Snow Zone for Judson Collins Alumni and Volunteers, January 5, 2019. More information on these events is available on their website https://umcamping.org/camps/judson-collins-center
The campground is fully functional in all seasons. Dining Room, meeting rooms, and half of the housing are winterized. Trish explains what is special about Judson Collins. "We are on a lake that is gorgeous year round," she says. "We also are one of the biggest camps. We have 240 acres that offer peaceful hiking trails and space."
Amenities are available for use by those renting the facilities. Paddle boats, kayaks, and canoes may be used at the waterfront. There are low-ropes courses, high-ropes courses and climbing wall to provide the challenge of adventure programming. There is a fee structure for the use of these features that includes trained staff assisting the activities.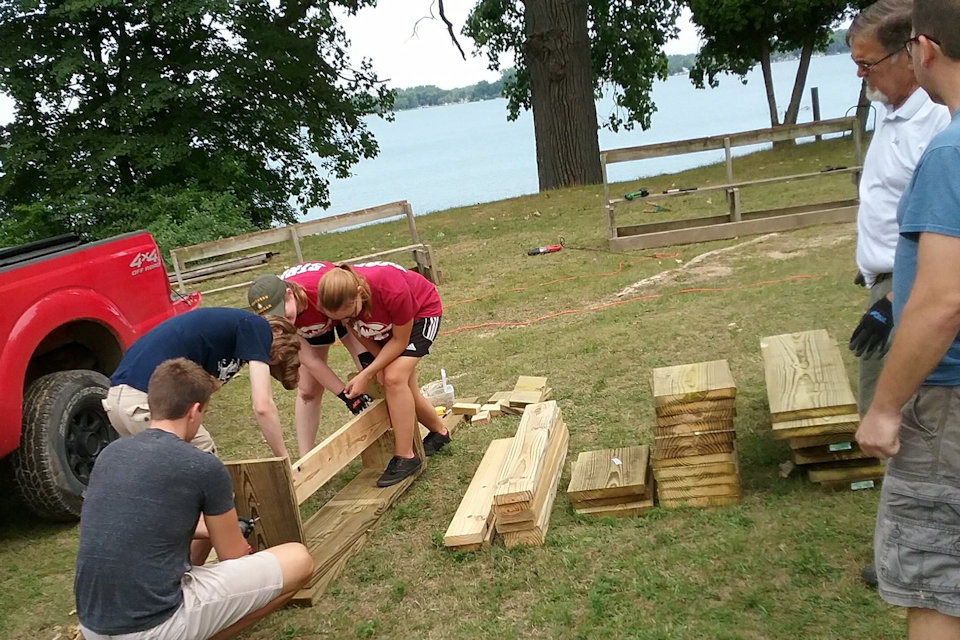 There are two approaches to camp use. The first involves guests (churches, organizations, families) doing their own programming with camp staff providing food service and housekeeping. "The flip side," Trish explains, "is staff running a programmed retreat where we take care of everything and all guests do is sign-up and come."
An example of the latter approach is the Women's Craft Retreat in November. Judson Collins provides a speaker, musicians, and crafters who lead workshops. "The beauty of this style is that guests are truly able to get-away," Trish notes. "That spiritual time of catching your breath is so important." The Snow Zone set of events is similar with staff providing speaker, band, and snow activities.
Trish says she loves being part of a "rebuilding phase" at Judson Collins Center. "There is so much potential," she remarks. "We are at a groundbreaking point and it is exciting to have the support of Michigan Area United Methodist Camping."
Part of the rebuilding involves "staying culturally relevant." This involves both technology and music. "You can successfully mix camp and 'modern' together," Trish says.
Eric Hoffman (269-721-8291), Dan Stuglik (269-683-8918), and Trish Farrell (517-467-7711) invite you to be part of the "Second Season" of camping across The Michigan Conference.
~Editor's note: Lake Michigan Camp and Retreat Center is also trying something new this year. They are offering the retreat center (32 beds) and dining hall for year-round use. A High School Winter Retreat is set for February 8-10, 2019, details tba. Contact Directors Dana and Duane Hunt at 231-869-5627.