United Methodist Communications
The United Methodist Communications website is a superb resource that stays up with the latest trends in all facets of local church communications. We encourage you to sign up for the excellent
Welcome
Below you will find advice for leading Youth Ministry through the time of COVID, as well as learn about ways to help other ministries.
Still have questions?
If you have any questions about virtual missions or general youth ministry, please contact Rev. Christy Miller White at cmillerwhite@michiganumc.org.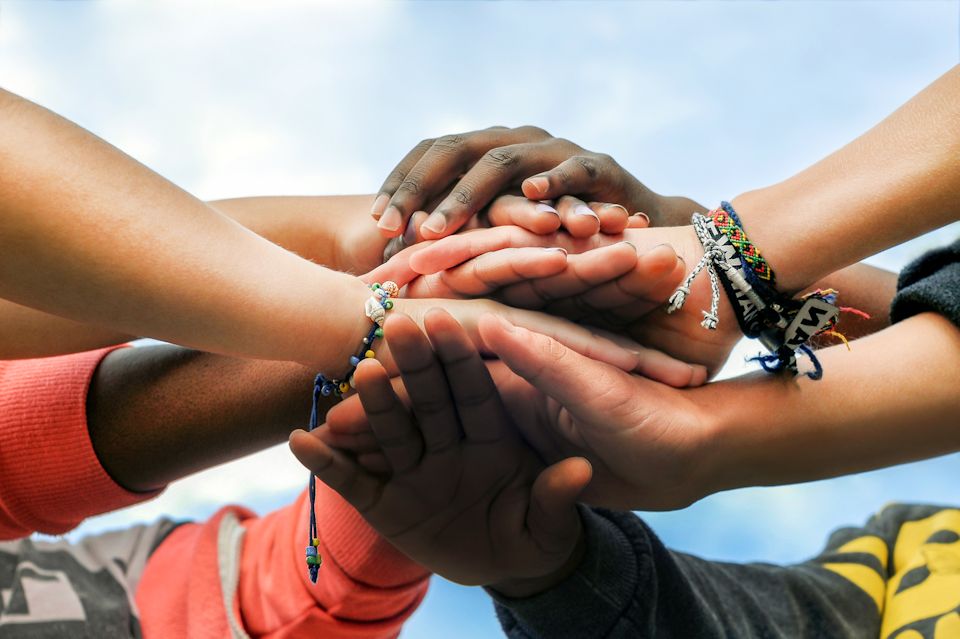 Virtual and Local Missions in the Age of Physical Distancing
Decide what is going to work best for your group?

If your group is large it may be best to stick to online missions.

If your group is smaller (less than 10) or can be broken down into small groups you can consider doing a local mission with your small groups.

Determine the passions and skills of your group.

Do you have a group that are well connected on social media? Perhaps an online fundraiser for your favorite missions project is your best plan.

Do you have a group that do well in small construction projects? Look into a local mission and see when you can bring small groups for outdoor projects.

Do you have a group that is very well established in the local community? Consider hosting a donation box or boxes around town to collect the supplies needed by your local food bank, diaper depot, or community mission projects.

Get connected!
The following resources will help you connect with Michigan United Methodist Mission Partners to create a social distancing appropriate mission experience for your group.
Virtual Mission Fundraising – Talk to your group and set a goal of funds that you would like to raise for your mission partner. Establish with your ministry partner what your reward will be for meeting your goal. The ministry partners below have some suggestions that may help you create a relational experience for your mission group.

In-Kind Giving/Collection – Each ministry needs things to keep their costs down and keep their mission outreach strong. Once you have established who you want to partner with you can decide if in-kind giving or collections would be better for your group. Collecting paint for houses or non-perishable foods for food baskets may be a better fit. Challenger your group and set goals for collection. When you reach those goals reward them with a mission experience that you arrange with your ministry partner.

In Person Mission – If your group is small or you are willing to go in smaller teams and you live close to a mission site, this may be a viable option for your group. Our mission sites still need people-power to get things done. Your group can drive in for the day and help with (mostly) outdoor activities. Please see each mission sites needs and requests to determine the best fit for your group.
Local Michigan Methodist Mission Partners
Cass Community
Three main needs:
Volunteers. We can accommodate groups of 1 - 50 keeping the rules for social distancing in mind. Come for a few hours, a day, a few days or a full week. We have made accommodations with sleeping and meals to make it work.
Non-Perishable Food. We are building 60 - 70 food boxes each week. We can use cereal, oatmeal, grits, soup, canned pasta, peanut butter and jelly, pasta, sauce, rice, beans, canned vegetables and canned meat.
Paper Products and Cleaning Supplies - As you can imagine, we are using a lot these days. We have a never-ending need for toilet paper, paper towel, bleach, wipes, hand sanitizer and gloves.
Narrative Encouragement. We'll do almost anything. Video thank you. Zoom call. Pictures on Facebook.
God's Country Cooperative Parish
Motown Mission
Top Three Needs:
Volunteers- we have had a number of groups cancel their summer reservations. This means the community our project partners serve with will not have access to the volunteer help they need. If you are a local team with the ability to drive into Detroit to serve for the day, please consider doing so.

Donations: Motown Mission relies primarily on our summer groups for our cash flow for the rest of the year. Because many groups canceled, and some are unable to donate fees already paid, Motown Mission's work could be in jeopardy. Any amount of donation is accepted but a break down of dollar amounts can be found here:
https://motownmission.org/donate
Facemasks and gloves- We are hoping to provide a souvenir reusable Motown Mission facemask to our volunteers this summer as a part of their overall package, but we know masks are always needed even when there isn't a global pandemic, especially for projects such as painting and other indoor home repairs. Gloves are always welcomed too.
In-Kind giving options:
In a "normal" summer season, the biggest need we have is meal donations. We are not feeding our volunteers this summer out of caution for the saftey of our volunteers, but we can work with you to arrange a meal donation for our hungry volunteers once Motown begins providing meals once again. We have volunteers come to serve with us year-round and meals are always welcomed!

Foundry House:
Did you know Motown MIssion owns and operates an intentional Christian living space for young adults serving in mission with the Detroit area? You can read more about Foundry House here: https://motownmission.org/about-1-1
Residents of Foundry House are always in need of home supplies. Currently, we are trying to replace all of the window blinds in the building. We also welcome donations of new or gently used appliances (one apartment really needs a new stove and another really needs a new refrigerator). Contact director@motownmission.org for the full "wish-list" of items.
Office supplies: Motown Mission is a small nonprofit. We are always in need of office supplies. Anything ranging from printer paper and ink to pens, paperclips, and any other items you can think of).

A reliable automobile for our summer staff and US-2 Global Mission Fellow to use to visit volunteers on the worksite, and to meet regularly with our project partners.
Narrative Engagement
If your group raises over $500 for Motown Mission, our staff will arrange for you to video chat with one of our staff members, a project partner, and/or a project partner's client or a homeowner who we helped to hear their story and learn how your group can continue to be in ministry with them. You will also get early access to registration for Summer 2021.
If you have any questions about virtual missions or general youth ministry, please contact Rev. Christy Miller White at cmillerwhite@michiganumc.org.