Personal space can have a "profound impact on who we are and how we relate to the world," says the Rev. Glenn Wagner reflecting on a recent trip to England.

REV. GLENN M. WAGNER
Michigan Conference Communications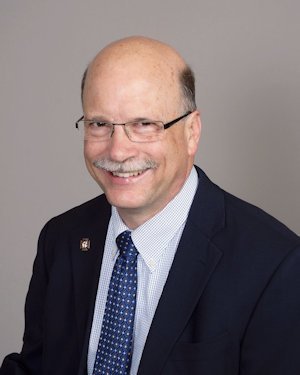 Think with me about personal space. What is your space like?
I have been privileged to learn, via my travels and life experience, that personal space can have a profound impact on who we are and how we relate to the world.
I observed something important in a trip back to England this spring. I couldn't help but notice "personal space." Our British friends live with far less personal space than we do in Michigan. Their roads are narrower and usually shoulder-less. British cars are more compact. Lot sizes for the average homes are smaller in England than in Holland, Michigan where we live. Many English shops are still mostly the kind where you meet the proprietor in a single room. Villages take up less acreage. Yards are closed in by stone walls or thick hedges on the boundaries. Parking lots are tighter and free parking in public spaces is almost non-existent. We took a hike with our friends on a weekday morning in the cold rain at a remote park on a mountain path and were surprised at the numbers of hikers. In Michigan we would have had the trail to ourselves.
It makes sense that there would be less personal space for the average resident in England. The United Kingdom, including Scotland and Ireland, has less total area than Michigan but it has 6.5 times the population! This observation about more crowded personal space conditions in England isn't just an English concern. In the 44 years since my graduation from college in 1975 the population of the world has grown from 4 billion people to 7.7 billion people. Scientists have been warning us that this population explosion is adversely impacting our climate in measurable ways. In response to a recent surge of Latin American asylum seekers at our Southern U.S. border, our president has recently declared "our country is full."  Whatever our politics, the size and security of personal space is a matter of global concern.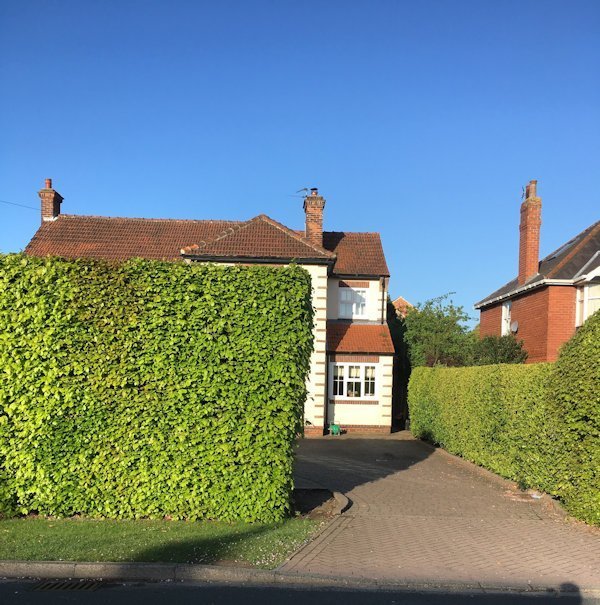 I was impressed at how our British friends cared for their personal space. Like many of their neighbors, our friends are master gardeners. The edges of their modest yard are carefully tended creations of flowering beauty. The interior of their home is neatly organized. Possessions all seemed to have a purpose and a place.
My British friend is a skillful driver. On rural English roads, that are sometimes too narrow for two-way traffic, drivers have to drive slower and know when to pull over and wait patiently in a road widening so that oncoming traffic may safely pass.
When a neighbor child kicked a ball over the rear wall into my English friend's yard I was struck by the fact that this elementary-age neighbor child walked all the way around the block, knocked politely at the front door, and requested permission to enter the yard in order to retrieve the errant ball. Even at an early age this child already had been instructed by his parents in the etiquette of respecting the personal space of the neighbor.
These reflections on the contrast between relative amounts of personal space in England and Michigan have got me thinking further.
The founder of the Methodist movement, John Wesley, sought to live with a "single eye." John wanted to live so that all of his life was focused on giving glory and honor to God. He wanted to live in all things as a personal thank you to God for: God's grace, God's love, God's forgiveness, God's purpose, and for the eternal hope that is ours in Christ. Managing personal space faithfully is about far more than tending a garden, being neighborly, or driving politely.
In seminary, I was privileged to read through a series of original pamphlets at the Yale University Library that John Wesley published to share with early Methodist practitioners. Wesley detailed in these pamphlets his "method" for honoring God in all things. Wesley realized that we can each honor God personally in many ways. Time management. Personal finance. Physical fitness. Personal grooming and appearance. Dietary habits. Choice of vocabulary. Care for the environment. Social justice. Stewardship of resources. Integrity in business. Sexual ethics. Race relations. Ecumenical spirit. Conflict resolution. Spiritual disciplines like Bible study and prayer. We each freely make choices every day on what we read and what we watch and who we listen too. Our individual personal space is influenced by our relationships with others and by the ways we deal with stress and conflict.
Alone we may have very little control over many of the external factors that influence our lives. But each of us can make life-altering decisions about how we choose to respond to the world around us. I can decide how to organize my own personal space. I know that through connection with a global movement of other similarly motivated individuals we can methodically nudge the wider world in the direction of more faithful living.
Wesley traveled widely to preach and meet people where they lived and worked, outside of mines and factories, on village greens, and in farmer's fields. With the help of his brother Charles' inspirational lyrics set to popular tunes, many previously unchurched people responded to the Wesleys' invitation to commit their lives to Jesus. Those people then began the practice of meeting weekly with other like-minded persons for prayer, Bible study, and doing good works. The Wesleyans were ridiculed and called, "Methodists" by their critics because of their commitment to live by this method of seeking to glorify God in all things.
Wesley regularly dismissed slackers from the Methodist movement who failed to honor their commitment to seek to honor God with every aspect of their personal lives. It is good to remember that Methodism when it began was intended not as an independent denomination separate from the dominant Church of England but rather as a para-church movement embraced by persons who sought help in living their faith with greater intentionality. John Wesley himself, remained an Anglican priest. The American revolutionary war prompted structural changes that led to the creation of Methodism as a separate denomination in the U.S., but in England a much closer working relationship with the Church of England remains.
The Bible also has a lot to teach us about the importance of caring for our personal space.
In the fifth chapter of Paul's letter to the Galatian Christians Paul notes the conflict that rages in each of us for personal control between the desires of our flesh and the competing desires of the spirit. The familiar sordid deeds of the flesh are detailed in verses 19-21 and could easily be taken from many of our daily news headlines. Paul urges however in verses 22-24, that we seek instead to cultivate the fruits of the Spirit, "love, joy, peace, patience, kindness, goodness, faithfulness, gentleness, and self-control. Against such things there is no law." Paul further observes, "Now those who belong to Christ Jesus have crucified the flesh with its passions and desires."
Caring well for our personal space has always been a matter of primary importance for followers of Jesus.
In our recent return trip to England I was impressed again about the way in which the greatest public space in each English village is devoted to worship. Historic churches centrally located in each village feature lofty ceilings, sacred memorials, and exquisite art. The doors of the churches are always open and worship inspires the congregants to consider living in harmony with neighbors in support of the purposes of the God whose vast space in our universe has been expanding at the speed of light since the first moment of creation.
I was fortunate in 1999 to make my first visit to Poppleton, England as an exchange pastor appointed to serve the Poppleton Methodist Church for the summer. The Poppleton parish in the greater York Circuit of the Methodist Church in Northern England includes the residents of Upper Poppleton and nearby Nether Poppleton. The historic Methodist Church was erected by early Methodists directly across the street from the Village Green where John Wesley first preached on Wednesday, July 13, 1757. It was good to return to that familiar sacred space after 20 years to remember again my Methodist heritage. Personal management of personal space matters. I can do something about that today.
God, please help us today to tend for our personal space so that what we can control in our lives is a fitting way to thank you for the greater gift of your love for us in Jesus.