They have hosted Help Centers for years during the Flint water crisis. Now Asbury and Bethel United Methodist churches in Flint, Michigan, are caring for neighbors' needs during the pandemic.
KAY DEMOSS
Senior Content Editor
On October 21, 2021, Mayor Sheldon Neeley gave the Key to the City, Flint's highest honor, to 11 churches. The congregations recognized included Flint Asbury and Flint Bethel United Methodist churches. Pastors Tommy McDoniel and James Cogman were present at the New McCree Theatre to receive the award.
In a press release before the ceremonies, Mayor Neeley said, "We honor these faith-based champions for their leadership, for their bold and steadfast beacon of light they provided to so many during a devastating health crisis." He added, "We honor them and their work to serve our families in extreme times of need and every day."
While churches were nominated for the award based on their service during COVID, three churches – Asbury UMC, Bethel UMC, and Greater Holy Temple Church of God in Christ – have served as official Help Centers for four years. They have distributed bottled water and food to the community suffering through a water crisis.
Bria Jones reported on the awards event for Fox 25. She quoted the mayor saying, "Neeley says each church honored has been a true trailblazer and leader throughout the pandemic. 'We talk about faith without works is dead, but these are standing heads and shoulders over most activities that go on by organizations,' said Mayor Neeley."
Flint Bethel fulfills God's charge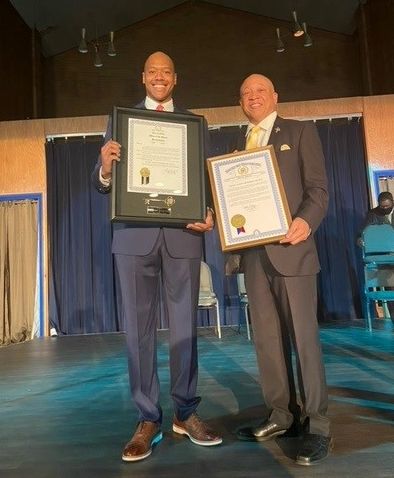 The Rev. James Cogman arrived to pastor Flint Bethel in July 2020. He told MIconnect the Key to the City recognition "speaks to the work  God is doing through us as the church and to our ability to be the church and match our ministry and mission with our community impact."
Bethel is engaging with close to 700 people a week. The Help Center sees 300 on Monday during the food and water giveaway. Another 400 come through the church's doors during the height of COVID testing and vaccination. COVID clinics are open three days a week at Bethel.
Cogman reflects, "We enthusiastically said, 'YES,' when the state approached us. I believe our work in making testing and vaccination accessible is done to be the hands and feet of Christ." In addition, the church has organized a basketball club, book club, and other programs to welcome members of the community to "join us and be part of the Bethel family," Cogman reports. The pastor adds, "Our building has been busy and continues to be busy. When business is booming, we are doing what God has called us to do."
Pastor Cogman notes that there has been a "big shift in our church spiritually, allowing for renewal of sorts, further enhanced by the community work we are doing. God is providing the increase." Reflecting on the church's hosting of the Help Center, Cogman says, "We have been core pillars of this effort for quite some time." He adds that Harold Woodson, a member of Bethel's United Methodist Men, coordinates the church's efforts.
Regarding the big picture of the city's double crisis — water and COVID – Cogman offers, "You can fix pipes, but it is hard to fix the years of physical and mental trauma and level of distrust. Those have lasting impact. There is still a great deal of healing that has to be done and greater intentionality that must come from the entire city."
Pastor Cogman describes the rejuvenation that he attributes to the pandemic. "COVID has given churches the ability," he asserts, "to hit the reset button. I tell my friends that we can sometimes be too Methodist for our own good, too caught up in the methodology. COVID has gotten us back to keeping the main thing the main thing." Cogman defines that "main thing" as "being spiritually-centered and united in one mind and one heart. Truly being able to do what God calls us to do." His congregation is hitting the reset button because "as Charles Wesley would say, 'A charge to keep have I.'" He further states, "The Living Water is filling us up right now. Christ, during the pandemic, has helped Bethel, Asbury, and other churches break the glasshouse that we have built so we can now live in the overflow."
While Bethel's leader does not thank God for the millions of lives lost to COVID, he says, "I do thank God that in the midst of evil, God can persevere and purpose this for the further building of God's Kingdom. That is a very beautiful thing."
Flint Asbury feeds God's people
Pastor Tommy McDoniel says that Asbury Church was asked to assist during COVID "because we were already geared up. We were a community Help Center providing water and food every Tuesday. It became more intense during COVID as people were panicking." He saw more cars driving to the Help Center after March 2020.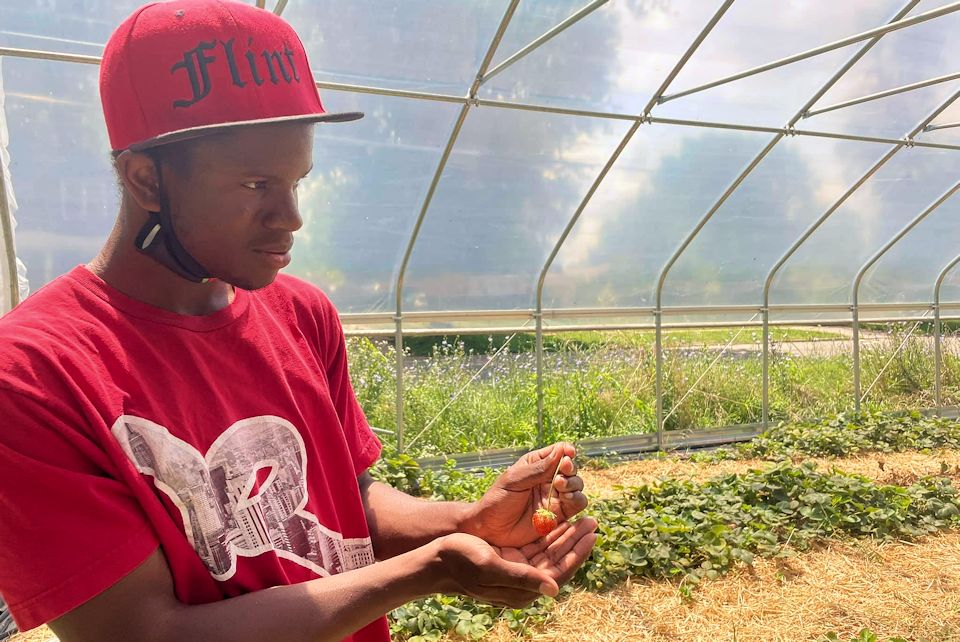 A key piece of Asbury's response during the pandemic "was home delivery." The church teamed up with the Genesee County Sheriff's Department. "We then did two things with what the Sheriff called our 'porch deliveries,'" McDoniel recalls. "We dropped off bottled water and food that included fresh produce, serving 100 households a week." The fresh produce came from Asbury Farms, the urban agriculture initiative born out of Asbury Church. McDoniel explains, "We were harvesting in April because we harvest cold climate crops every month of the Michigan year out of our hoop houses."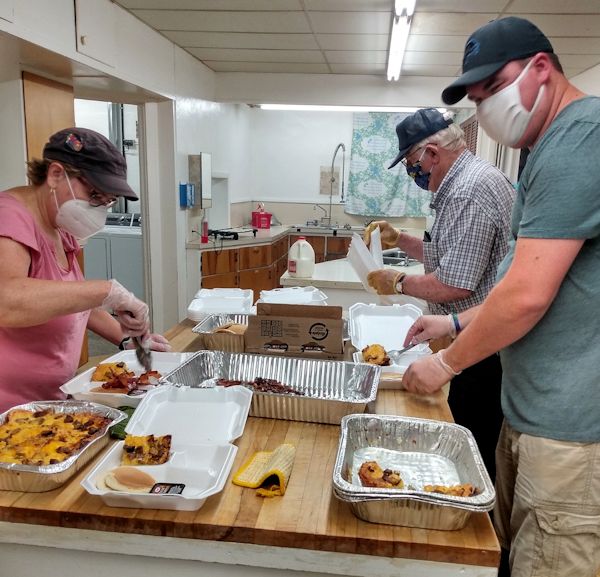 The Michigan Department of Health and Human Services funds the rest of the food for distribution at the Help Centers and porch deliveries.  DHHS funds three trailers full of $5,000 worth of groceries driven to each of the Help Centers every week.  
"From the very early stages of the water crisis, the City and the State have recognized that the United Methodist churches were stepping up," McDoniel notes. "In 2018 Asbury and Bethel opened our doors as Help Centers and community hubs. In addition, the South Side Soup Kitchen has operated six days a week, never once shutting down during COVID." The Kitchen reorganized from sit-down meals to take-away. An Angels Closet at the site offers free clothing and household goods. The Flint Mission Zone of the East Winds District of The Michigan Conference supports the South Side Soup Kitchen, operated out of the former Lincoln Park United Methodist Church.
Click here for the November dates for Angel Closet and food give-aways at the South Side Soup Kitchen.
McDoniel estimates that over the past 12 months, there have been an estimated 50,000 visits to the Soup Kitchen, Asbury Farm, and Asbury main campus.
The power of connection
"When I spoke at the awards ceremony," McDoniel continues, "I stressed that to make this vital outreach possible, Asbury depended on the residents we were serving to act as volunteers to help each other. The help Centers have activated the community to help their neighbors." He adds that partnerships come naturally to United Methodists. "We are connected in The United Methodist Church. We are already set up for this," McDoniel concludes.
Pastor Cogman concurs. He thanks the Rev. Jeremy Peters, pastor of Flint Court Street UMC, for coordinating efforts as head of the Flint Mission Zone. "The beautiful thing I've seen is a lot of spirit of collaboration," Cogman states. This cooperation goes beyond COVID-related ministry. "Court Street and Calvary UMCs have worked together on anti-racism. Bethel has worshipped with Flushing UMC, and I am sharing resources with Pastor Jj Mannschreck. Flushing has been instrumental in helping us navigate live streaming." Such generosity is a powerful witness. Cogman observes, "As Pastor Tommy and I find ourselves participating in community events, we want to represent the church well and reflect the God whom we serve in all that we do."
There are Keys to the City and there are Keys to the Kingdom. Pastor James Cogman praises God for being faithful during COVID in tangible ways. "It is beautiful to know that with things like the Key to the City Award, the momentum continues. As I tell the people at Bethel, 'We still haven't scratched the surface of what God has for us!'"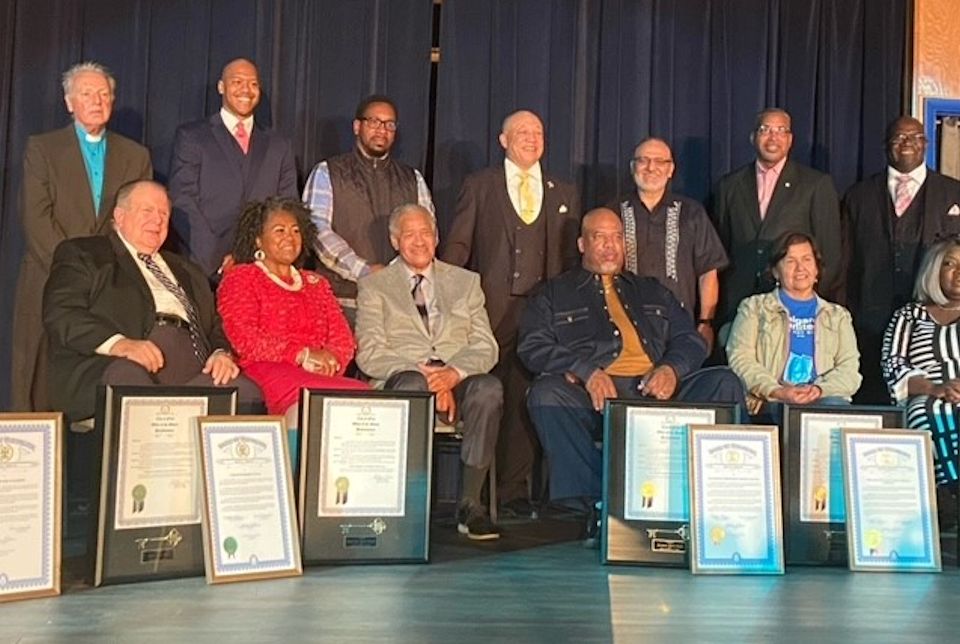 ~ The eleven churches honored with the Key to the City of Flint are Asbury United Methodist Church, Bethel United Methodist Church, Central Church of the Nazarene, Church Without Walls, Greater Holy Temple Church of God in Christ, Macedonia Missionary Baptist Church, Our Lady of Guadalupe Catholic Church, Prince of Peace Missionary Baptist Church, Shiloh Missionary Baptist Church, St. Mark Missionary Baptist Church, and Word of Life Christian Church.