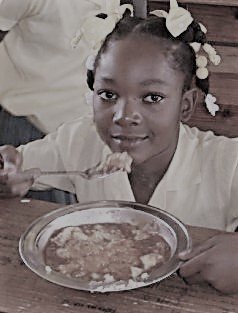 The Haiti Hot Lunch Program (Advance #418790) is no longer an Advance project of the General Board of Global Ministries (GBGM).
GBGM is responsible for ensuring accountability for the appropriate use of funds given through the Advance. A key part of this accountability is the submission of a simple annual report each year by each project. In the case of the Haiti Hot Lunch Program, GBGM has not received annual reports for multiple years.
Additionally, GBGM received inquiries from multiple donors expressing concerns of communication and financial accountability relating to the project.
After many channels of communication attempted and requests for the annual reports were unsuccessful, the Cabinet of GBGM has decided to close the project. GBGM remains committed to dispersing the funds on hand. GBGM will administer the remaining balance through a series of grants facilitated by their Food Security program manager.  
As a result of this change of status, the Michigan Conference will no longer promote or receive funds for the Haiti Hot Lunch Program. If your congregation was planning to support the Haiti Hot Lunch Program, please consider continuing to support ministry with the people of Haiti by redirecting those funds to one of the following Advance Projects:
Grace Children's Hospital & Pediatric Clinic (Advance # 418520)
Haiti Artisans for Peace International (HAPI) (Advance # 3020490)
Haiti Children Project (Advance# 3020507)
Haiti Undesignated (Advance #00483A)
If you have questions, please contact the Rev. Paul Perez, Associate Director of Mission & Ministry (pperez@michiganumc.org).