Another awesome REACH Summit is over. Now seven REACH Network groups keep energy going and the Holy Spirit leading the pastors and laity across Michigan.
LESLIE SCHNEIDER BENNETT
New Church Development, Michigan Conference
Across the state, Michigan United Methodist Churches are beginning to reach out to people in their communities they may not have had on their radar less than a decade ago. Their methods, and those they reach and disciple are as diverse as this country. Their energy is rising, too, building momentum as they follow where the Holy Spirit is leading.
Sometimes it means offering a new type of service. "It's a common complaint. 'Our churches are half empty now. Why add a second service?'" said the Rev. Gary Step, director of Congregational Excellence for the Michigan United Methodist Church. "But one genre of music or one style of worship limits your reach to other generations. So, it's not about splitting your church; it's about reaching a whole new group."
Healthy churches grow 10-12 percent each year, explained Step, who leads the MULTIPLY REACH network. In addition, churches decline if they don't start a new worship service every ten years, according to the Rev. Cathy Townley, author and worship specialist, who spoke at the recent REACH Summit. MULTIPLY includes a series of videos and coaching to help churches discern if they are healthy enough and then ready to launch a new service.
For the Rev. Don Gotham, senior pastor at Utica UMC, MULTIPLY has been a "transformative experience." Launching a new service required an intentional focus on meeting the needs of new people. "That was a real learning curve for us," Gotham said. "We had been through a period of time when what we called our contemporary service was declining. We needed to do something different." Significant changes included moving its location, making table seating available, designating a worship leader and more, all done with the prospective worshipper in mind. "It helps to look at the worship with very different eyes than you'd have from being part of the church for decades."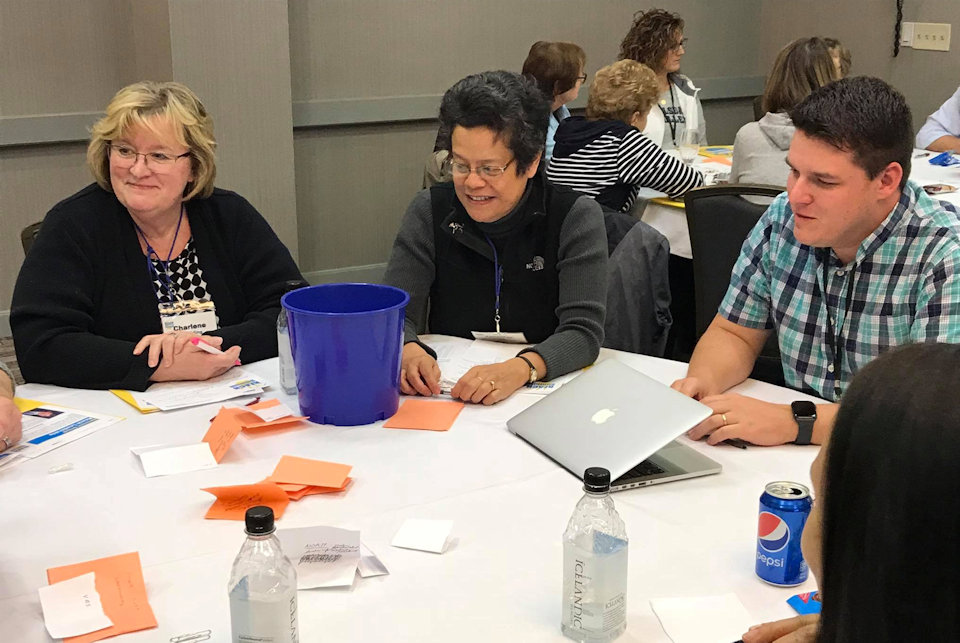 REACH Network participation requires an investment of time and energy, sometimes including travel across the state. The payoffs are well worth the time, however, participants say. Benefits include learning how to work smarter, not harder, with new tools, ideas and strategies. Groups also help people feel less isolated, reducing burnout and boosting energy.
It might include a targeted look at the surrounding community. New services can only thrive if they were designed to meet specific needs of a targeted community near the church. Which is why the UMC's MissionInsite software is so important.
The MISSIONINSITE REACH network group is led by the Rev. Jon Reynolds, who began two new services at St. Paul's UMC in Rochester and is now working on a new worship community at Detroit's Cass Community UMC. Three Zoom video sessions (January-March) will help participants learn how to use the software to "dive into the demographics of your community and find out who lives right next door to you," Reynolds said. "It helps you minimize mistakes you might make starting a new ministry if you know who you're actually trying to reach."
It could involve partnering with and for neighbors. The NICHE MINISTRIES REACH group will help participants learn how to identify, develop and grow a niche ministry in their community. For example, Lake Orion UMC is collaborating with local families, business owners and educators to provide much-needed support for special-needs children and families in the area, according to the Rev. John Ball. He leads the REACH group with help from Paul Nixon, founder of Epicenter Group.
In her Saturday keynote, the Rev. Elaine Heath, Duke Divinity School dean, author and evangelism specialist, referenced John 1:14 in The Message: "The Word became flesh and blood, and moved into the neighborhood."
However, embracing new ministries like niche ministry often involves letting go of old paradigms, like people must come to the church in order for us to minister to them or that success should be based on numbers, said Ball, adding that he's interested in reaching those who will "never come into the door of a church."
This REACH group begins February 27-28 at a Niche Ministries Foundation Seminar; then a series of nine 90-minute cohort coaching sessions follow throughout 2019.
If often begins with a fearless look inward. Whether in-person or virtually, that "rich bank of knowledge" allows REACH participants to hit the ground running when connecting to new people or new places. Plus, as new pastors head to new churches, those familiar with the CHURCH SYSTEMS will have less of a learning curve, according to the Rev. Tom Arthur, senior pastor at Sycamore Creek, who leads that group.
"It's a great opportunity that provides some stability and makes the learning curve manageable," Arthur said. "It provides continuity to the church itself as well as pastors who are familiar with the systems."
CHURCH SYSTEMS organize internal systems to point churches outward into their communities. Sessions focus on everything from moving first-time guests to fully-engaged members, to developing extravagant givers and mobilizing people for significant ministry.
REACH groups also help clergy, staff and lay members with the formidable challenge of adaptive change, Arthur added. "Most problems are not resource problems; they're vision problems. We need to start to see the world differently. What the systems give you is some hand holds to move forward."
Jim LeBaron has been an active member of Shaftsburg UMC for more than four decades. He joined CHURCH SYSTEMS last year primarily to support his Pastor Nancy Powers. Along the way, he witnessed the enthusiasm from Powers' other charge, Perry UMC. "I was seeing five people from Perry, plus Nancy. I saw this terrific enthusiasm." This year, eight or nine leaders from both churches are participating monthly.
"It's paying dividends," said LeBaron, adding that worship planning and leadership are two systems his church is in the process of modernizing.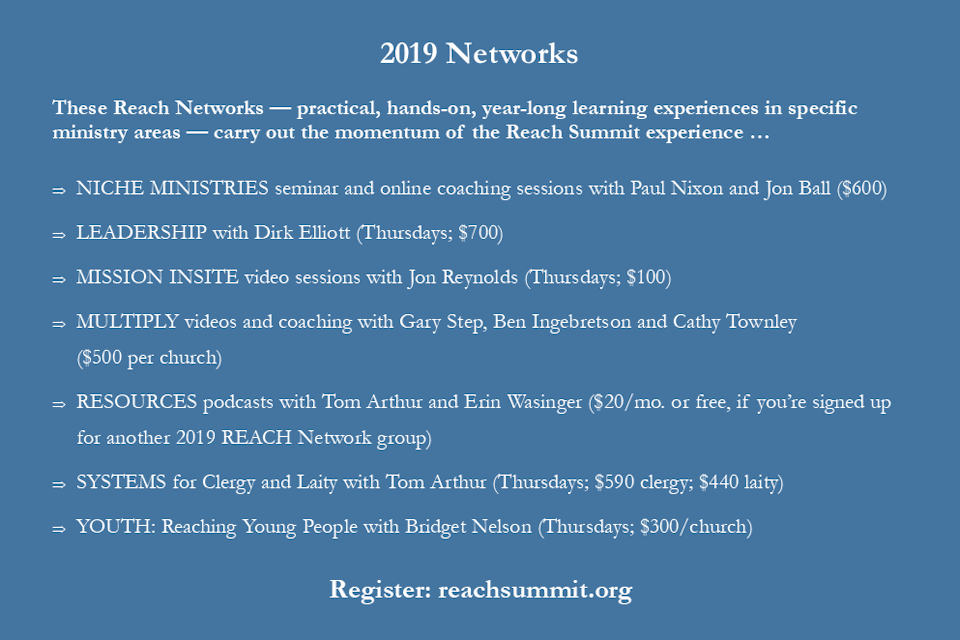 It always relies on strong leadership. For several years now, Brighton First UMC leadership has participated in the REACH LEADERSHIP, CHURCH SYSTEMS and CONNECTING YOUTH networks for one reason: They are "invaluable," according to Senior Pastor Sherry Parker.
A key area the LEADERSHIP group has helped pastors with is how to cast a vision that ignites and mobilizes congregations, according to Dirk Elliott, director of Congregational Vibrancy for the Michigan Area UMC. In April, the group debuted a Fresh Expressions Vision Day open to all churches with 120 attending.
Vision is essential to face an ever-changing landscape. For example, instead of simply closing unsustainable churches, the focus now is to get a larger, sustainable church to adopt it. "We can reinvigorate (the smaller church) to give them a fresh, new start," he said. "Preparing the congregation is a big part of it."
In April, Brighton First and Wesley UMC of Whitmore Lake voted to merge. "The Whitmore Lake congregation is very courageous in their decision," Parker said. "They had a part-time pastor, 30 people and could go on for several years, but they realized they were not reaching out in a fruitful way to their communities. And they wanted to do that. The guiding question for everyone is, can we do ministry better together?"
It may also mean a small step forward. Church leaders and pastors who don't have enough time to participate in a face-to-face group can now learn through REACH RESOURCES, a new digital REACH Network group in your inbox. The monthly podcast and newsletter interviews national experts and authors, such as Bishop Will Willimon, dean of Duke Divinity Chapel, or Coach Jim Griffith, discussing how to engage people at church in real time.
"What I like about this is that you can download the podcast to your phone and listen to it with Bluetooth," said Erin F. Wasinger, a writer, speaker and podcast co-host. "You can also start and stop it, take notes and rewind it. There's a wide spectrum of experiences and a really rich bank of knowledge there."
And it should always put a laser focus on youth. "What's interesting is that some people are participating for the third year," said Bridget Nelson, Youth Ministry Initiatives Coordinator for the Michigan Area UMC.
The largest-ever CONNECTING YOUTH group has discovered much fruit from coming together to focus on reaching kids where they are, even though they are spread from the Leelanau Peninsula to Port Huron to Metro Detroit. 
Regardless of their location, kids around the state face the exact same issues. "Every single one of us has a senior who does not know what their next move is. Divorce. Sick parents." The list goes on. New issues include gun safety and school walkouts, the #metoo movement and the MSU/Larry Nassar situation.
And while the issues evolve, what does not is the deep camaraderie participants feel. "I have felt very isolated for quite a few years," said Sherry Wolin, youth leader at Leland Community UMC. "(The REACH group is) a breath of fresh air and absolutely worth my time. We talk so much about small groups in the United Methodist Church. Even though I'm traveling downstate to get together, this group feeds me in similar ways to how small groups feed you."
~ Leslie Schneider Bennett is a freelance writer in the Detroit area and a member of St. Paul's United Methodist Church in Rochester.