Michigan's United Methodists have been in worship from home since March 15. These five pastors report how technology has enabled the spread of the gospel to members and to neighbors.
KAY DEMOSS
Senior Content Editor
When pastors across The Michigan Conference offered the benediction in worship on Sunday, March 8, they were unaware that they would not be face-to-face with their congregations for a while. That "a while" has now stretched to eight weeks. While Bishop David Bard has issued guidelines to prepare for "First Sunday Back," the date in-person worship will resume remains unknown.
In early March, Forrest Gump inspired a meme on social media that spoke for many, "And just like that, we were all televangelists." Indeed, pastors, musicians, and worship leaders in Michigan churches accepted the 48-hour challenge when Bishop Bard announced on Friday, March 13, that all churches should refrain from gathering for worship.
In the days that followed, a list was compiled of churches providing worship online. Nearly 75% of local churches in Michigan are now on that list, using Facebook, YouTube, websites, and Zoom to maintain a connection with members. The Michigan Conference has offered tools and resources for online ministry; some districts have provided grants to help with online presence.
However tech-savvy a pastor and team are, online worship comes with some "curses." As Pastor Jeremy Peters reported on Flint: Court Street's first effort on March 15: "It was terrifying! The whole thing happened by the grace of God and the skin of our teeth." But as time has gone on, practice has turned terror into routine, and many are discovering that online worship is far more blessing than curse.  
In a recent survey emailed to Michigan pastors, many reported "significantly higher" participation in worship over the past two months. MIconnect reached out to nine of those pastors to find out what they have learned, what's working for them, and how they value this virtual experience.
Those responding represent churches of various sizes, some rural, others urban, or small town. It is clear, no one-size-fits-all.  The main ingredients in all responses:
a desire to remain in relationship with the existing church family
a hope to nurture new relationships in the wider community
a determination to offer the comfort and care of Jesus Christ with all living through the stresses of COVID-19.
These pastors have discovered that with online worship, the world truly is your parish.
Algonquin and Sault Ste Marie Central UMCs | Vickie Hadaway
Pastor Vickie Hadaway is "thrilled with the outreach from our online services! We are reaching anywhere from 3 to 4 times the number attending our regular services. On Easter, over 900 people checked in."
Hadaway admits to not being being "tech-savvy." After some research, she chose Facebook Live to gather the flocks at Algonquin and Sault Ste. Marie Central together and is glad she did. "I believe our online services are getting more people because all are on at the same time—10:00 am on Sunday. The sense of community is strong." She reports that people enjoy chatting with each other during live streaming.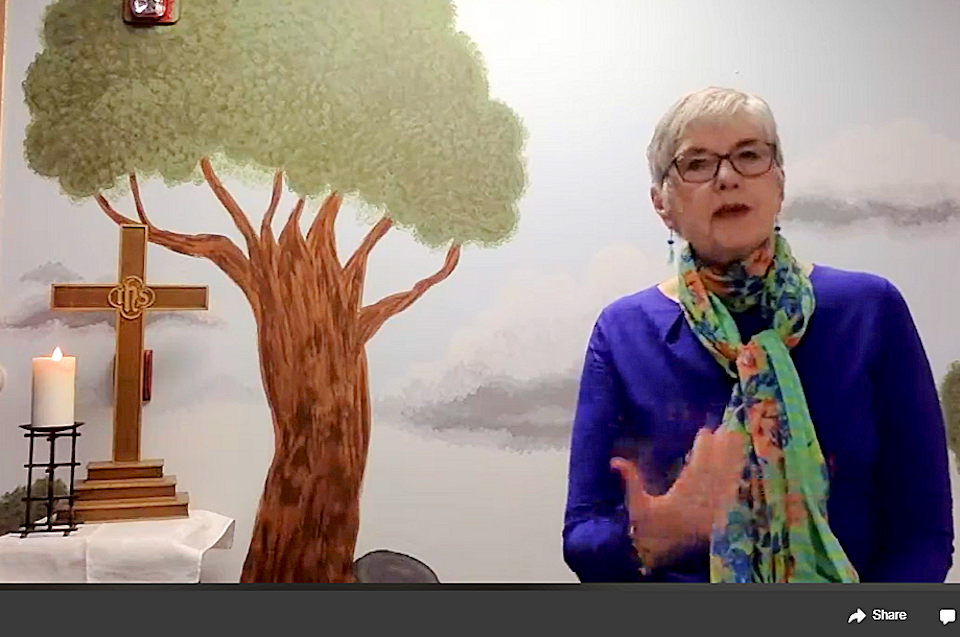 Hadaway reports, "I see names I recognize but have never met who are checking in! Also, my family and friends from around the country are joining us and snowbirds, too.  
Equipment is simple. The pastor uses her laptop to stream. Her husband, Dan, leads music with his guitar. The church's Choir Director is also doing some recordings. The churches have made two significant purchases: a CCLI license to remain legal and a microphone to improve the quality of the experience. After in-person worship resumes, Vickie would like to continue streaming worship and plans to buy a camera to enable that.
The congregations have established a phone tree that calls members each week. "We find out who was not able to join the live streaming," Hadaway says. In four households that don't have Facebook, residents listen to the audio of the worship service during these phone calls.
Hadaway recommends Facebook Live to others in similar settings. "It works for our context because of the way it draws us together in real-time. Even though we are not present physically, the Holy Spirit connects us, and it brings joy to all who 'tune in.'"
Empire UMC | Melody Olin
Pastor Melody Olin also streams worship to the Empire UMC congregation using Facebook. "I chose not to do worship by Zoom," she says, "because that narrows down who gets to see it. I want it to be out there for anyone to view, not just my church folks." She adds that Zoom is being utilized for a Coffee Chat and a Bible Study.
The first Sunday of no-gathering was done from the sanctuary but then Olin moved to her home. "Folks were stuck at home, so I thought I'd let them know I'm stuck, too." She uses her television as a screen for her sermon PowerPoint and her laptop as a monitor. "I only do a sermon – no songs and prayers – so it is usually only 15 minutes." She explains that the church does not have a CCLI license and she hopes to find funding to pay for one in order to add music. "Some tell me they miss my singing, which I sometimes do in my sermon." Olin also plans to learn how to bring laypersons into the experience to pray and read scripture.
Though her approach is simple, Olin says it has been a blessing. "I've gotten comments, 'Your voice and message bring me comfort and hope.'" Persons from her previous appointments and out of state relatives of Empire members are among the virtual congregation. Last year's average worship was 50; the online worship has been double and triple that number of engagements.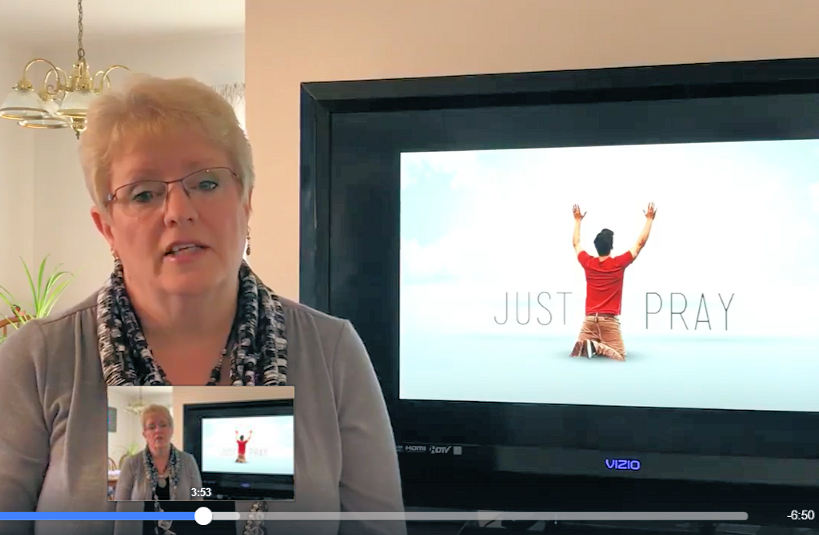 Indian River UMC | Todd Shafer
Indian River UMC, according to Pastor Todd Shafer, has had online worship since the summer of 2017, "trying to reach a new demographic than those just coming through our doors."
Recently they have purchased and installed a new camera to improve the live stream quality. Services are accessed through their website and YouTube channel; a link is also posted to Facebook. Currently, sermons are delivered live most weeks, and other prerecorded components are added—worship leader on acoustic guitar, announcement slides, prayer, and occasional video clips.
Shafer reports that views for Sunday worship on YouTube have jumped from about 50-70 weekly to 350-400+ most weeks. They also do a Wednesday Night Facebook Live with about 500 views weekly, sometimes reaching 1,000+ views. "God is using this tool to reach people across 14 states so far," Shafer says, "some who would never have the chance to visit our church in person." Snowbirds "love it as it helps them stay connected to us when they travel."           
Committed to online worship before shelter-in-place, Indian River UMC is ready to keep going once people return to the building. "An online presence is vital to reaching future generations for Christ, as well as those who may not be comfortable in a traditional church building," Shafer notes. "This is evidenced by the number of people who have joined our online family since in-person worship was halted.  We are seeing the fruits of our labor and are thankful to God for showing us how to step out in faith."
Shafer says success depends on "advertising, quality, audio/video equipment, smooth flow of service, and making it easily accessible and user-friendly." He encourages others to invest in this type of outreach. "The value of reaching NEW hearts for Christ far outweighs any cost of having quality online worship." One online worshiper expressed gratitude, "Thank you for doing the service weekly for us. Keeps my mind busy and working instead of feeling the worst. God Bless."   
Vassar First UMC | Scott Sherrill 
Vassar First UMC was also streaming live on YoutTube prior to the stay at home order. The Rev. Scott Sherrill explains, "Before we would broadcast the entire service from our sanctuary, gathering to dismissal. Now we are doing a hybrid of live and prerecorded components." They were averaging 80-85 in the sanctuary.
Now they are reaching 140 households. Sherrill offers the message in the new online service, and five-seven members and friends submit video elements. These include music, children's moment, announcements, Scripture, prayers, and the Lord's Prayer. "We have had contributors send their pieces of worship from Michigan, Tennessee, Florida, and New Jersey," he observes.
The pastor says the participation of children in worship is greater now than before. Sherrill gives an example. "It is a tradition at Vassar First to sing Bind Us Together at the end of every worship service. After we sing, one gentleman says, 'and all God's people say…' and the entire congregation responds, 'Amen!' During stay-at-home, we are using a clip of that from a past worship service, and I append a clip of a young child offering, 'and all God's people say Amen.' We've had five different children ages 3-5-years-old close the service." Sherrill calls it, "a hybrid of familiar with new and allows the youngest children to participate in the service in a way that wouldn't have happened inside the church building.
Involving others in the worship presentation can boost engagement. Sherrill shares, "We have gotten notes from new visitors who live all over the United States. They have reached out because their local church isn't offering online worship, or they have a child, grandchild, friend offering part of the Sunday online worship." And Abby has been chosen to offer the "all God's children said, 'Amen!'" on May 10. "Abby has never been to Vassar," Sherrill says. "She's never been in our church building and now watches regularly because of stay at home." She will more than watch on Mother's Day.
Sherrill has some counsel for those who are thinking about expanding their online worship efforts. Be inclusive! "As a society, we are comfortable taking pictures and doing short video recordings of our daily lives. We are comfortable taking risks with our online lives. Church online should be the same. Try something new. Make mistakes. Invite those same people who are recording videos of their lives to be a part of the worship service. Help them bring their gifts to worship."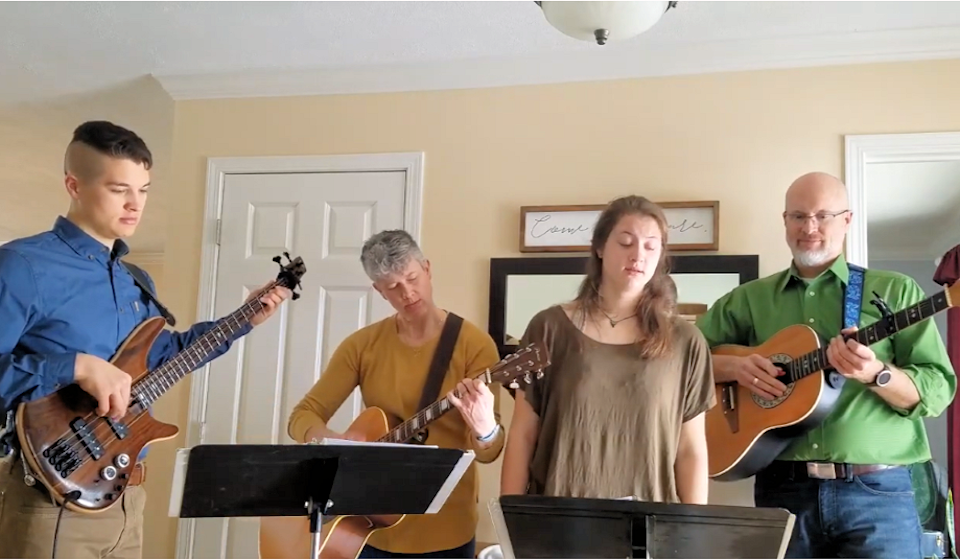 Imlay City UMC – Marcel Lamb
The Rev. Dr. Marcel Lamb has combined a personal with a virtual approach to minister to Imlay City UMC over the past eight weeks. Lamb says, "I go through the church directory each week and call everyone. These contacts have given me insight into the challenges members face." A volunteer nurture group also phones many of the congregants on a regular basis. The pastor relates, "We make sure that all who live alone are receiving multiple calls per week. We also keep our prayer group lifting up the requests that come to me during the week."
Online worship was new for Imlay City UMC. In March, Lamb "enlisted the help of another pastor in the community to help me record and get the message online. I then uploaded the message to our church Facebook page and put it on my personal page.  I also posted a link to the sermon on the church website." He has paid to boost the church page post each week "so that more people would be exposed to the messages."
So far, the worship has consisted of his sermon, recorded on his laptop. "Our reach, those who have watched the sermon all the way through, has been between 400-700 every week," he reports.  
Lamb has also posted links to free kids' resources for Bible learning and has written a mid-week meditation on Facebook. And because some enjoy a more traditional approach to messaging, "I have also been submitting a weekly column to the local newspaper, having volunteered to do so for the duration of the COVID-19 crisis."
"If I have any tip to give," Lamb says, "it would be to make one change at a time to your online ministry and to do so for a testing period. That way, you can better evaluate which changes are helpful."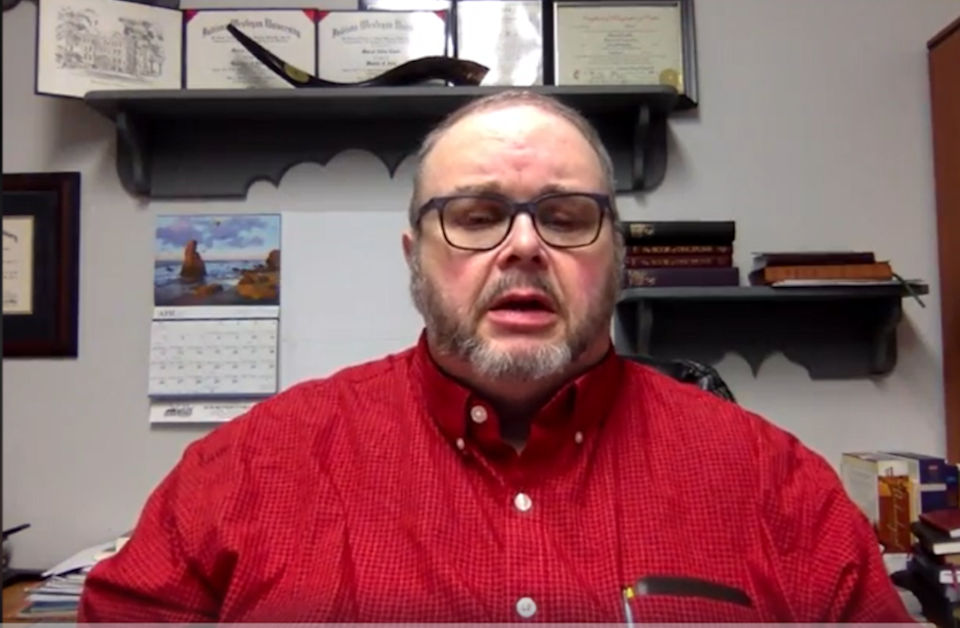 In his most recent blog, Bishop David Bard said, "Even doing our hard traveling, let's not lose heart. Not losing heart is to keep reaching out to others for worship, learning, prayer, and caring … Not losing heart is to seek a newer world on the other side of the pandemic, a more neighborly world, a more just world, a more compassionate world." The Revs Vickie Hadaway, Melody Olin, Todd Shafer, Scott Sherrill, and Marcel Lamb are taking heart and using technology to reach their congregations and their neighbors in helpful and healing ways.
Next week: five more pastors reflect on widening the embrace of their congregations through online worship.