Africa University in Zimbabwe just held their 25th graduation ceremony. Young people from 22 Africa countries just got their diplomas.
JEANETTE DADZIE
Africa University
Orphaned at age 6, Claudine Migisha faced numerous challenges in her quest for education, including inadequate funding and the lack of parental encouragement.  
Despite the difficulties she encountered, Migisha completed high school. She had no proficiency in English when she received a scholarship from the MasterCard Foundation and enrolled at Africa University in 2015. 
But on June 8, the 26-year-old from the Goma area in the eastern part of Congo was among the 526 students from 22 African countries who make up the 2019 graduating class of the United Methodist university, which opened in 1992. She was awarded an honors degree in psychology during Africa University's 25th graduation ceremony.
"For the women in my village, education is seen as a hindrance," said Migisha. "I have friends who have purposely stopped their education for fear that they may scare away suitable partners as an educated woman is considered too outspoken, ignorant of her true place in society, argumentative and, ultimately, a challenge to her man."
Migisha aims to change that perception. Through her work, she plans to engage with both women and men to grow the understanding that an educated woman is an asset.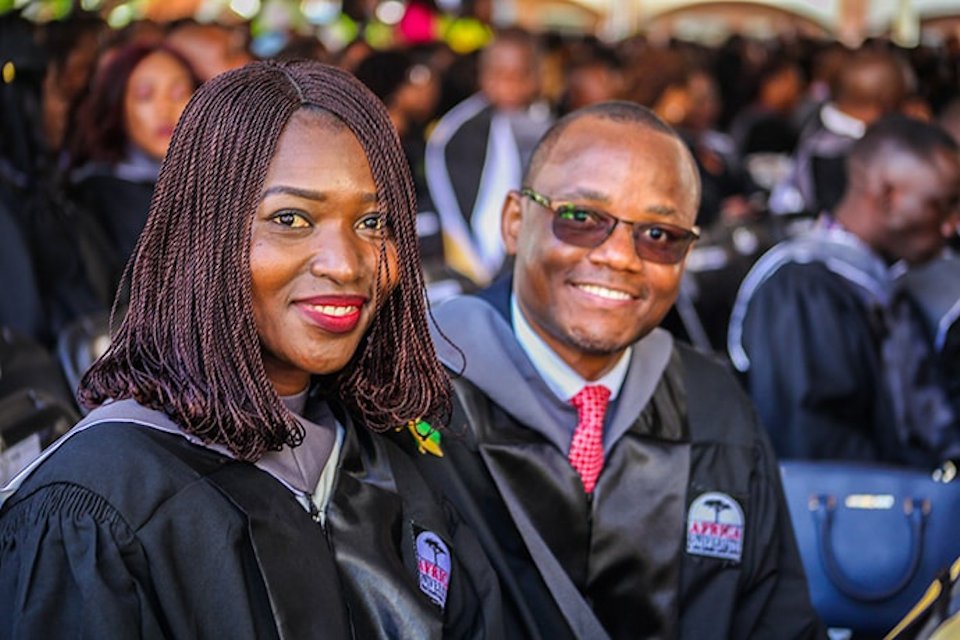 "I came to this university shy and withdrawn, but I was pulled out of my shell and transformed into a warrior woman," said Migisha. "I believe that if more young women are given the chance, they can reach far, and I am determined to see that happening because I have the vision to start my own organization that empowers women in the arts industry. 
"The arts have an incredible power to heal the deepest of wounds, to spark conversation and through the freedom to be whatever one wants to be, it can give women a voice."
Migisha's fellow graduates share her passion for change. Most are first-generation college graduates, and 54.6 percent are women. The university has a current full-time enrollment of 1,800 students, a 97 percent graduation rate and more than 9,000 alumni as of June 2019. More than 90 percent of Africa University's graduates have remained on the continent of Africa.
Belta Sanyanga, a Zimbabwean, earned a Bachelor of Science degree in Agriculture and Natural Resources and took top honors in Agricultural Sciences. She is one of a growing number of young female agriculturalists who are serious about agribusiness as a means of ending food insecurity in sub-Saharan Africa.
Paulo Ismael Simão studied for five years, with support from an endowed scholarship fund from the Eastern Pennsylvania Conference. First, he learned English, then he earned a Bachelor of Divinity degree. Simão is returning to Mozambique to serve The United Methodist Church and continue his work with "Art in Movement" — a project that helps children to turn waste into upcycled art.
Vincent Yohanna, a Nigerian, earned a Bachelor of Science degree in Medical Laboratory Sciences. Yohanna was recognized at graduation for his community service contributions. He has been accepted into the Global Mission Fellows Program—a short-term, young adult mission service opportunity offered by the United Methodist Board of Global Ministries.  After completing a three-week training course in Cambodia, Yohanna will serve as a medical laboratory technician at the Ganta United Methodist Hospital in Liberia for two years.
All four graduates have already taken up the challenge of transforming Africa issued to their class by Munashe Furusa, Africa University's vice chancellor.
"Remember we have invested in Africa's future through you, the hope that your families have been holding tight to, the sacred seeds we have planted and expect to burst into divine and wondrous flowers," said Furusa. "Therefore, go forth and build an Africa that we all want and deserve to live in. In doing so, do not neglect your dreams, but keep your faith, affirm your dignity, be kind, caring and generous."
Furusa reminded the graduates that they were part of a special class, marking the 25th graduation ceremony. 
"Our alumni, whose ranks you are joining today, have gone on to take their place among the leaders, movers and shakers of this continent and the world and are reimagining our space in ways that we never thought possible," he said.
Furusa highlighted Lillian Achom, a Ugandan computer information systems specialist who graduated in 2011. She is revolutionizing the field of information technology in her country, he said, and realigning the role that women play in the development of the IT sector in Africa. Through her start-up, Grade Score, Achom helps students to evaluate themselves academically and align their talents with their higher education and career choices.
Migisha is eager to carve her own path, inspired and equipped by her Africa University experience.
"When I think of Africa University, I see a powerful institution where young women and girls are given the room to thrive, where they develop a sense of self- worth because they realize that so many people care about them and are cheering them," said Migisha.
"(It is) something some women never experience in their lifetime. There is no amount of time I could be given to articulate what this university has done for me. The only way I know to show my gratitude is to take the vision and 'the dream'with me wherever I go."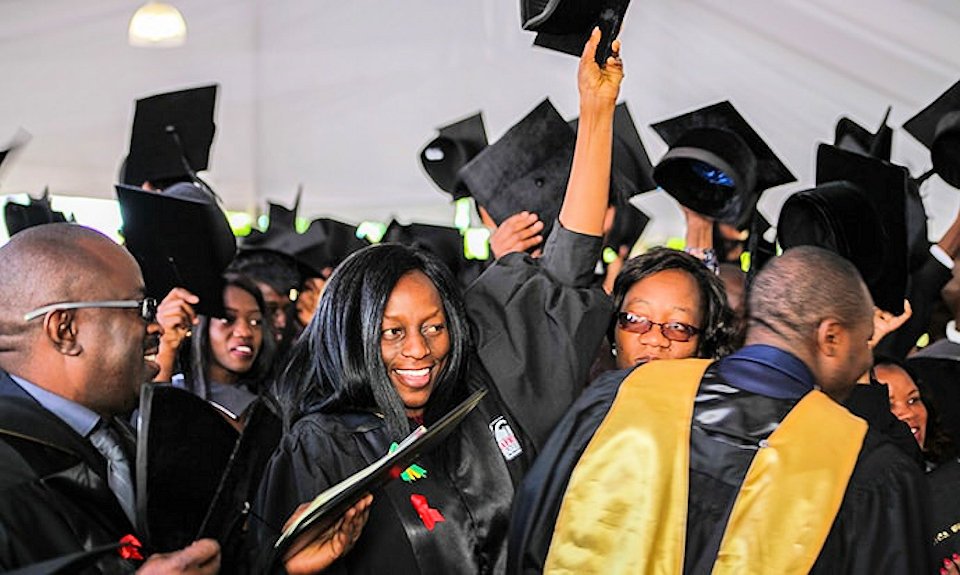 The class of 2019 also included Kenjiro Yamada, who was awarded an honorary doctorate in recognition of his contributions to Africa University's development.  He was instrumental in securing funding from the United States Agency for International Development for the construction of five teaching and academic support buildings on the campus. 
Yamada's career spans almost five decades in Methodist education, including more than 30 years of leadership at the United Methodist Board of Higher Education and Ministry.  He told the graduates not to worry about financial gain.
"Don't chase the money. Let money chase you," he said to a thunderous applause.
In his commencement address, the Rev. Greg Bergquist, the guest of honor and interim top executive of the higher education and ministry agency, called on the graduates to be courageous, loving, and kind.
"Regardless of the careers we will begin or, for some of us, the professions we will continue, we each have a choice to make:  Do we continue to live in our current configurations of life, into our standard zones of existence, into the way things have always been," Bergquist asked.
"Or will we take that small, but profound step into the adjacent possible, into the halo of possibility and promise that is always right beside us?"