The 4th Annual Michigan Conference 5K was not at Acme, as in years past. It was done by 200 people of faith in six states. So far, $9,135 has been earned for disaster recovery.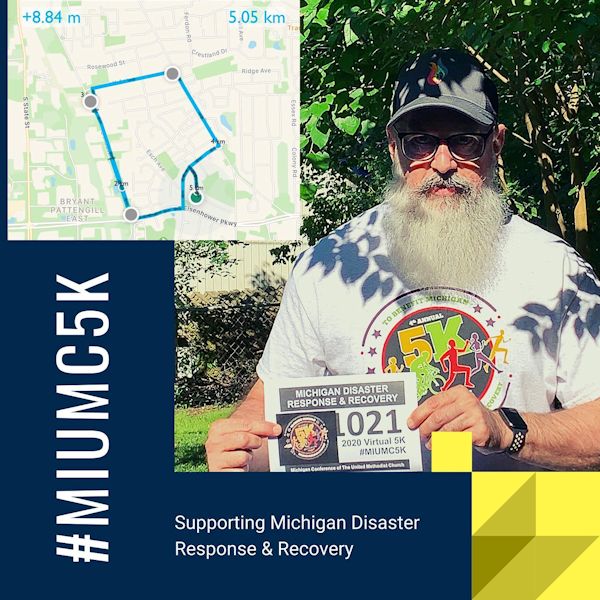 KAY DEMOSS
Senior Content Editor
As it is written, "How beautiful are the feet of those who bring good news!" (Romans 10:15)
Sometimes traditions have to move forward in non-traditional ways. For three years many folks came to annual conference a day early for fellowship and to raise funds for ministry and mission. Indeed, a golf scramble and 5K event were scheduled for the 2020 Michigan Annual Conference, originally on the calendar for May 28-31 at Grand Traverse Resort. When the conference was postponed, so were those pre-conference events.
Planners moved the conference online. The 5K was re-designed to get people on the move in their space during that timeframe. The invitation was issued weeks ago …  Walk, Run or Ride a 5K (3.1 miles) anytime between July 26 and July 28. All funds raised will go to the Michigan Disaster Relief and Recovery Fund.
Individuals, groups, and families answered the call. Race bibs and t-shirts were mailed out. On July 26, 5K participants began to post pictures on Social Media using #MIUMC5K. Over 200 persons across six states participated, contributing $9,135 to date. Beautiful!
5K dollars will support what is expected to be a two-year effort assisting those whose lives were upended by the flooding that struck mid-Michigan on May 19. Thanks to generous sponsors, 100% of every donation will go to the Michigan Disaster Relief and Recovery Fund.
The link to donate will stay open through August 31.  Click here to contribute. These donations issue from sole-work AND soul-work. Couldn't do the 5k? Your contributions are also welcome!

Go to Facebook to see many more persons who put their faith on the go.
Last Updated on October 27, 2023