Celebration of the Arts: Feb. 8-19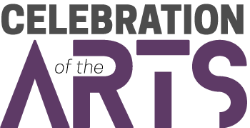 CELEBRATION OF THE ARTS – OPENS FEBRUARY 8, 2020 – First United Methodist Church invites you to join us for Celebration of the Arts, a juried spiritual art show. The exhibit opens to the public on Friday, February 7 with a special Artists' Reception and awards presentation from 7:00 – 9:00 pm. The exhibit runs February 8 – 19. Gallery Hours: Sundays: 10 am – 5:30 pm; Mondays, Tuesdays, Fridays, & Saturdays: 10 am – 3 pm; Wednesdays & Thursdays: 10 am – 8 pm; and Wednesday, Feb 19: 10 am – 1 pm at First United Methodist Church, 227 Fulton St E, Downtown – Grand Rapids. Admission and events are free and open to the community. For more information visit www.thecelebrationofthearts.com.
Celebration of the Arts also includes numerous special events:
Gallery Walk-Through

Sunday, Feb 9: 9:15 – 10:15 am; Wednesday, Feb 12: 12 – 1 pm; Thursday, Feb 13: 7 – 8 pm
Adults are invited to experience the show through the special insight of Nancy Clouse, artist and retired faculty member from Grand Rapids Community College. 
Music for Organ and Saxophone

Sunday, February 9: 3:00 pm
Eric Strand, organist, is joined by Hugh DeWitt, saxophonist, in music of Paul Halley, James Whitbourne, and Hans-Andre Stamm. Seasoned and frequent performers in West Michigan, this music features diverse stylistic elements including jazz and the avant-garde. 
Music of Japan for Organ, Marimba, and Taiko Drum with Carolyn Koebel, taiko drum; Mark Lopez, marimba; and Rhonda Sider Edgington, organ

Sunday, February 16: 3:00 pm
Featuring music of Japanese composers, this concert will include each instrument in solo, as well as ensemble works. The seldom heard Fuijin Raijin for organ and taiko drum by Tokuhide Niimi forms the centerpiece of the program. The title, Fujin Raijin, refers to Japanese gods of lightening, thunder, and storms, and these two powerful instruments will evoke thoughts of wind and thunder during this piece. A Fantasy for organ on the popular Japanese folk tune Sakura, sakura, as well as the solo marimba piece Land by Takatsugu Muramatsu will be performed. A piece commissioned especially for these performers by Carson Cooman will close the concert.
A free-will offering is taken at each concert.
Related Events