Ash Wednesday is February 22, and churches are planning a variety of worship and fellowship experiences to begin the journey toward Easter.
JAMES DEATON
Content Editor
Ash Wednesday is February 22, and Michigan United Methodist churches are preparing for the beginning of Lent, a season that is marked by introspection, repentance of sins, and an intentional focus on our mortality.
Some churches are holding traditional worship services with the imposition of ashes, others are reinvigorating long-held traditions, and a few are even trying something new as a way to reach out to their communities.
Ashes and Coffee to Go
A new practice that has grown in popularity in many Christian traditions is the concept of Ashes to Go, offering the imposition of ashes at convenient times for busy people and in nontraditional places such as street corners, airports, and train stations. It's a way to bring the church out into the community, providing simple reminders of God's presence and care. It gives a moment of holy respite during the hectic pace of daily life.
The tradition of placing ashes on the forehead, typically in the shape of a cross, dates back to the eleventh century. Ashes symbolize our mortality, as well as the acknowledgment of sin and repentance. The practice of wearing sackcloth and ashes is part of Jewish tradition and symbolizes the public expression of sorrow or regret for having done something wrong.
Rev. Katie Waggoner, the pastor at both Central Lake UMC and Alden UMC in the Northern Waters District, will be offering drive-thru ashes in front of her churches during mealtimes on Ash Wednesday. She has church members who will come. She also has people from the community who will stop by and ask for ashes. Alden UMC is the only church in this small Northern Michigan community, so Rev. Waggoner has opportunities to minister to other Christians.
"[Last year,] I had one lady who came to Alden who said she was Catholic and ordinarily would go to their Ash Wednesday service, but she had to work, and so she was really excited to see our sign and to be able to come and get ashes," Rev Waggoner said.
Placing ashes on the forehead is a tangible reminder of God's all-encompassing love for us. Instead of using the typical words of "You are dust, and to dust you shall return" during the imposition of ashes, Rev. Waggoner is drawn to use this phrase: "You are created out of God's love, and to God's love you will one day return."
Ashes are also a sobering reminder of the fleeting nature of human life, and this is especially true for Rev. Waggoner, who has primarily served congregations with older adults. "A lot of times, when I put those ashes on people's foreheads, it's a reminder to me that this may be the year I do this person's funeral. They don't tell you in seminary how hard you will love these people who are under your care, and then how hard it is to say goodbye for now by doing their funeral." Each moment she spends with them is a privilege and a blessing, to be able to walk alongside them through the final years of life.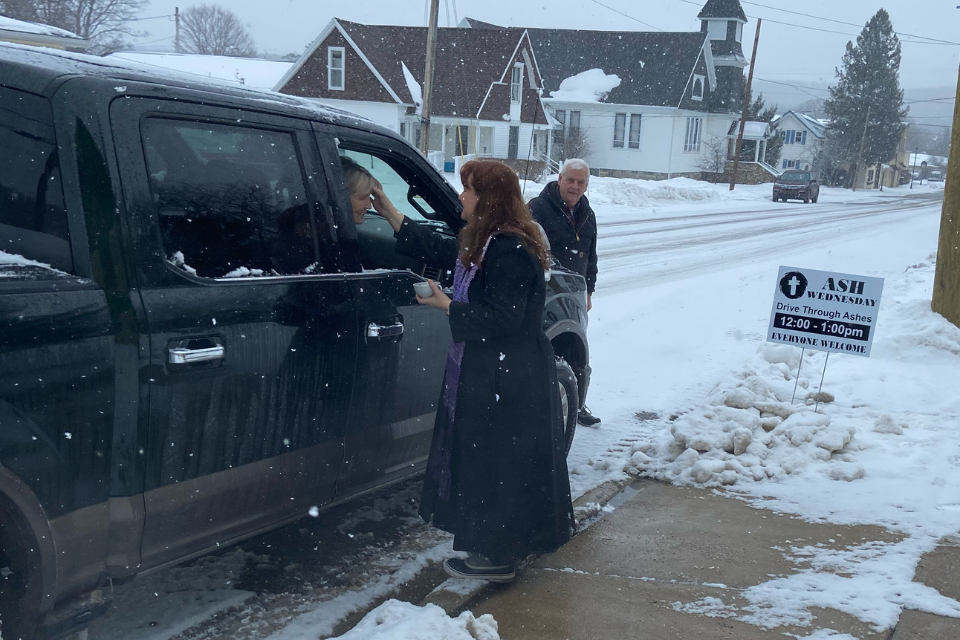 Rev. Tim Kobler, chaplain for the Wesley Foundation at the University of Michigan in Ann Arbor, has been offering Ashes to Go on campus since 2018, but took a couple of years off due to the pandemic.
Rev. Kobler says the people who have responded in the past have come from a variety of traditions, typically mainline Protestant. But he's also had some students who were no longer participating in church but still have spiritual connections—the "Nones" who believe in God but do not identify with any specific religious tradition and the "Dones" who have left the church for a variety of reasons or because they have been hurt by the church in the past.
"I'm always moved and surprised by the students who look up after getting ashes imposed and have tears in their eyes," said Rev. Kobler. "Some have expressed relief and surprise that we would accept them and include them in this spiritual practice."
This year, Rev. Kobler will be on "the Diag," the large open space in the middle of Central Campus, during lunch hours on Ash Wednesday.
Vassar: First UMC is doing something brand-new for Ash Wednesday, as a step beyond the four walls of their building and into their community. They have partnered with the local coffee shop, The Christmas Café, to offer ashes and coffee to go. The coffee shop is located across the street from the church.
This idea's spark came from lay member Harmony Sanders, who is also spearheading the ministry effort along with other lay members of the church's prayer team. Her hope was to have a comfortable place outside a traditional church building for people to meet their pastor and explore their faith community. Pastor Scott Sherrill liked the idea and suggested they do something for Ash Wednesday.
Harmony's hope is that their congregation, through this outreach, can share God's love with the people in their community. Her desire is for the congregation to reach out to families that are broken or in need, to show them that the love of Christ is out there to help and support them.
The church is distributing direct mail flyers to about 750 homes within the small town of Vassar, just east of Saginaw. The flyer introduces in plain language the ministries of the church on one side. The other side invites them to the coffee shop on February 22, from 9 to 11 am and then again from 2 to 4 pm, to meet Pastor Scott, receive ashes, and pray with members of their prayer team if they wish.
The flyer also provides a coupon for $3 off a drink of their choice for the month of February. Pastor Scott noted that Vassar UMC has always been intentional about partnering with local businesses in their community as they work to find creative ways to love their neighbors. The coffee shop is relatively new, and this collaboration is a good way to encourage their small-town businesses, to help keep them open and thriving.
Hot Dog Feast for Ash Wednesday
Staff members at Marquette Hope, which is a multisite United Methodist faith community, have offered the typical Ash Wednesday worship experiences in the past, but the tradition that has become the favored one comes from their Skandia Campus. And it's one of their best-attended church events each year.
Skandia was previously a part of a charge, which meant their Ash Wednesday service actually happened the day before on Shrove Tuesday (Fat Tuesday). So, they developed a tradition of a hot dog supper along with some liturgical pieces like the imposition of ashes. It's a tradition that started forty or fifty years ago by roasting hot dogs around a simple campfire.
When the multisite church was created, people from the other campuses were fascinated by the hot dog tradition and traveled to Skandia to take part. The first year this happened was in 2017, and the church was packed. The tradition has evolved since then, and this year it will be in town and indoors at Marquette's Connection Center Campus to accommodate everyone. Members from all four campuses will gather in a circle around a pretend campfire and share a potluck meal featuring hot dogs from a slow cooker instead of a stick. Their time will be focused on coming together, acknowledging the coming of light in the darkness, and this weaving of traditions.
Co-Pastor Kristi Hintz said, "The tradition of the town church service where we all sit in pews and read through the Ash Wednesday liturgy, that isn't what survives. What survives and what the congregation likes is the creativity. [They said,] 'We want the hot dogs and to talk about the light in the darkness and to see one another, and if you want to throw in some liturgy, you can.'"
This sort of turns the typical fasting theme that is common for Lent around a bit. Pastor Kristi noted, "With the general sacrificing that has gone on of so many things [during these Covid years], I don't know that what my congregation needs is self-denial at this point. We've all missed out on so many things. I'm not sure that's the message we want."
Also, since a blizzard canceled Marquette Hope's Christmas services last month, the congregation has been grieving the missed fellowship time and the candle-lighting tradition that's such an important part of their Christmas Eve service. So, the upcoming Ash Wednesday experience will give the congregation a much-needed opportunity to be together again.
Pastor Kristi said, "So, we'll be in that big open worship space [at the Connection Center], we'll have our pretend campfire, and then we'll get our unused Christmas Eve candles out, and we'll light them like we're about to sing 'Silent Night.'" They realize they will have to come up with a different hymn.
Self-Guided Times for Prayer, Reflection
Some churches are opening their doors and offering self-guided experiences rooted in Christian contemplative practices that give a welcoming atmosphere and much-needed flexibility.
Pastor Sean Kidd at Kalamazoo: Westwood UMC will be offering an open house-style interactive and reflective experience in their fellowship hall based on Chris Paavola's book The 7 Symbols of Ash. Paavola is the senior pastor at St. Mark Lutheran Church in Battle Creek.
Paavola's book outlines seven symbols tied to ash that are rooted in scripture and woven throughout the season of Lent, and the physical reminders of those symbols that people can touch and see. Here are some of them: a handful of dirt, symbolizing loss; a crushed dried flower, our mortality; a piece of charcoal, emptiness; words rubbed off a dry-erase board, the sins we carry and our repentance.
Rev. Jennifer Ward, pastor of Plainwell: First UMC, also used The 7 Symbols of Ash as the basis for her Ash Wednesday offering last year. She set up self-guided prayer stations in the church's chapel for people to come and walk through at their own pace. About half of the congregation, probably 25 to 30 people, participated last year.
Rev. Ward was present during the day, and people had the option of receiving ashes from her when they were finished or marking their own forehead by dipping a cotton swab into a dish of ashes. They could also sit for a moment and visit and pray with her if they desired. She noted that people were pleased with this experience, even though many had never done anything like that before.
This year, Rev. Ward is doing something slightly different called Ash Wednesday Experientials, a prayerful self-guided experience based on these ideas from author Tim Suttle. She will have the church open from 10 am to 5 pm for those wishing to join.
For Rev. Ward, Ash Wednesday is an important part of the overall Lenten experience, which focuses on introspection and reflection. But what she's offered the past two years with these self-guided prayer stations has made the introduction to Lent more interactive and interpersonal.
"I think the connectional piece might have been missing when they came in for worship and we put the ashes on their forehead and then sent them on their way," said Rev. Ward. "I like the prayer stations because [the people] need to do the work."
And then, once they have gone through the stations, individuals can have one-on-one time with her. They can pray together, she can ask them questions, and they can talk about the overall experience and what it meant for them. "There's definitely more time to be present with them," she concluded.
For her congregation, there wasn't a long line of people waiting to meet and talk with her. It was spaced out wonderfully, and she hopes that will be the case this year.
Last Updated on January 31, 2023