Olivia Hoffman received a certificate of appreciation from the United Methodist Committee on Relief for raising money for Hurricane Recovery.
ANNE MARIE GERHARDT
Northern Illinois Conference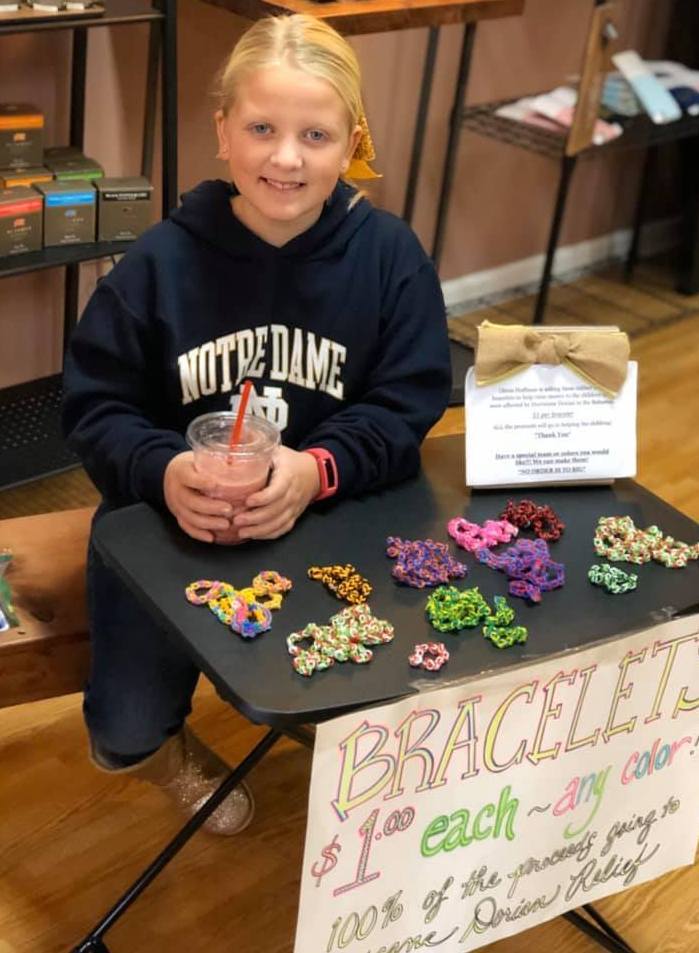 A dollar can go a long way. Second-grader Olivia Hoffman learned that selling her handmade rubber band loom bracelets for one dollar not only adds up but also makes a big difference. The eight-year-old member of First United Methodist Church (FUMC) in Morris, Ill., was making her bracelets on the sideline of her sister's soccer game last summer when a gentleman offered to buy one in Green Bay Packers' colors for a buck.
"She was so excited," said Olivia's mom, Molly Hoffman. Then Olivia got an idea. "We went to church on Sunday and during prayers and concerns there was mention of Hurricane Dorian in the Bahamas," said Molly. "We came home that afternoon and Olivia asked me if she could make bracelets in school or sports team colors or any combination of choice, sell them for a $1, and all the proceeds would go to the kids in the Bahamas who were hurt."
Dorian was one of the most powerful hurricanes recorded in the Atlantic Ocean, devastating many parts of the Bahamas. Immediately after, pleas went out for help rebuilding homes and donations of new clothes and toys.
"Olivia was very concerned about the children," said Molly. "After I put Olivia's bracelet sale on Facebook, we had more than 100 orders in 30 minutes!" Olivia also sold the bracelets in the community at her mom's apparel store in downtown Morris and at the church on several Sundays. "We have shipped bracelets out to five different states," said Molly.
In just a few short months, Olivia raised $1,200 for the United Methodist Committee on Relief (UMCOR) to help in their recovery efforts in the Bahamas. "Olivia wanted to make sure all the money would go to help people. I told her that 100% of funds donated to UMCOR go directly to relief and rebuilding efforts," said Colin Monk, NIC Disaster Relief Coordinator and member of FUMC Morris. "She spent many hours making and selling bracelets to raise the funds to help people thousands of miles from her who are in desperate need, and the church helped to promote her fundraiser."
On Dec. 29, 2019, the church recognized Olivia's efforts and gave her a special certificate of appreciation from UMCOR. "I didn't see a need for an award or anything," said Olivia. "I just wanted to help the kids and their families!"
What started as a small fundraising idea taught her daughter a lot, said Olivia's mom. "She learned how one little action can make such a huge difference and how positivity can spread so fast," said Molly. "She has learned that there are so many kind people who are willing to help others and if we all just help a little, what a difference it can make in the world!"
Olivia also was able to educate her classmates about disaster relief and many teachers at her school purchased bracelets. "This really opened Olivia's mind about how if just by herself she made $1,200, think what she could do with a whole group of kids working towards a goal," said Molly. "She really saw the community come together and help support her cause and it was great for her and her siblings to see the kindness in others."
Olivia hopes her efforts will inspire kids her age to think about others and that there is no act too small when it comes to disaster relief. "I would tell other kids that they could make something they enjoy and sell them to make money for other disaster relief efforts. It doesn't have to be anything big—just something you love doing—think about all the families who are hurt by a disaster that you can help," said Olivia who hopes the money she raised will help other families get clothes, blankets, shoes and help rebuild homes. "If 100 kids each raised $1,200, that would make a huge difference. We need more kids to start making a lot of bracelets!"
To make a contribution to UMCOR disaster response and recovery, visit umcmission.org/umcor.
~This story is reprinted with permission from the Northern Illinois Conference.