Haitian moms have come to trust the care that they receive at the Start Right center in Mizak Haiti. Start Right is a ministry of Haitian Assets for Peace International (HAPI).
KAY DEMOSS
Senior Content Editor
Many things are different this year about Annual Conference, moved from the typical in-person setting in May to a virtual experience in July. One thing that is "traditional" in 2020 is the Ingathering, a special offering that benefits selected projects from EngageMI. Again this year, the Covenant Partners of The Michigan Conference – Haiti and Liberia will each receive 45% of the contributions. The remaining 10% supports the Michigan Area Disaster Response Fund.
"Start Right," a maternal health initiative of Haitian Assets for Peace International (HAPI), will benefit from these gifts. HAPI is an Advance Special of The General Board of Global Ministries, and its many facets center on the empowerment of women. Why Start Right? Valerie Mossman-Celestin, U.S. Executive Director, explains. "Our maternal and newborn care impacts families profoundly by saving the lives of the 'smallest' as well as keeping mom, the center pole of the household, healthy and well." The cost for an individual "Start Right" experience is $150. Valerie hopes to be able to support 100 moms with gifts from the Ingathering.
HAPI has been in operation in the mountain-top community since 2007. When asked what accomplishment she is most proud of in the past two years, Valerie says, "Reducing the mortality rates of moms, infants, and young children through Start Right."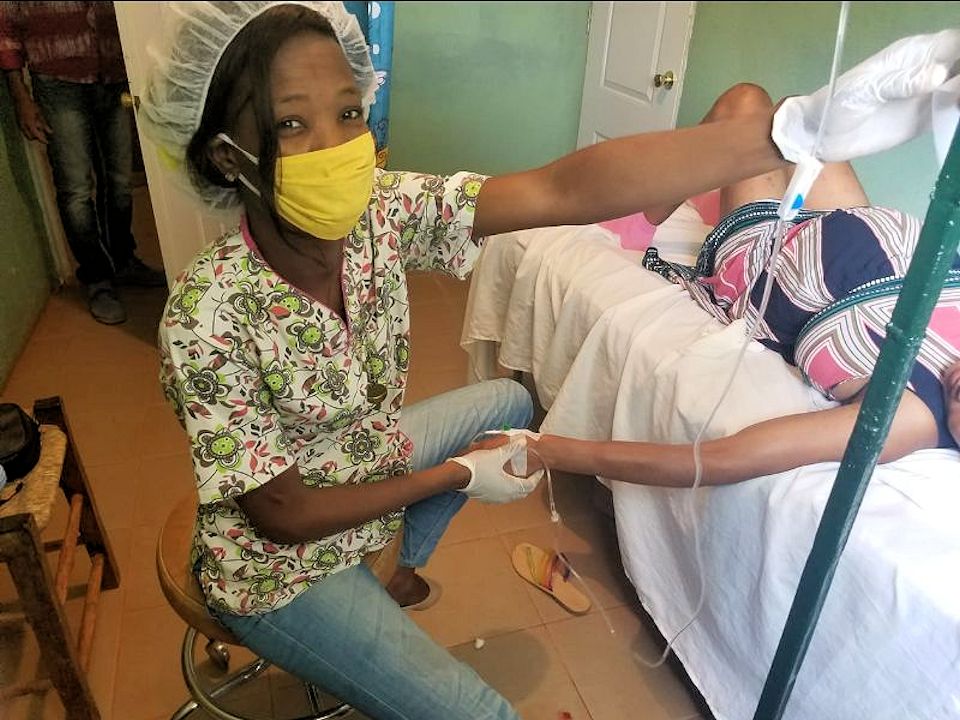 Start Right provides health exams, lab tests, and medications as well as educates mothers about pregnancy and newborn care. Very few clinics or hospitals in Haiti have personnel trained in neonatal resuscitation or the equipment to respond. Nationally, only 13% of Haitian women deliver at a hospital or clinic. HAPI is working to increase that percentage as that is a critical indicator in reducing maternal and infant mortality in the country. 
In 2019, HAPI staff performed over 1200 prenatal exams on 244 new enrollees and delivered 85 infants institutionally, which represents 55% of those who had a 2019 due date. Valerie observes, "HAPI's approach to maternal and newborn care is moving the needle. Our optimistic goal is 80% clinic-based deliveries for Start Right moms." 
This year Start Right is increasing its enrollments per month: 2019 averaged 20-23, and in May of 2020, there were 38. COVID-19 has a part to play in that up-tick. The public health hospital in nearby Jacmel is closed for lack of PPE. Women who would seek care in the city are now coming to Mizak and Start Right. "If this rate keeps up," Valerie notes, "we could blow past our projection of 300 clients by even 50% more as we are pulling in moms from beyond our geographic area."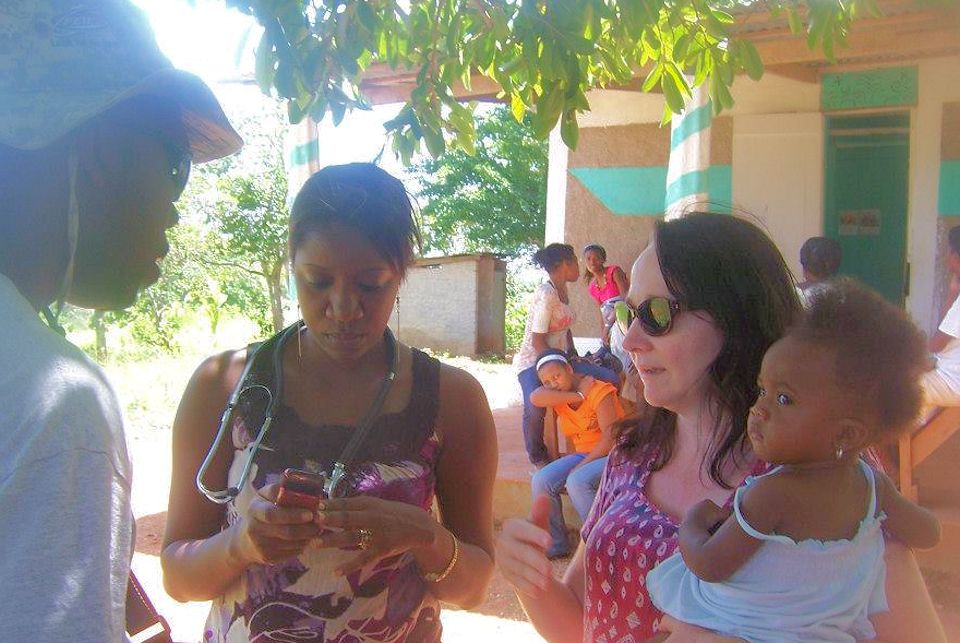 At the same time, pandemic-related travel restrictions imposed by the Haitian government are making it hard for women to reach the birthing center in Mizak. Valerie describes the situation women face. "Some of the 'zones' are close to the road, but many more are up rocky mountain slopes or tucked deep into valleys with winding footpaths. Even motorcycles can't make it into some of the areas. It's difficult going NOT pregnant, let alone in labor!" Further, the fare for a taptap (taxi) is six times greater than before the number of riders was limited due to the virus. Valerie fears this will mean more women will have their babies at home, at increased risk.
Still, she reports, "The women are unable to meet as a group for education at Start Right, but turnout has still been strong for scheduled exams. We have provided face masks, soap, and education as they come in individually."
Valerie adds, "Everyone in Haiti has been talking about a little 'fever' going around but denying it is coronavirus." The good news is that many cases have been self-resolving in 3-4 days and often do not spread to others in the family. "Climate? Open doors and windows? Diet?" Valerie speculates. 
COVID-19 risks on pregnancy remain unclear. Valerie says with certainty, "What we do know is that babies will still be born! We also know that greater than 40% of Haitian women are hypertensive and that there are also high incidences of asthma, anemia, diabetes, and water- or mosquito-borne diseases. Additionally, homes lack running water." She calls these "invisible landmines" that are typical realities for mothers in rural Haiti. "They contribute to a 1 in 80 risk of death in pregnancy," Valerie says. "HAPI helps mitigate these systemic health inequalities with Start Right's education and health care support." 
The director is pleased to report that HAPI is now an official partner with the Haitian government in the effort to curb COVID-19. The local public health organization recognizes HAPI's work and is in the process of accreditation. As part of that credentialing, HAPI has hired two "Health Mobilizers" to be on call during health crises and health campaigns. "These individuals go out to homes to inform and educate, especially homes that have no roads and are, therefore, cut off from official government communication." Health Mobilizers do their duty with motorcycles and bullhorns.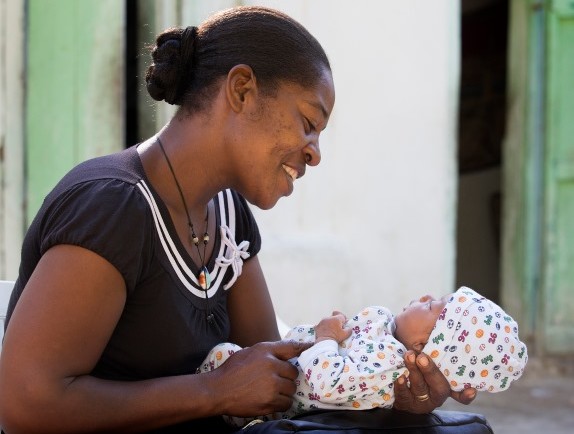 HAPI's Director of Community Health, Yolande Zephyr remarks, "With Start Right, woman don't stay at home to deliver anymore, they come to deliver at the clinic where we have a very comfortable place  and professional Nurses to deliver them." Yolande began her relationship with HAPI 13 years ago as an embroidery artisan.
Since then, she has trained as a nurse and has become a fierce advocate for women. She does most of the teaching for Start Right. Yolande adds, "If we have Felisane Clinic and Start Right maternity program today, it is thanks to the contribution of our friends. I ask God to bless everyone who contributed to make that happen."
Marie Elda Antoine is a 28-year-old client of Start Right. She says, "It's like the health center was there especially for me. I feel very good when I am at Felisane because at Felisane, I am always welcome." Valerie provides some context for this mom's remarks. "When rural women go to the city hospitals, they experience discrimination because they come 'from the countryside,' considered a lower class in Haiti." Start Right offers equal hospitality and service to all."
Why is Start Right making a difference for families in Haiti? A significant reason is trust. Some Haitians avoid medical treatment altogether for fear a doctor will place them in an urban hospital setting that they do not trust. At the Felisane Clinic, clients are asked to spend a minimum of 24 hours (compared to a two- hour hospital stay, post-delivery, elsewhere). Valerie shares, "A lot of the women come on foot, walking for hours to get to Mizak. We want to make sure everything is under control before they leave. They are not going to walk back from home quickly, if complications develop." She sees it as a "strong indicator of trust" that, after several years, more and more women are delivering their babies at the clinic."
Start Right midwife Miryane Destin concludes, "Sometimes the baby cannot breathe; we do reanimation for them. Sometimes the women have hemorrhage; we treat them. Sometimes the mothers cannot deliver; we help them with artificial delivery. In the community of Mizak, where we work, we have saved many life thanks to our training."